Danger level
:

9
Type:
Rogue Anti-Spyware
Common infection symptoms:
Installs itself without permissions
Changes background
Connects to the internet without permission
Shows commercial adverts
Slow internet connection
Annoying Pop-up's
Slow Computer
Other mutations known as:
Infection Video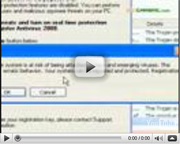 Personal Security
Personal Security is yet another powerful and malicious rogue antispyware application. Personal Security is a direct clone of Cyber Security, Total Security, Total Security 2009, Total Security 4.52, System Security as well as XPAntiVirus. It will also present you with a fake version of Windows System Security. You need to be aware of the factor that Personal Security is nothing like the name suggests and will not help your computer in any way. It will actually just do the opposite, which is invade your privacy, cause you many unwanted computer problems as well as try and steal your hard earned money. Everything which is related to Personal Security is part of one big scam which has been designed by malicious people with malicious intentions of stealing your money.
Personal Security may go by the following names:
• Personal.Security
• PersonalSecurity
Personal Security may display some of the following symptoms:
• Annoying pop up messages.
• A fake scan report.
• Fake scan report results.
• Security system notifications.
• The option of buying a full version.
• Slow computer performance.
• Desktop settings that change.
• Your web browser may be redirected.
Personal Security will make use of a fake system scan which starts scanning your computer. You mustn't be fooled by this scan even though it will look real. You also mustn't be fooled by the fake system scan report results as this is one big malicious scam in order to try and convince you that you have all types of threats on your machine. The main objective behind Personal Security is to try and trick you into buying the full version. Once it has claimed that you have all types of threats running on your computer, you will be offered the opportunity to buy the full version for a small fee, which promises to remove these threats.
The best thing that you can do is to remove Personal Security upon detection. It is also important to have antivirus software running on your machine that is both up to date and authentic. If you suspect that you may have Personal Security running on your machine but you aren't entirely sure, you could make use of a decent software application that is able to both detect and remove Personal Security for you. You do have the option of making use the manual removal process but this is not suggested as it can seriously damage your machine and you really need to know how to navigate your way around the inner workings of your computer. At the end of the day it really is a better option to buy a decent antispyware removal product that will do all the work for you effectively and quickly.

How to manually remove Personal Security
Files associated with Personal Security infection:
Personal Security Sentinel.lnk
PersonalSS.exe
manual_cs.exe
win32extension.dll
psecurity.exe
Personal Security DLL's to remove:
win32extension.dll
Personal Security processes to kill:
PersonalSS.exe
manual_cs.exe
psecurity.exe
Inst_2013[1].exe
Remove Personal Security registry entries:
HKEY_CURRENT_USERSOFTWAREMICROSOFTWINDOWSCURRENTVERSIONRUN PSecurity
HKEY_CURRENT_USER\SOFTWARE\MICROSOFT\WINDOWS\CURRENTVERSION\RUN\ PersonalSec
HKEY_CURRENT_USER\SOFTWARE\MICROSOFT\WINDOWS\CURRENTVERSION\RUN\ PersonSecurity
HKEY_CURRENT_USER\SOFTWARE\MICROSOFT\WINDOWS\CURRENTVERSION\RUN\ PersSecurity
HKEY_CURRENT_USER\SOFTWARE\MICROSOFT\WINDOWS\CURRENTVERSION\RUN\ PSecurity
HKEY_LOCAL_MACHINE\Software\Microsoft\Windows\CurrentVersion\Explorer\SharedTaskScheduler\{04DFB628-514B-4E68-9076-DC1024F58A96}
HKEY_LOCAL_MACHINE\SOFTWARE\MICROSOFT\WINDOWS\CURRENTVERSION\RUNONCE\ PersonalSec
RUNNING PROGRAM\psecurity.exe