Danger level
:

10
Type:
Rogue Anti-Spyware
Common infection symptoms:
Connects to the internet without permission
Shows commercial adverts
Normal system programs crash immediatelly
Slow internet connection
System crashes
Annoying Pop-up's
Slow Computer
Other mutations known as:
Infection Video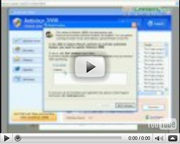 System Security
In our quest to protect our systems against the myriad of threats facing PCs in the modern world, it can be easy to become lax about new threats entering the market. Do not make this mistake with System Security. This rouge antispyware application has stunned online industry professionals and expert users alike with the intensity and vitriol behind its attack. The only motivation behind System Security, as with its clones Winweb Security is to steal consumers' money by any means possible. Don't be fooled by System Security's solicitous promises and the overinflated hype surrounding its clever online marketing campaign.
The System Security infection typically infiltrates the targeted system through the guise of fake video codec installations, or by bundling seditious Trojan and malware infections with third party downloads. Once the System Security infection is rooted on the PC, there is a possibility that it will download more malware to the system without the user even knowing about it.
System Security will go out of its way to win the trust of the user, as well as to make him believe that it has the solution to restore and protect his PC. It will start its attack on the system by barraging the user with numerous popup messages, which acts as fake alerts. These fake security warnings will inform the user that his PC has been compromised by various distressing and dramatic infections. System Security will even go as far as report important Windows components as being infected. These crucial components cannot and should not be removed, as it will critically damage the performance of the Operating System. One such file which System Security will report as infected is:
"C:\Windows\System32\svchost.exe"
Other fake security alerts employed by System Security include:
"Windows Internet Explorer
Windows Security Center recommends you to install System Security Antivirus."
"Windows Security Center
Virus (Packed.JS.Gumblar.a) was found on your computer!
Click 'OK' to install System Security Antivirus"
"Windows Security Center
Virus (Trojan.JS.Popupper.f) was found on your computer!
Click 'OK' to install System Security Antivirus"
The characteristics behind a System Security infection will be easy to spot once you know what to look for. System Security changes the browser settings, and will redirect search and browsing sessions to illicit websites which offer payment portals for System Security. It also connects to the Internet without the user's permission, and can update itself manually. At the end of the day, System Security will do everything in its power to remain undetected and will try to stay on the PC as long as possible. It ultimately wants the user to depart with his money, as System Security obtains his money directly from the end user. This should simply never happen, as revealing your sensitive billing information to these cyber criminals will put you at further risk of credit card and identity fraud.
There are various benefits to employing the removal power of a powerful security application which can permanently get rid of System Security, but should you want to attempt to manually remove System Security from the system, take note of the following. As a point of departure you'll need to stop the following System Security processes:
"SystemSecurity.exe"
"05643921.exe"
"install.exe"
Delete the following DLLs as well
"msxmlm.dll"
"msxml71.dll"
Manually removing System Security can lead to irreversible damage to the system. If in doubt, rather invest in a genuine and reliable security tool which will not only permanently erase System Security but will also offer your system future protection against similar threats.

How to manually remove System Security
Files associated with System Security infection:
952845811.exe
93548896.exe
7A2A9866.exe
784546C9.exe
712051F8.exe
66BD7DDB.exe
57BA2A1F.exe
562DC910.exe
501957035.exe
46561240.exe
46319321.exe
370859320.exe
2136239032.exe
20B4D341.exe
2092387666.exe
1881078529.exe
18664534.exe
17522964.exe
16826564.exe
1625593810.exe
1543779997.exe
1431580341.exe
1416040140.exe
13538904.exe
124517242.exe
1228759908.exe
11985073.exe
1139D43.exe
1137177851.exe
1029503410.exe
11769284.exe
11846754.exe
13701144.exe
83521271.exe
48603728.exe
10207964.exe
18337654.exe
16046564.exe
11563594.exe
11028594.exe
1672603317.exe
13055314.exe
14190934.exe
11929684.exe
19758124.exe
17078124.exe
11696564.exe
19900934.exe
16515004.exe
19795784.exe
13309954.exe
15690624.exe
19516874.exe
17528124.exe
19381254.exe
14391094.exe
18740004.exe
19017654.exe
14263904.exe
17948754.exe
15839064.exe
13887964.exe
18769374.exe
12751564.exe
13889684.exe
13278754.exe
13747964.exe
19404374.exe
17268594.exe
16517344.exe
15497814.exe
13569684.exe
15624534.exe
13833124.exe
12590624.exe
19248274.exe
13542964.exe
16647964.exe
15733284.exe
12273434.exe
18562654.exe
10830004.exe
13458754.exe
14026404.exe
14953904.exe
15827504.exe
15564064.exe
18967184.exe
14820604.exe
10905624.exe
12292034.exe
12571564.exe
16272034.exe
14611404.exe
16365934.exe
1888062268.exe
16439844.exe
12740624.exe
13355004.exe
16526924.exe
16281254.exe
15083594.exe
17818594.exe
17237344.exe
14038754.exe
17444894.exe
17287504.exe
13930784.exe
19665624.exe
10153594.exe
11487504.exe
10388904.exe
18986094.exe
97049526.exe
17039534.exe
99678116.exe
91402176.exe
90786246.exe
10776254.exe
151100227.exe
1915224187.exe
1819749873.exe
96641866.exe
16631874.exe
11621714.exe
91631706.exe
98573116.exe
98620456.exe
18610464.exe
14943754.exe
10994214.exe
12613754.exe
92623746.exe
99064526 .exe
10239374.exe
90249366.exe
19815934.exe
99825926.exe
16723754.exe
96733746.exe
16692344.exe
14945624.exe
94955616.exe
17722954.exe
14147964.exe
94157956.exe
99926866.exe
19916874.exe
93789346.exe
13779354.exe
10639534.exe
90649526.exe
19353904.exe
99363896.exe
91457186.exe
11447194.exe
18058594.exe
18563124.exe
96856706.exe
16846714.exe
99388276.exe
19378284.exe
14865934.exe
94875926.exe
699415262.exe
17236094.exe
97246086.exe
11120624.exe
13059684.exe
93069676.exe
00184705.exe
90188702.exe
03380828.exe
29192498.exe
06837430.exe
14610250.exe
03326093.exe
13496218.exe
52796787.exe
96484328.exe
500153984.exe
00607031.exe
02686578.exe
01560265.exe
554845319.exe
1126514300.exe
1255330437.exe
2113272685.exe
1725032906.exe
1690486455.exe
1354455340.exe
380679599.exe
25238076.exe
801085450.exe
2084498445.exe
370382475.exe
202150970.exe
1573468717.exe
375534146.exe
1743310514.exe
14894324.exe
2029503323.exe
498278020.exe
1327825314.exe
1550536869.exe
695276073.exe
650526885.exe
1767930182.exe
1940874419.exe
1947101902.exe
1431998300.exe
564DB681.exe
install[2].exe
2030350728.exe
1977868703.exe
1986350760.exe
438978017.exe
1591300478.exe
613622941.exe
432632312.exe
3DF7076F.exe
973260134.exe
931330021.exe
240844061.exe
172939276.exe
431192516.exe
800990911.exe
1610380076.exe
swapdm.dll
svchost.exe
372561511.exe
imod3.dll
vvunbwrhxa.exe
AntivirusXP.exe
winlogin.exe
oqarib.dll
cvucujahoza.dll
uxeqipuzimocin.dll
1462403437.exe
9179499.exe
i386si.sys
Hyves_Browser_Instalation.exe
Hyves_Browser.exe
loader[1].exe
Test.exe
28823330.exe
ieupdates.exe
SetupAntivirusXP[1].exe
new26[1].exe
adv111[1].exe
gr[2].exe
new23[1].exe
Omahonafazeq.dll
usp10.dll
ntos.exe
1[1].exe
StartApp.exe
SSEngine.dll
AdwarePro_Setup[1].exe
AdwarePro.exe
ert51791.exe
card[1].exe
TckBX673.exe
winkfmc.exe
ParisHilton[1].exe
winafoe.exe
load[1].exe
iii[1].exe
vamsoft.exe
bd3q0qix.exe
bnmio.exe
~tmpa.exe
setupapi.dll
281681216.exe
install[1].exe
ayscjcts.exe
19329203.exe
iehelper.exe
iehelpers[1].exe
ldycgadzmr.dll
iemodule.dll
winscenter.exe
mupd1_2_1165664.exe
torbjne.exe
cogad.exe
TubePlayer.ver.6.exe
AdobeFlash[1].exe
adobe_flash[1].exe
1003720520.exe
1714292029.exe
788573529.exe
549344438.exe
936453029.exe
SystemSecurity.exe
System Security DLL's to remove:
imod3.dll
oqarib.dll
cvucujahoza.dll
uxeqipuzimocin.dll
Omahonafazeq.dll
usp10.dll
SSEngine.dll
setupapi.dll
ldycgadzmr.dll
iemodule.dll
System Security processes to kill:
952845811.exe
93548896.exe
7A2A9866.exe
784546C9.exe
712051F8.exe
66BD7DDB.exe
57BA2A1F.exe
562DC910.exe
501957035.exe
46561240.exe
46319321.exe
370859320.exe
2136239032.exe
20B4D341.exe
2092387666.exe
1881078529.exe
18664534.exe
17522964.exe
16826564.exe
1625593810.exe
1543779997.exe
1431580341.exe
1416040140.exe
13538904.exe
124517242.exe
1228759908.exe
11985073.exe
1139D43.exe
1137177851.exe
1029503410.exe
11769284.exe
11846754.exe
13701144.exe
83521271.exe
48603728.exe
10207964.exe
18337654.exe
16046564.exe
11563594.exe
11028594.exe
1672603317.exe
13055314.exe
14190934.exe
11929684.exe
19758124.exe
17078124.exe
11696564.exe
19900934.exe
16515004.exe
19795784.exe
13309954.exe
15690624.exe
19516874.exe
17528124.exe
19381254.exe
14391094.exe
18740004.exe
19017654.exe
14263904.exe
17948754.exe
15839064.exe
13887964.exe
18769374.exe
12751564.exe
13889684.exe
13278754.exe
13747964.exe
19404374.exe
17268594.exe
16517344.exe
15497814.exe
13569684.exe
15624534.exe
13833124.exe
12590624.exe
19248274.exe
13542964.exe
16647964.exe
15733284.exe
12273434.exe
18562654.exe
10830004.exe
13458754.exe
14026404.exe
14953904.exe
15827504.exe
15564064.exe
18967184.exe
14820604.exe
10905624.exe
12292034.exe
12571564.exe
16272034.exe
14611404.exe
16365934.exe
1888062268.exe
16439844.exe
12740624.exe
13355004.exe
16526924.exe
16281254.exe
15083594.exe
17818594.exe
17237344.exe
14038754.exe
17444894.exe
17287504.exe
13930784.exe
19665624.exe
10153594.exe
11487504.exe
10388904.exe
18986094.exe
97049526.exe
17039534.exe
99678116.exe
91402176.exe
90786246.exe
10776254.exe
151100227.exe
1915224187.exe
1819749873.exe
96641866.exe
16631874.exe
11621714.exe
91631706.exe
98573116.exe
98620456.exe
18610464.exe
14943754.exe
10994214.exe
12613754.exe
92623746.exe
99064526 .exe
10239374.exe
90249366.exe
19815934.exe
99825926.exe
16723754.exe
96733746.exe
16692344.exe
14945624.exe
94955616.exe
17722954.exe
14147964.exe
94157956.exe
99926866.exe
19916874.exe
93789346.exe
13779354.exe
10639534.exe
90649526.exe
19353904.exe
99363896.exe
91457186.exe
11447194.exe
18058594.exe
18563124.exe
96856706.exe
16846714.exe
99388276.exe
19378284.exe
14865934.exe
94875926.exe
699415262.exe
17236094.exe
97246086.exe
11120624.exe
13059684.exe
93069676.exe
00184705.exe
90188702.exe
03380828.exe
29192498.exe
06837430.exe
14610250.exe
03326093.exe
13496218.exe
52796787.exe
96484328.exe
500153984.exe
00607031.exe
02686578.exe
01560265.exe
554845319.exe
1126514300.exe
1255330437.exe
2113272685.exe
1725032906.exe
1690486455.exe
1354455340.exe
380679599.exe
25238076.exe
801085450.exe
2084498445.exe
370382475.exe
202150970.exe
1573468717.exe
375534146.exe
1743310514.exe
14894324.exe
2029503323.exe
498278020.exe
1327825314.exe
1550536869.exe
695276073.exe
650526885.exe
1767930182.exe
1940874419.exe
1947101902.exe
1431998300.exe
564DB681.exe
install[2].exe
2030350728.exe
1977868703.exe
1986350760.exe
438978017.exe
1591300478.exe
613622941.exe
432632312.exe
3DF7076F.exe
973260134.exe
931330021.exe
240844061.exe
172939276.exe
431192516.exe
800990911.exe
1610380076.exe
svchost.exe
372561511.exe
vvunbwrhxa.exe
AntivirusXP.exe
winlogin.exe
1462403437.exe
9179499.exe
Hyves_Browser_Instalation.exe
Hyves_Browser.exe
loader[1].exe
Test.exe
28823330.exe
ieupdates.exe
SetupAntivirusXP[1].exe
new26[1].exe
adv111[1].exe
gr[2].exe
new23[1].exe
ntos.exe
1[1].exe
StartApp.exe
AdwarePro_Setup[1].exe
AdwarePro.exe
ert51791.exe
card[1].exe
TckBX673.exe
winkfmc.exe
ParisHilton[1].exe
winafoe.exe
load[1].exe
iii[1].exe
vamsoft.exe
bd3q0qix.exe
bnmio.exe
~tmpa.exe
281681216.exe
install[1].exe
ayscjcts.exe
19329203.exe
iehelper.exe
iehelpers[1].exe
winscenter.exe
mupd1_2_1165664.exe
torbjne.exe
cogad.exe
TubePlayer.ver.6.exe
AdobeFlash[1].exe
adobe_flash[1].exe
1003720520.exe
1714292029.exe
788573529.exe
549344438.exe
936453029.exe
SystemSecurity.exe
Remove System Security registry entries:
Adware Pro
AntivirusXP
HKEY_CURRENT_USER\SOFTWARE\MICROSOFT\WINDOWS\CURRENTVERSION\RUN\cogad
HKEY_LOCAL_MACHINE\SOFTWARE\MICROSOFT\WINDOWS\CURRENTVERSION\RUN\ 10153594
HKEY_LOCAL_MACHINE\SOFTWARE\MICROSOFT\WINDOWS\CURRENTVERSION\RUN\ 10207964
HKEY_LOCAL_MACHINE\SOFTWARE\MICROSOFT\WINDOWS\CURRENTVERSION\RUN\ 10239374
HKEY_LOCAL_MACHINE\SOFTWARE\MICROSOFT\WINDOWS\CURRENTVERSION\RUN\ 10388904
HKEY_LOCAL_MACHINE\SOFTWARE\MICROSOFT\WINDOWS\CURRENTVERSION\RUN\ 10639534
HKEY_LOCAL_MACHINE\SOFTWARE\MICROSOFT\WINDOWS\CURRENTVERSION\RUN\ 10776254
HKEY_LOCAL_MACHINE\SOFTWARE\MICROSOFT\WINDOWS\CURRENTVERSION\RUN\ 10830004
HKEY_LOCAL_MACHINE\SOFTWARE\MICROSOFT\WINDOWS\CURRENTVERSION\RUN\ 10905624
HKEY_LOCAL_MACHINE\SOFTWARE\MICROSOFT\WINDOWS\CURRENTVERSION\RUN\ 10994214
HKEY_LOCAL_MACHINE\SOFTWARE\MICROSOFT\WINDOWS\CURRENTVERSION\RUN\ 11028594
HKEY_LOCAL_MACHINE\SOFTWARE\MICROSOFT\WINDOWS\CURRENTVERSION\RUN\ 11120624
HKEY_LOCAL_MACHINE\SOFTWARE\MICROSOFT\WINDOWS\CURRENTVERSION\RUN\ 11447194
HKEY_LOCAL_MACHINE\SOFTWARE\MICROSOFT\WINDOWS\CURRENTVERSION\RUN\ 11487504
HKEY_LOCAL_MACHINE\SOFTWARE\MICROSOFT\WINDOWS\CURRENTVERSION\RUN\ 11563594
HKEY_LOCAL_MACHINE\SOFTWARE\MICROSOFT\WINDOWS\CURRENTVERSION\RUN\ 11621714
HKEY_LOCAL_MACHINE\SOFTWARE\MICROSOFT\WINDOWS\CURRENTVERSION\RUN\ 11696564
HKEY_LOCAL_MACHINE\SOFTWARE\MICROSOFT\WINDOWS\CURRENTVERSION\RUN\ 11929684
HKEY_LOCAL_MACHINE\SOFTWARE\MICROSOFT\WINDOWS\CURRENTVERSION\RUN\ 12273434
HKEY_LOCAL_MACHINE\SOFTWARE\MICROSOFT\WINDOWS\CURRENTVERSION\RUN\ 12292034
HKEY_LOCAL_MACHINE\SOFTWARE\MICROSOFT\WINDOWS\CURRENTVERSION\RUN\ 12571564
HKEY_LOCAL_MACHINE\SOFTWARE\MICROSOFT\WINDOWS\CURRENTVERSION\RUN\ 12590624
HKEY_LOCAL_MACHINE\SOFTWARE\MICROSOFT\WINDOWS\CURRENTVERSION\RUN\ 12613754
HKEY_LOCAL_MACHINE\SOFTWARE\MICROSOFT\WINDOWS\CURRENTVERSION\RUN\ 12740624
HKEY_LOCAL_MACHINE\SOFTWARE\MICROSOFT\WINDOWS\CURRENTVERSION\RUN\ 12751564
HKEY_LOCAL_MACHINE\SOFTWARE\MICROSOFT\WINDOWS\CURRENTVERSION\RUN\ 13055314
HKEY_LOCAL_MACHINE\SOFTWARE\MICROSOFT\WINDOWS\CURRENTVERSION\RUN\ 13059684
HKEY_LOCAL_MACHINE\SOFTWARE\MICROSOFT\WINDOWS\CURRENTVERSION\RUN\ 13278754
HKEY_LOCAL_MACHINE\SOFTWARE\MICROSOFT\WINDOWS\CURRENTVERSION\RUN\ 13309954
HKEY_LOCAL_MACHINE\SOFTWARE\MICROSOFT\WINDOWS\CURRENTVERSION\RUN\ 13355004
HKEY_LOCAL_MACHINE\SOFTWARE\MICROSOFT\WINDOWS\CURRENTVERSION\RUN\ 13458754
HKEY_LOCAL_MACHINE\SOFTWARE\MICROSOFT\WINDOWS\CURRENTVERSION\RUN\ 13542964
HKEY_LOCAL_MACHINE\SOFTWARE\MICROSOFT\WINDOWS\CURRENTVERSION\RUN\ 13569684
HKEY_LOCAL_MACHINE\SOFTWARE\MICROSOFT\WINDOWS\CURRENTVERSION\RUN\ 13747964
HKEY_LOCAL_MACHINE\SOFTWARE\MICROSOFT\WINDOWS\CURRENTVERSION\RUN\ 13779354
HKEY_LOCAL_MACHINE\SOFTWARE\MICROSOFT\WINDOWS\CURRENTVERSION\RUN\ 13833124
HKEY_LOCAL_MACHINE\SOFTWARE\MICROSOFT\WINDOWS\CURRENTVERSION\RUN\ 13887964
HKEY_LOCAL_MACHINE\SOFTWARE\MICROSOFT\WINDOWS\CURRENTVERSION\RUN\ 13889684
HKEY_LOCAL_MACHINE\SOFTWARE\MICROSOFT\WINDOWS\CURRENTVERSION\RUN\ 13930784
HKEY_LOCAL_MACHINE\SOFTWARE\MICROSOFT\WINDOWS\CURRENTVERSION\RUN\ 14026404
HKEY_LOCAL_MACHINE\SOFTWARE\MICROSOFT\WINDOWS\CURRENTVERSION\RUN\ 14038754
HKEY_LOCAL_MACHINE\SOFTWARE\MICROSOFT\WINDOWS\CURRENTVERSION\RUN\ 14147964
HKEY_LOCAL_MACHINE\SOFTWARE\MICROSOFT\WINDOWS\CURRENTVERSION\RUN\ 14190934
HKEY_LOCAL_MACHINE\SOFTWARE\MICROSOFT\WINDOWS\CURRENTVERSION\RUN\ 14263904
HKEY_LOCAL_MACHINE\SOFTWARE\MICROSOFT\WINDOWS\CURRENTVERSION\RUN\ 14391094
HKEY_LOCAL_MACHINE\SOFTWARE\MICROSOFT\WINDOWS\CURRENTVERSION\RUN\ 14611404
HKEY_LOCAL_MACHINE\SOFTWARE\MICROSOFT\WINDOWS\CURRENTVERSION\RUN\ 14820604
HKEY_LOCAL_MACHINE\SOFTWARE\MICROSOFT\WINDOWS\CURRENTVERSION\RUN\ 14865934
HKEY_LOCAL_MACHINE\SOFTWARE\MICROSOFT\WINDOWS\CURRENTVERSION\RUN\ 14945624
HKEY_LOCAL_MACHINE\SOFTWARE\MICROSOFT\WINDOWS\CURRENTVERSION\RUN\ 14953904
HKEY_LOCAL_MACHINE\SOFTWARE\MICROSOFT\WINDOWS\CURRENTVERSION\RUN\ 15083594
HKEY_LOCAL_MACHINE\SOFTWARE\MICROSOFT\WINDOWS\CURRENTVERSION\RUN\ 151100227
HKEY_LOCAL_MACHINE\SOFTWARE\MICROSOFT\WINDOWS\CURRENTVERSION\RUN\ 15497814
HKEY_LOCAL_MACHINE\SOFTWARE\MICROSOFT\WINDOWS\CURRENTVERSION\RUN\ 15564064
HKEY_LOCAL_MACHINE\SOFTWARE\MICROSOFT\WINDOWS\CURRENTVERSION\RUN\ 15624534
HKEY_LOCAL_MACHINE\SOFTWARE\MICROSOFT\WINDOWS\CURRENTVERSION\RUN\ 15690624
HKEY_LOCAL_MACHINE\SOFTWARE\MICROSOFT\WINDOWS\CURRENTVERSION\RUN\ 15733284
HKEY_LOCAL_MACHINE\SOFTWARE\MICROSOFT\WINDOWS\CURRENTVERSION\RUN\ 15827504
HKEY_LOCAL_MACHINE\SOFTWARE\MICROSOFT\WINDOWS\CURRENTVERSION\RUN\ 15839064
HKEY_LOCAL_MACHINE\SOFTWARE\MICROSOFT\WINDOWS\CURRENTVERSION\RUN\ 16046564
HKEY_LOCAL_MACHINE\SOFTWARE\MICROSOFT\WINDOWS\CURRENTVERSION\RUN\ 16272034
HKEY_LOCAL_MACHINE\SOFTWARE\MICROSOFT\WINDOWS\CURRENTVERSION\RUN\ 16281254
HKEY_LOCAL_MACHINE\SOFTWARE\MICROSOFT\WINDOWS\CURRENTVERSION\RUN\ 16365934
HKEY_LOCAL_MACHINE\SOFTWARE\MICROSOFT\WINDOWS\CURRENTVERSION\RUN\ 16439844
HKEY_LOCAL_MACHINE\SOFTWARE\MICROSOFT\WINDOWS\CURRENTVERSION\RUN\ 16515004
HKEY_LOCAL_MACHINE\SOFTWARE\MICROSOFT\WINDOWS\CURRENTVERSION\RUN\ 16517344
HKEY_LOCAL_MACHINE\SOFTWARE\MICROSOFT\WINDOWS\CURRENTVERSION\RUN\ 16526924
HKEY_LOCAL_MACHINE\SOFTWARE\MICROSOFT\WINDOWS\CURRENTVERSION\RUN\ 16631874
HKEY_LOCAL_MACHINE\SOFTWARE\MICROSOFT\WINDOWS\CURRENTVERSION\RUN\ 16647964
HKEY_LOCAL_MACHINE\SOFTWARE\MICROSOFT\WINDOWS\CURRENTVERSION\RUN\ 16692344
HKEY_LOCAL_MACHINE\SOFTWARE\MICROSOFT\WINDOWS\CURRENTVERSION\RUN\ 16723754
HKEY_LOCAL_MACHINE\SOFTWARE\MICROSOFT\WINDOWS\CURRENTVERSION\RUN\ 1672603317
HKEY_LOCAL_MACHINE\SOFTWARE\MICROSOFT\WINDOWS\CURRENTVERSION\RUN\ 16846714
HKEY_LOCAL_MACHINE\SOFTWARE\MICROSOFT\WINDOWS\CURRENTVERSION\RUN\ 17039534
HKEY_LOCAL_MACHINE\SOFTWARE\MICROSOFT\WINDOWS\CURRENTVERSION\RUN\ 17078124
HKEY_LOCAL_MACHINE\SOFTWARE\MICROSOFT\WINDOWS\CURRENTVERSION\RUN\ 17236094
HKEY_LOCAL_MACHINE\SOFTWARE\MICROSOFT\WINDOWS\CURRENTVERSION\RUN\ 17237344
HKEY_LOCAL_MACHINE\SOFTWARE\MICROSOFT\WINDOWS\CURRENTVERSION\RUN\ 17268594
HKEY_LOCAL_MACHINE\SOFTWARE\MICROSOFT\WINDOWS\CURRENTVERSION\RUN\ 17287504
HKEY_LOCAL_MACHINE\SOFTWARE\MICROSOFT\WINDOWS\CURRENTVERSION\RUN\ 17444894
HKEY_LOCAL_MACHINE\SOFTWARE\MICROSOFT\WINDOWS\CURRENTVERSION\RUN\ 17528124
HKEY_LOCAL_MACHINE\SOFTWARE\MICROSOFT\WINDOWS\CURRENTVERSION\RUN\ 17722954
HKEY_LOCAL_MACHINE\SOFTWARE\MICROSOFT\WINDOWS\CURRENTVERSION\RUN\ 17818594
HKEY_LOCAL_MACHINE\SOFTWARE\MICROSOFT\WINDOWS\CURRENTVERSION\RUN\ 17948754
HKEY_LOCAL_MACHINE\SOFTWARE\MICROSOFT\WINDOWS\CURRENTVERSION\RUN\ 18058594
HKEY_LOCAL_MACHINE\SOFTWARE\MICROSOFT\WINDOWS\CURRENTVERSION\RUN\ 18337654
HKEY_LOCAL_MACHINE\SOFTWARE\MICROSOFT\WINDOWS\CURRENTVERSION\RUN\ 18562654
HKEY_LOCAL_MACHINE\SOFTWARE\MICROSOFT\WINDOWS\CURRENTVERSION\RUN\ 18563124
HKEY_LOCAL_MACHINE\SOFTWARE\MICROSOFT\WINDOWS\CURRENTVERSION\RUN\ 18610464
HKEY_LOCAL_MACHINE\SOFTWARE\MICROSOFT\WINDOWS\CURRENTVERSION\RUN\ 18740004
HKEY_LOCAL_MACHINE\SOFTWARE\MICROSOFT\WINDOWS\CURRENTVERSION\RUN\ 18769374
HKEY_LOCAL_MACHINE\SOFTWARE\MICROSOFT\WINDOWS\CURRENTVERSION\RUN\ 1888062268
HKEY_LOCAL_MACHINE\SOFTWARE\MICROSOFT\WINDOWS\CURRENTVERSION\RUN\ 18967184
HKEY_LOCAL_MACHINE\SOFTWARE\MICROSOFT\WINDOWS\CURRENTVERSION\RUN\ 18986094
HKEY_LOCAL_MACHINE\SOFTWARE\MICROSOFT\WINDOWS\CURRENTVERSION\RUN\ 19017654
HKEY_LOCAL_MACHINE\SOFTWARE\MICROSOFT\WINDOWS\CURRENTVERSION\RUN\ 1915224187
HKEY_LOCAL_MACHINE\SOFTWARE\MICROSOFT\WINDOWS\CURRENTVERSION\RUN\ 19248274
HKEY_LOCAL_MACHINE\SOFTWARE\MICROSOFT\WINDOWS\CURRENTVERSION\RUN\ 19353904
HKEY_LOCAL_MACHINE\SOFTWARE\MICROSOFT\WINDOWS\CURRENTVERSION\RUN\ 19378284
HKEY_LOCAL_MACHINE\SOFTWARE\MICROSOFT\WINDOWS\CURRENTVERSION\RUN\ 19381254
HKEY_LOCAL_MACHINE\SOFTWARE\MICROSOFT\WINDOWS\CURRENTVERSION\RUN\ 19404374
HKEY_LOCAL_MACHINE\SOFTWARE\MICROSOFT\WINDOWS\CURRENTVERSION\RUN\ 19516874
HKEY_LOCAL_MACHINE\SOFTWARE\MICROSOFT\WINDOWS\CURRENTVERSION\RUN\ 19665624
HKEY_LOCAL_MACHINE\SOFTWARE\MICROSOFT\WINDOWS\CURRENTVERSION\RUN\ 19758124
HKEY_LOCAL_MACHINE\SOFTWARE\MICROSOFT\WINDOWS\CURRENTVERSION\RUN\ 19795784
HKEY_LOCAL_MACHINE\SOFTWARE\MICROSOFT\WINDOWS\CURRENTVERSION\RUN\ 19815934
HKEY_LOCAL_MACHINE\SOFTWARE\MICROSOFT\WINDOWS\CURRENTVERSION\RUN\ 19900934
HKEY_LOCAL_MACHINE\SOFTWARE\MICROSOFT\WINDOWS\CURRENTVERSION\RUN\ 19916874
HKEY_LOCAL_MACHINE\SOFTWARE\MICROSOFT\WINDOWS\CURRENTVERSION\RUN\ 48603728
HKEY_LOCAL_MACHINE\SOFTWARE\MICROSOFT\WINDOWS\CURRENTVERSION\RUN\ 699415262
HKEY_LOCAL_MACHINE\SOFTWARE\MICROSOFT\WINDOWS\CURRENTVERSION\RUN\ 90249366
HKEY_LOCAL_MACHINE\SOFTWARE\MICROSOFT\WINDOWS\CURRENTVERSION\RUN\ 90649526
HKEY_LOCAL_MACHINE\SOFTWARE\MICROSOFT\WINDOWS\CURRENTVERSION\RUN\ 90786246
HKEY_LOCAL_MACHINE\SOFTWARE\MICROSOFT\WINDOWS\CURRENTVERSION\RUN\ 91402176
HKEY_LOCAL_MACHINE\SOFTWARE\MICROSOFT\WINDOWS\CURRENTVERSION\RUN\ 91457186
HKEY_LOCAL_MACHINE\SOFTWARE\MICROSOFT\WINDOWS\CURRENTVERSION\RUN\ 91631706
HKEY_LOCAL_MACHINE\SOFTWARE\MICROSOFT\WINDOWS\CURRENTVERSION\RUN\ 92623746
HKEY_LOCAL_MACHINE\SOFTWARE\MICROSOFT\WINDOWS\CURRENTVERSION\RUN\ 93069676
HKEY_LOCAL_MACHINE\SOFTWARE\MICROSOFT\WINDOWS\CURRENTVERSION\RUN\ 93789346
HKEY_LOCAL_MACHINE\SOFTWARE\MICROSOFT\WINDOWS\CURRENTVERSION\RUN\ 94157956
HKEY_LOCAL_MACHINE\SOFTWARE\MICROSOFT\WINDOWS\CURRENTVERSION\RUN\ 94875926
HKEY_LOCAL_MACHINE\SOFTWARE\MICROSOFT\WINDOWS\CURRENTVERSION\RUN\ 94955616
HKEY_LOCAL_MACHINE\SOFTWARE\MICROSOFT\WINDOWS\CURRENTVERSION\RUN\ 96641866
HKEY_LOCAL_MACHINE\SOFTWARE\MICROSOFT\WINDOWS\CURRENTVERSION\RUN\ 96733746
HKEY_LOCAL_MACHINE\SOFTWARE\MICROSOFT\WINDOWS\CURRENTVERSION\RUN\ 96856706
HKEY_LOCAL_MACHINE\SOFTWARE\MICROSOFT\WINDOWS\CURRENTVERSION\RUN\ 97049526
HKEY_LOCAL_MACHINE\SOFTWARE\MICROSOFT\WINDOWS\CURRENTVERSION\RUN\ 97246086
HKEY_LOCAL_MACHINE\SOFTWARE\MICROSOFT\WINDOWS\CURRENTVERSION\RUN\ 98573116
HKEY_LOCAL_MACHINE\SOFTWARE\MICROSOFT\WINDOWS\CURRENTVERSION\RUN\ 98620456
HKEY_LOCAL_MACHINE\SOFTWARE\MICROSOFT\WINDOWS\CURRENTVERSION\RUN\ 99064526
HKEY_LOCAL_MACHINE\SOFTWARE\MICROSOFT\WINDOWS\CURRENTVERSION\RUN\ 99363896
HKEY_LOCAL_MACHINE\SOFTWARE\MICROSOFT\WINDOWS\CURRENTVERSION\RUN\ 99388276
HKEY_LOCAL_MACHINE\SOFTWARE\MICROSOFT\WINDOWS\CURRENTVERSION\RUN\ 99678116
HKEY_LOCAL_MACHINE\SOFTWARE\MICROSOFT\WINDOWS\CURRENTVERSION\RUN\ 99825926
HKEY_LOCAL_MACHINE\SOFTWARE\MICROSOFT\WINDOWS\CURRENTVERSION\RUN\ 99926866
Microsoft\Windows\CurrentVersion\App Paths\AdwarePro.exe
Microsoft\Windows\CurrentVersion\Explorer\MenuOrder\Start Menu2\Programs\AntivirusXP
Microsoft\Windows\CurrentVersion\Explorer\MenuOrder\Start Menu2\Programs\System Security
Microsoft\Windows\CurrentVersion\Run\00206953
Microsoft\Windows\CurrentVersion\Run\02215359
Microsoft\Windows\CurrentVersion\Run\1690486455
Microsoft\Windows\CurrentVersion\Run\281681216
Microsoft\Windows\CurrentVersion\Run\359F5809-00B8-4455-A73A-9EA62A51101B
Microsoft\Windows\CurrentVersion\Run\370382475
Microsoft\Windows\CurrentVersion\Run\973260134
Microsoft\Windows\CurrentVersion\Run\AdwareProMFCT
MICROSOFT\WINDOWS\CURRENTVERSION\RUN\AntivirusXP.exe
Microsoft\Windows\CurrentVersion\Run\kxva
Microsoft\Windows\CurrentVersion\Run\Mmexofumutokara
Microsoft\Windows\CurrentVersion\Run\SystemSecurity
Microsoft\Windows\CurrentVersion\Uninstall\AdwarePro
Microsoft\Windows\CurrentVersion\Uninstall\Hyves Browser
Microsoft\Windows\CurrentVersion\Uninstall\SystemSecurity2009
RUNNING PROGRAM\14943754.exe
RUNNING PROGRAM\1819749873.exe