Danger level
:

9
Type:
Rogue Anti-Spyware
Common infection symptoms:
Installs itself without permissions
Connects to the internet without permission
Shows commercial adverts
Annoying Pop-up's
Slow Computer
Other mutations known as:
Windows Security & Control
Despite the continued efforts of the online security industry, many consumers and PC owners are still duped into parting with their hard earned money for worthless and harmful rogue security applications, such as the publicly shamed Windows Security & Control rogue antispyware. This application was designed with a malicious intent, and will not live up to any of its proffered promises. Windows Security & Control only has one goal; to fleece as much money out of its victim in the least amount of time. What's more distressing is the fact that Windows Security & Control will stop at nothing to achieve its devious goal.
Windows Security & Control infiltrates the system by making use of seditious Trojan horse infections. These Trojans are distributed via fake online malware scanners, and through the use of treacherous browser hijacking domains. These browser hijacking sites forcefully redirects users to their homepages where the user's system and browser vulnerabilities are exploited. Windows Security & Control has also been known to bundle its Trojans and malware together with legitimate security updates and downloads obtained from third party websites.
Even though Windows Security & Control will try every trick in the book to come across as a genuine application but users are warned against trusting anything Windows Security & Control has to say. Once Windows Security & Control has successfully penetrated and installed itself on the system, the PC owner will receive the following pop up message:
Windows Security & Control has been successfully installed on your computer.
To complete the installation please reboot your computer.
Yes, reboot now
If the user makes the mistake of acting on this call to action, he will not be able to access his Desktop again once the PC reboots. Instead, he will be greeted by the Windows Security & Control interface. What's more, the PC owner will soon realize that he won't be able to launch any executables on his system as a result of Windows Security & Control . This includes crucial programs such as Windows Task Manager. If the PC owner tries to use Task Manager to close Windows Security & Control , the program will either be utterly unresponsive or another bogus security pop up will be generated stating that Task Manager cannot be trusted.
Although this is all very distressing, there does seem to be a way to get past the Windows Security & Control interface and to access the Desktop once again. The following instructions should be followed carefully:
1.Once you are presented with the Windows Security & Control start up screen, select the OK button which will start the Windows Security & Control system scan.
2.While this system scan is in progress, navigate the mouse down to the bottom left corner of the screen, where you will find a link to a legitimate Windows website: http://www.microsoft.com/protect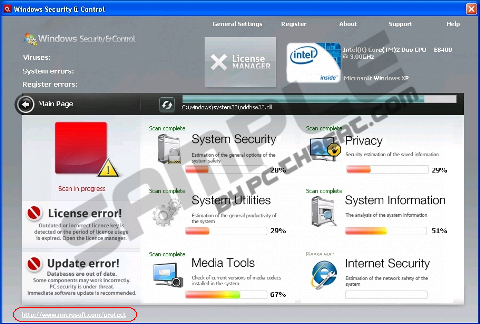 3.Now click on the Microsoft link which will launch the browser. Once the browser loads, click on the red X at the top right to close it.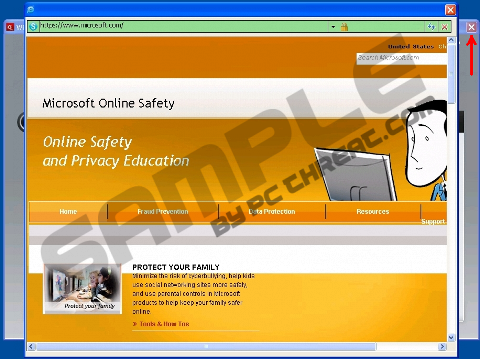 4.Following this, you should now be able to successfully close the Windows Security & Control start up screen, and access to your Desktop should be restored.
While attempting to launch an executable on the system, you might still come across the following bogus security alert:
Warning:
Name: Hkcmd.exe
Location: C:windowssystem32
Application that seems to be a key-logger is detected. System information security is at risk. It is recommended to enable the security mode and run total System scanning.
Do not pay any heed to this fake security notification. If you attempt to run any executable enough times, you will eventually succeed. While Windows Security & Control is still active on the system, you may come across various of these fake security alerts, such as the following:
"Warning! Database updated failed!
Database update failed!
Outdated viruses database are not effective can't guarantee adequate protection and security for your PC! Click here to get the full version of the product and update the database!
The application taskmgr.exe was launched successfully but, it was forced to shut down due to security reasons.
This happened because the application was infected by a malicious program which might pose a threat for the OS.
It is highly recommended installing the necessary heuristic module and perform a full scan of your computer to exterminate malicious programs from it.
Notice the spelling and grammatical mistakes contained in the above fake alerts. This should already warn you as to the trustworthiness of these bogus notifications.
In order to limit the damage posed to your system by this insidious rogue, remove Windows Security & Control from your PC for good. Do this by investing in a security tool which will not only detect and obliterate Windows Security & Control from the system, but also offer future protection against similar attacks and threats.

How to manually remove Windows Security & Control
Files associated with Windows Security & Control infection:
%AppData%\[random].exe
Windows Security & Control processes to kill:
%AppData%\[random].exe