Danger level
:

9
Type:
Rogue Anti-Spyware
Common infection symptoms:
Installs itself without permissions
Connects to the internet without permission
Slow internet connection
System crashes
Annoying Pop-up's
Slow Computer
Other mutations known as:
Windows System Optimizator
It seems even expert users are finding it difficult these days to fully distinguish between genuine security and system optimizer tools, and between spiteful rogueware. This is due to the sheer amount of time and effort invested by the developers in order to remain on par with developers of genuine security tools, as is the case with Windows System Optimizator, which originates from the Fake Microsoft Security Essentials and a shameless clone of Palladium Pro. Windows System Optimizator is nothing more than an elaborate online scam, indeed a rogue defragmenter. This empty shell was created with one purpose in mind; to rip consumers off. Windows System Optimizator won't stop at anything to accomplish this goal, even causing permanent and irreversible damage to its victims' PCs.
Windows System Optimizator does not break new ground with infection and distribution methods employed. Distributed via fake online antimalware scanners and illicit browser hijacking domains, Windows System Optimizator has also been known to spread via bundled security updates and downloads obtained via third party websites. However, Windows System Optimizator ultimately penetrates the PC, users will have a hard time getting rid of it.
Although Windows System Optimizator will do everything possible to pass as a genuine system optimizer, users are warned against falling for seemingly benevolent nature. After Windows System Optimizator is successfully installed to the PC, the user will receive a pop up message saying the following:
Windows System Optimizator has been successfully installed on your computer.
To complete the installation please reboot your computer.
Yes, reboot now
The user will have no choice other than to press OK. After the PC boots back up, the PC owner will not be able to access his Desktop, but will be presented with the Windows System Optimizator interface, and won't be able to launch any executable on the PC. This includes the Task Manager, and should the user try to close the Windows System Optimizator interface via Task Manager, the system will either not respond to the command or Windows System Optimizator will generate another alert which states that Task Manager is not an application which can be trusted.
There does seem to be a way to bypass this startup screen of Windows System Optimizator and access the Desktop. Follow the subsequent instructions to restore access your Dekstop.
1. When presented with the startup screen, press the OK button to start the Windows System Optimizator scan on the system.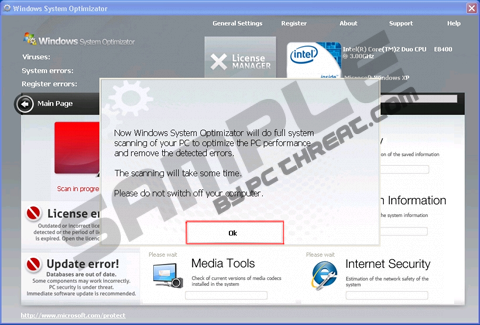 2. While the scan is running, go the bottom left corner screen where you will notice a website linking to a legitimate Microsoft website (http://www.microsoft.com/protect).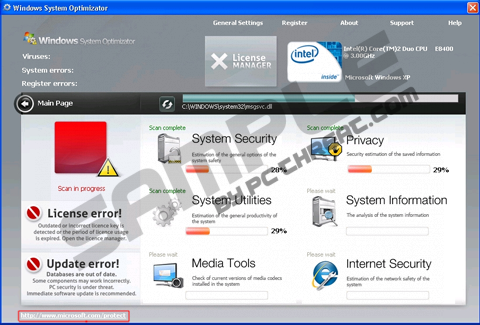 3. Click on this link to be redirected to a website informing users about online safety and privacy education. You should close it by clicking on the red X at the top right of the screen.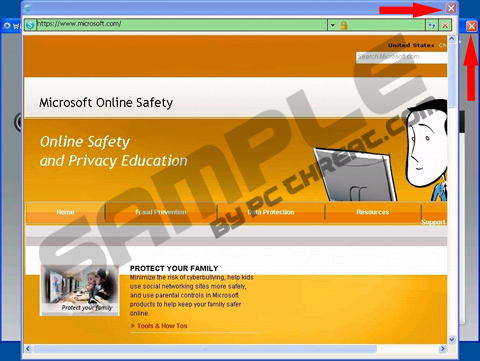 4. You should now be able to also close the Windows System Optimizator startup screen and regain access to your Desktop
You should now have access to your PC's Desktop, as well as a working Internet connection. When trying to launch a program, you might still encounter difficulty and receive the following fake security alert:
"Warning:
Name: Hkcmd.exe
Location: C:windowssystem32
Application that seems to be a key-logger is detected. System information security is at risk. It is recommended to enable the security mode and run total System scanning."
Ignore this fake notification, and continue trying to launch the desired program as you will eventually succeed. While the Windows System Optimizator infection is still active on the PC, users might come across various fake alerts, such as the following one from the Fake Microsoft Security Essentials:
"Warning! Database updated failed!
Database update failed!
Outdated viruses database are not effective can't guarantee adequate protection and security for your PC! Click here to get the full version of the product and update the database!
The application taskmgr.exe was launched successfully but, it was forced to shut down due to security reasons.
This happened because the application was infected by a malicious program which might pose a threat for the OS.
It is highly recommended installing the necessary heuristic module and perform a full scan of your computer to exterminate malicious programs from it."
Do not put any stock into these fake alerts, as they were designed explicitly to confuse and panic victims of the Windows System Optimizator rogue.
In order to protect your PC against the inevitable damage, this insidious rogue will cause, delete Windows System Optimizator from the system at the earliest opportunity. Investing in a properly functioning security tool will not only effectively get rid of Windows System Optimizator, but will also offer adequate protection against future similar threats and attacks.

How to manually remove Windows System Optimizator
Files associated with Windows System Optimizator infection:
dhcktk.exe
%AppData%\[random].exe
Windows System Optimizator processes to kill:
dhcktk.exe
%AppData%\[random].exe