Danger level
:

9
Type:
Rogue Anti-Spyware
Common infection symptoms:
Installs itself without permissions
Connects to the internet without permission
Slow internet connection
System crashes
Annoying Pop-up's
Slow Computer
Other mutations known as:
Infection Video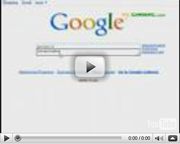 Palladium Pro
There are many reasons as to the continued success experienced by developers of rogue antispyware applications, as in the case of Palladium Pro. One main reason why these rogues – and Palladium Pro in particular – manage to rip so many people off is the sophistication which goes into the design and distributing of these harmful rogue applications. Palladium Pro hails from the same destructive family of rogues as the Fake Microsoft Security Essentials does.
Palladium Pro is delivered to the host PC through various forms of transmission. Palladium Pro certainly does not break new ground with its infection patterns, and makes use of established means of infection. Making use of seditious Trojan and malware infections to surreptitiously enter the prospective victim's PC, the PC owner will remain unaware of the presence of Palladium Pro on his system until the rogue reveals itself to the user. Browser hijackers are also a popular means of infection for Palladium Pro which enters the system forcefully through these illicit domains which make use of sneaky drive-by download techniques.
After the Palladium Pro infection roots itself in the system, the PC owner will start receiving various pop up messages from the Fake Microsoft Security Essentials rogue, stating that his system is infected with severe viruses. This is done in part to further cement Palladium Pro's legitimacy with its intended victim, but more so to create panic in the PC owner. These fake alerts will report that the system is infected with:
"Trojan.Horse.Win32.PAV.64.a"
These fake alerts read as follows:
"Microsoft Security Essentials Alert
Potential Threat Details
Microsoft Security Essentials detected potential threats that might compromise your private or damage your computer. Your access to these items may be suspended until you take an action. Click 'show details' to learn more."
"Microsoft Security Essentials Alert
Solution found
Microsoft Security Center has detected the submitted suspicious file as "Trojan.Horse.Win32.PAV.64.a".
Threat level - very high.
Required action - Antivirus software is required to find and delete all traces of the virus.
Click "Ok" to allow operation system to install the trial version of Palladium to solve the problem.
System reboot is required to complete the installation."
Obviously these fake security notifications simply cannot be trusted. Users are urged not to react to the calls of action contained in the fake alerts, as Palladium Pro is completely dependent on user interaction in order to successfully complete its dubious goal.
If the PC owner reacts to the fake alerts and install Palladium Pro, the rogue will reboot the system to complete the installation. Once the system boots up, the user will be presented with the Palladium Pro start screen instead of the expected Windows Desktop. Palladium Pro will then demand that the PC owner scan his system, and will generate a list of falsely reported threats on the system. At this stage, Palladium Pro will not allow the PC owner to use his system as normal, until he pays for the Palladium Pro software. Users will be denied access to their Desktops, and won't be able to successfully launch Task Manager either. If the user tries to close Palladium Pro, he will receive the following message:
"Current settings don't allow unprotected startup. Please check your settings."
Should you wish to attempt a manual removal, the Palladium.exe and, z.exe processes should be terminated. To locate the Palladium Antivirus files on your PC, open Windows Exporer, type %AppData% and search for and delete Palladim.exe and z.exe from the PC. If you find your Internet connection blocked by Palladium Pro, simply enter the following security key to restore Internet connectivity:
5E2121EE-0300-11D4-8D3B-444553540000
Palladium Pro is a scam which ransom its victims' PCs until they pay the extortion fee. Do not fall victim to this incredulous rogue. Rather destroy Palladium Pro from the system before it causes irreversible damage. Make the best use of a powerful security application which will not only get rid of Palladium Pro but also protect against future similar attacks.
You don't have any other choice than to delete Palladium Pro from your system completely. Follow these 6 easy steps to completely get rid of Palladium Pro and get control over your desktop
1. You will not be able to access your Desktop. After the system boots up, you will arrive at the Palladium Pro Start Screen. Click on "Safe startup" button.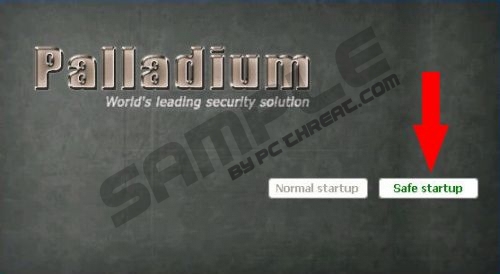 2. Wait till Palladium Pro loads and starts scan.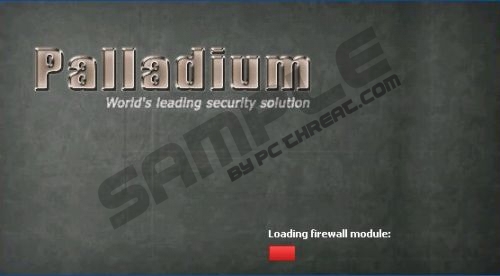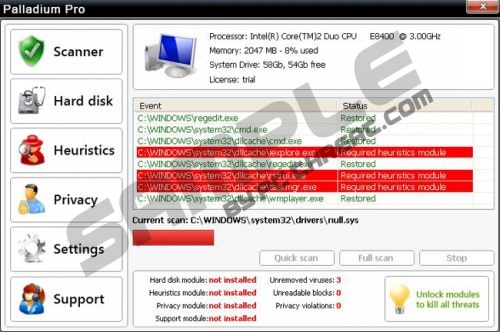 3. Wait until Palladium Pro ends scan and click on "Unlock modules to kill all treats" button at the bottom right.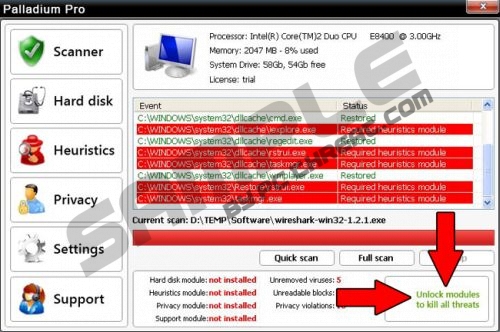 4. When you click on "Unlock modules to kill all treats" Palladium pro will show you a purchase page. DO not Enter any credit cards number there! All you need to do is close it like we show in a picture below: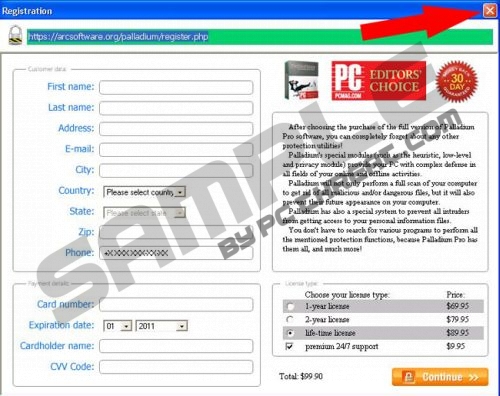 5. After you have done step 4 now you will be able to close Palladium pro window.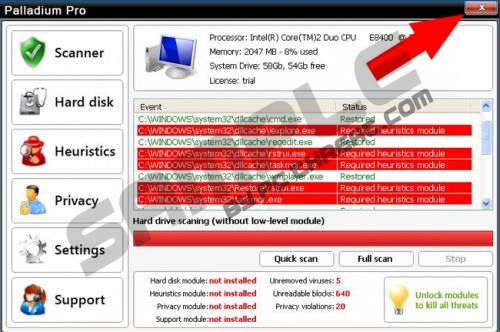 6. Your desktop will be restored and you will be able to successfully use your computer to remove Palladium pro.

How to manually remove Palladium Pro
Files associated with Palladium Pro infection:
palladium.exe
%Programs%\Palladium Antivirus\Palladium Antivirus.lnk
%Programs%\Startup\Palladium Antivirus.lnk
%ProgramFiles%\Palladium Pro\PalladiumPro.exe
Palladium Pro processes to kill:
palladium.exe
PalladiumPro.exe
Remove Palladium Pro registry entries:
HKCU\Software\Palladium Pro\