Danger level
:

10
Type:
Rogue Anti-Spyware
Common infection symptoms:
Installs itself without permissions
Changes background
Connects to the internet without permission
Shows commercial adverts
Slow internet connection
System crashes
Annoying Pop-up's
Slow Computer
Other mutations known as:
Infection Video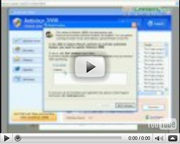 Antivirus 2010
It has been determined through extensive research and testing that Antivirus 2010 rogueware poses a particularly volatile and significant security threat to any PC. As the name suggests, Antivirus 2010 Rootkit is a dangerous infection, and will not benefit any infected PC in the least. In its campaign to extort money out of its victims, this Rootkit will not only hijack its victim's Desktop and prevent him from running or accessing any other applications, but will expose the user's PC to faceless cyber criminals with suspect intent. It's clear from this evidence alone that any infected user would want to permanently destroy Antivirus 2010 off his PC.
It stands to reason that the nameless faces behind the Antivirus 2010 Rootkit have sinister intentions when it comes to spreading their infection virally. The first clue of Antivirus 2010's dubious intentions should be the fact that it infects the PC without the consent of the user. This is the definite trait of a rogue product which cannot be trusted, as any legitimate application will seek the consent and approval of its host PC.
Antivirus 2010 will give its unscrupulous developers absolute and full access to its victim's PC, revealing sensitive personal information, monitoring online activities and exposing billing information and passwords of the user. As a further attack on the PC, Antivirus 2010 will emulate the workings of a real antimalware scanner and pretend to detect the presence of nonexistent threats and infections on its victim's system. This is done in an effort to distress the victim, and further cement Antivirus 2010's supposed beneficial qualities in its victim's mind. Antivirus 2010 will go on to inform the user that the only way to get rid of these supposed infections will be to pay for an Antivirus 2010 license. Some of the more notorious fake notifications employed by Antivirus 2010 to fool its victims read as follows:
"Attention! Network attack detected!
Your computer is being attacked from remote host. Attack has been classified as Remote code execution attempt."
"Attention! Threat detected!
NOTEPAD.EXE is infected with Trojan-BNK.Keylogger.gen
Private data can be stolen by third parties including card details and passwords.
It is strongly recommended to perform threat removal on your system."
"Windows Security Alert
Your computer is making unauthorized copies of your system and Internet files.
You should immediately run full scanning of your system to prevent any unauthorized access to your data.
Click YES to run Antivirus scanner right now."
Users will also be unable to launch any legitimate executable, as Antivirus 2010 will block all executables in an effort to prevent the user from launching a security application which will be able to delete it off the system.
When attempting to launch an executable and the following message is encountered..:
"Windows cannot access the specified device, path, or file. You may not have the appropriate permissions to access the item."
...It is possible for you to gain can access the desired program easily by using the cacls.exe application, which comes standard with any Windows operating system. All you need to do is go to the Command Prompt folder on the system and type the following. This will give access to the "Everyone group" again to use the file:
"cacls /G Everyone:F"
It has also been determined that Antivirus 2010 replaces the vital Windows component userinit.exe, which users cannot delete as it is an essential part of what contributes to making Windows function properly. Its default location reads as follows:
"c:WINDOWSsystem32us?rinit.exe (Do not delete the C:WindowsSystem32userinit.exe file)"
Unless experienced, users are urged not to attempt to manually remove Antivirus 2010 from their systems, as they might end up doing more irreparable damage. Rather employ the removal power of a powerful security application which will eradicate Antivirus 2010 off the system for good. Whichever route of action decided upon, it's important to get rid of Antivirus 2010, and to do it without delay.

How to manually remove Antivirus 2010
Files associated with Antivirus 2010 infection:
AV2010Installer[1].exe
AV2010.exe
wingamma.exe
IEDefender.dll
svchost.exe
QW2010i.exe
AV2010[2].exe
104656.exe
QW2010.exe
AntiVirus Studio 2010.exe
djpyqvvi.dll
load.exe
msnsjidv.dll
ouictmop.dll
securitycenter.exe
Antivirus-Golden.exe
taskmgr.dll
Antivirusgold 4.1.exe
Antivirusgolden 3.8.exe
Antivirusgolden 4.0.exe
Antivirus 2010 DLL's to remove:
IEDefender.dll
djpyqvvi.dll
msnsjidv.dll
ouictmop.dll
Antivirus 2010 processes to kill:
Antivirusgolden 4.0.exe
Antivirusgolden 3.8.exe
AV2010.exe
AV2010Installer[1].exe
wingamma.exe
svchost.exe
AV2010[2].exe
QW2010i.exe
QW2010.exe
104656.exe
AntiVirus Studio 2010.exe
load.exe
securitycenter.exe
SearchSettingsProtection.exe
Antivirus-Golden.exe
Antivirusgold 4.1.exe
Remove Antivirus 2010 registry entries:
AntivirusGolden 3.8
AntivirusGolden 4.0
AntivirusGolden 4.1
AppID\IEDefender.DLL
AppID\{3C40236D-990B-443C-90E8-B1C07BCD4A68}
AV2010
IEDefender.IEDefenderBHO
IEDefender.IEDefenderBHO.1
Microsoft\Windows\CurrentVersion\Explorer\Browser Helper Objects\{FC8A493F-D236-4653-9A03-2BF4FD94F643}
Microsoft\Windows\CurrentVersion\Explorer\MenuOrder\Start Menu2\Programs\AV2010
RUNNING PROGRAM\AV2010.exe
RUNNING PROGRAM\QW2010.exe
{705FD64B-2B7B-4856-9337-44CA1DA86849}
{7BC7565C-5062-43CE-8797-DC2C271140A9}
{9CB00F85-D96F-1C82-F5A4-A31D57D6528D}
{9F9B502D-9C70-E6CC-2892-FA153A3CFF5E}
{FC8A493F-D236-4653-9A03-2BF4FD94F643}