Danger level
:

9
Type:
Rogue Anti-Spyware
Common infection symptoms:
Installs itself without permissions
Connects to the internet without permission
Shows commercial adverts
Slow internet connection
Annoying Pop-up's
Slow Computer
Other mutations known as:
Infection Video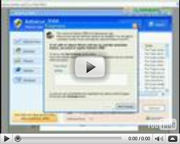 Eco AntiVirus 2010
Eco AntiVirus 2010 (Eco AntiVirus) is yet another manipulative rogue antispyware application. It actually comes from the same family as similar Green AV antispyware applications .This malicious parasite will flood your computer with many computer security notifications that are fake. It is all one big attempt which Eco AntiVirus 2010 makes use of in order to try and make you believe that you have all types of threats running on your computer. The reason why Eco AntiVirus 2010 wants you to think that you have all these fake threats on your machine, is so you will panic and buy the full version.
Eco AntiVirus 2010 will offer you the full version for a small fee, which promises to remove all of these fake threats from your computer system. The real reason why Eco AntiVirus 2010 exists is so that you will buy the full version and part with your money. The full version of Eco AntiVirus 2010 is a fake version of nothing which has been designed in order to obtain your hard earned money, do not fall for this malicious scheme. It is highly suggested that you invest in a decent antispyware removal product that is able to both detect as well as automatically remove the malicious Eco AntiVirus 2010 for you.