Danger level
:

10
Type:
Rogue Anti-Spyware
Common infection symptoms:
Block exe files from running
Installs itself without permissions
Connects to the internet without permission
Slow internet connection
System crashes
Annoying Pop-up's
Slow Computer
Other mutations known as:
Disk Antivirus Professional
Disk Antivirus Professional is a bogus security program which has been created to rip you off. The rogue application is a clone of the infamous Live Security Platinum and System Progressive Protection. If you have this so-called malware removal program on your PC, you should act immediately to remove it from the system. It has to be done immediately in order to prevent you from further malware attacks and enable the system run properly.
If you do not remove Disk Antivirus Professional Virus, you will be constantly bombarded with fake security notifications aimed at convincing you to activate the program. The activation is said to be necessary in order to remove various threats which are supposedly detected by the program. The infections which are listed in the fake scanner are provided to make you purchase the license for Disk Antivirus and here you will find some example how the rogue software attempts to deceive you:
Warning!
Application cannot be executed. The file GoogleUpdate.exe infected.
Please activate your antivirus software.
Disk Antivirus Professional Warning
Intercepting programs that may compromise your privacy and harm your system have been detected on your PC.
Click here to remove them immediately with Disk Antivirus Professional.
Disk Antivirus Warning
Your PC is still infected with dangerous viruses. Activate antivirus protection to prevent data loss and avoid the theft of your credit card details.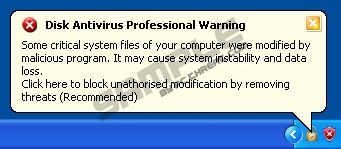 Additionally, Disk Antivirus Professional Virus can disable some executable files so that you cannot launch your anti-virus program and remove the infection. Note that you may also be warned that the website you want to visit is insecure:
Warning! The site you are trying visit may harm your computer!
Various alerts and notifications are expected to make you think that you have no choice but activate Disk Antivirus Professional. The truth is that the only way to protect your computer is remove Disk Antivirus Professional, which you should do using SpyHunter, which can easily remove fake AVs, ransomware infections, and other dangerous threat.
To easy up the removal of Disk Antivirus Professional Virus, apply the code given below. It will disable fake pop-up messages and the scanner so that you can access the Internet without any problems and download the spyware removal tool:
AA39754E-715219CE
Do not waste your money on fake tools but invest in a legitimate and powerful program which will protect you against future infections.
Removal Video:

How to manually remove Disk Antivirus Professional
Files associated with Disk Antivirus Professional infection:
%CommonAppData%\[Random]\[Random].ico
%CommonAppData%\[Random]\[Random].exe
%CommonAppData%\[Random]\
Disk Antivirus Professional processes to kill:
[Random].exe
Remove Disk Antivirus Professional registry entries:
HKEY_CURRENT_USER\Software\Microsoft\Windows\CurrentVersion\RunOnce "[Random]"