Danger level
:

9
Type:
Rogue Anti-Spyware
Common infection symptoms:
Block exe files from running
Installs itself without permissions
Connects to the internet without permission
Normal system programs crash immediatelly
Slow internet connection
System crashes
Annoying Pop-up's
Slow Computer
Infection Video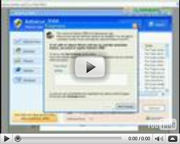 System Care Antivirus
If your computer is being scanned by a program which is called System Care Antivirus, you should rethink what websites you have visited or what you have downloaded recently as this program is fake anti-virus software which you should remove from your PC as soon as possible. Do not hesitate to do so as this program does not present actual information about the condition on your PC.
System Care Antivirus Virus replaces some other rogue anti-spyware tools such as AVASoft Professional Antivirus, Disk Antivirus Professional, System Progressive Protection and some more all which are associated with Rogue.WinWebSec malware. All these malicious programs seek to convince the user that his/her computer is infected with a bunch of damaging computer virus that, unfortunately, can be removed after registering the program. As you know, to register a program means to buy its license key, which you should not do, for it will not change anything.
By paying the money you expose your personal information such as credit card details to hackers, not to mention that you also lose your money. Do not spend money for the full version as those system scans and pop-up messages that you are bombarded with are fictitious. For instance, you may find a Firewall warning claiming that your Internet Explorer is infected:
System Care Antivirus Firewall Alert
System Care Antivirus Firewall has blocked a program from access the Internet
Internet Explorer Browser is infected with worm SVCHOST.Stealth.Keyloger. This worm is trying to send your credit card details using Internet Explorer Internet Browser to connect to remove host.
Additionally, do not worry if you cannot launch some programs as System Care Antivirus can disable different executable files, including your anti-virus program.
The threat is installed in the Application Data folder on Windows XP, whereas on other operating systems, it is installed in the ProgramData folder. The rogue program also creates randomly named files and processes, so if you are novice at malware removal, do not try to delete System Care Antivirus manually. We recommend that you install SpyHunter so that it can detect and remove the infection for you. Moreover, this tool will safeguard the PC, so do not wait and take actions to remove the infection.
Before you implement the malware removal tool, try to enter the activation key provided below in order to disable simulated scans and pop-up messages:
AA39754E-715219CE

How to manually remove System Care Antivirus
Files associated with System Care Antivirus infection:
%CommonAppData%\[Random]\
%CommonAppData%\[Random]\[Random].exe
%CommonAppData%\[Random]\[Random].ico
System Care Antivirus processes to kill:
[Random].exe
Remove System Care Antivirus registry entries:
HKEY_CURRENT_USER\Software\Microsoft\Windows\CurrentVersion\RunOnce "[Random]"