Danger level
:

9
Type:
Rogue Anti-Spyware
Common infection symptoms:
Blocks internet connection
Block exe files from running
Installs itself without permissions
Connects to the internet without permission
Slow internet connection
System crashes
Annoying Pop-up's
Slow Computer
Other mutations known as:
Infection Video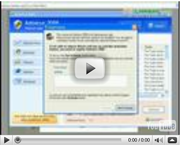 Live Security Platinum
Live Security Platinum is a bogus security application which pretends that it is a security application. This malware is a clone of Smart Fortress 2012, Smart Protection 2012 and Personal Shield Pro. If you notice that your system does not work properly, and that you receive suspicious warning from this rogue, delete this infection at once. Live Security Platinum has been created to make you think that the system is full of such infections as Trojan.Win32.Agent.ado, Win32.Miewer.a and others which can be supposedly removed as soon as you active Live Security Platinum.
Do not make purchase of the rogue, because everything it does is a lie. Live Security Platinum simulates scans and present bogus infections such as mentioned previously. Moreover, it presents fake notifications to make you think that the system is at risk. Some of the notifications, which you should ignore, are presented:
Warning!
Application cannot be executed. The file rdpclip.exe is infected. Please active your antivirus software.
Security Monitor: WARNING!
Attention! System detected a potential hazard (TrojanSPM/LX) on your computer that may infect executable files. Your private information and PC safety is at risk.
To get rid of unwanted spyware and keep your computer safe you need to update your current security software.
Click Yes to download official intrusion detection system (IDS software).
In addition to simulated information, Live Security Platinum also impairs your computer's system. This rogue is known as capable of disabling Task Manager and Registry Editor. The latter is important for manual removal of the rogue, because after the installation of the rogue, in Registry Editor, various malicious registry entries not allowing certain applications to run are created. The rogue might also limit access to the Internet. Theses impairments occur not because of the threats which you supposedly cannot remove, but because of the rogue's intentions to swindle you out of your money. Live Security Platinum wants you to pay money for its imaginary full version, and this is way it attempts to force you to do so.
What you should actually do is remove this infection. We highly recommend you remove Live Security Platinum automatically which means that you have to use a powerful antispyware removal tool which will delete this infection and protect the system. The antispyware will delete the components of Live Security Platinum and will not leave anything related to it; in this way, the infection will not be regenerated.
UPDATE
Live Security Platinum is a fake antivirus tool which belongs to the WinWebSec family. If you want to get rid of this malware easily, you should disable the infection by registering it with the key provided:
64C665BE-4DE7-423B-A6B6-BC0172B25DF2.
The key will disable bogus notifications, which you should never trust. Some more are given below:
Live Security Platinum Warning
Spyware.IEMonster process is found. This is virus that is trying to send your passwords from Internet browser (Explorer, Mozilla Firefox, Outlook & others) for the third-parties.
Click here to protect your data with Live Security Platinum.
Live Security Platinum Warning
Live Security Platinum has found viruses at your system.
We highly recommend to get license for Live Security Scanner to remove harmful software now.
Once you have entered the code, download and install a spyware removal tool so that the infection can be removed from the system. An antisipyware application will detect and delete Live Security Platinum for you automatically. Do not delay the removal, because only after the deletion of the infection you can use your computer properly.
Update
New activation key
AA39754E-715219CE
How to renew your internet connection:
This rogue antispyware blocks your Internet connection to prevent you from removing the rogue application. To enable the Internet connection, please follow these instructions:
Open Internet Explorer and go to >Tools< select >Internet Options<

Select >Connections<

Select >LAN Settings<

Now you need to uncheck the checkbox labeled >Use a proxy server for your LAN< in Proxy Server section. Then press the >OK< button to close this screen and press the >OK< button to close the Internet Options screen.

Now you can download the SpyHunter scanner and remove the infection.

How to manually remove Live Security Platinum
Files associated with Live Security Platinum infection:
Live Security Platinum.lnk
a2e1a.exe
f424f.exe
c5826.exe
%AppData%\[Random]\[Random].exe
%Programs%\Live Security Platinum\Live Security Platinum.lnk
%Desktopdir%\Live Security Platinum.lnk
Live Security Platinum processes to kill:
a2e1a.exe
f424f.exe
c5826.exe
%AppData%\[Random]\[Random].exe
Remove Live Security Platinum registry entries:
HKCU\Software\Microsoft\Windows\CurrentVersion\RunOnce\[random] %AppData%\[Random]\[Random].exe
HKCU\Software\Microsoft\Windows\CurrentVersion\Uninstall\Live Security Platinum
HKCU\Software\Microsoft\Windows\CurrentVersion\Uninstall\Live Security Platinum\DisplayIcon %AppData%\[Random]\[Random].exe,0
HKCU\Software\Microsoft\Windows\CurrentVersion\Uninstall\Live Security Platinum\DisplayName Live Security Platinum
HKCU\Software\Microsoft\Windows\CurrentVersion\Uninstall\Live Security Platinum\ShortcutPath "%AppData%\[Random]\[Random].exe" -u
HKCU\Software\Microsoft\Windows\CurrentVersion\Uninstall\Live Security Platinum\UninstallString "%AppData%\[Random]\[Random].exe" -u