Danger level
:

9
Type:
Rogue Anti-Spyware
Common infection symptoms:
Block exe files from running
Installs itself without permissions
Connects to the internet without permission
Slow internet connection
System crashes
Annoying Pop-up's
Slow Computer
Other mutations known as:
Infection Video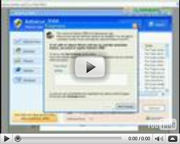 Smart Fortress 2012
Rogue.SecurityTool family has produced such popular fake antispywares as Smart Protection 2012 and Security Sphere 2012. Smart Fortress 2012 is the newest production, which can enter your Windows system through active Trojans, fake online scanners, social engineering scams, or various other means of invasion. Smart Fortress 2012 mimics a legitimate antispyware tool and claims to offer your computer best protection, and save your system from any infection. In fact, this rogue antispyware might be the only malicious application running, and you need to remove Smart Fortress 2012, before it breaches your security and harms your operating system.
Once Smart Fortress 2012 is activated, it is capable of restricting access to such Windows Components as Task Manager and Registry Editor, which is done to control executable files and aggravate the removal processes. Besides this paralyzing action, the rogue also focuses your attention towards numerous fake notifications:
Warning!
Application cannot be executed. The file notepad.exe is infected.
Please activate your antivirus software.


Warning: Your computer is infected
Detected spyware infection!
Click this message to install the last update of security software...
Security Monitor: WARNING!
Attention! System detected a potential hazard (TrojanSPM/LX) on your computer that may infect executable files. Your private information and PC safety is at risk.
To get rid of unwanted spyware and keep your computer safe you need to update your current security software.
Click Yes to download official intrusion detection system (IDS software).
Smart Fortress 2012 Warning
Intercepting programs that may compromise your privacy and harm your system have been detected on your PC.
Click here to remove them immediately with Smart Fortress 2012
And when Smart Fortress 2012 intimidates you with a fictitious infection, it leads you to the purchase page, where you can buy the bogus threat removal tool. Hackers will try to tempt you with discounts and legitimacy proclamations:
Lifetime Software License, 60% discount! 89.95 USD
Terms
You are purchasing Smart Fortress 2012. This is a one-time charge and you will not be rebilled.
Do not be fooled by these propositions and ignore them, because you should NOT reveal any of your identification data, whilst purchasing. On the same purchase page you will also see an option to proceed for users with registration codes. The active license key for Smart Fortress 2012 is AA39754E-715219CE, and you should enter it into the appropriate field to get rid of all annoying pop-ups, security alerts and other notifications. This will also help you to proceed with manual removal.
Smart Fortress 2012 is a completely fake antispyware tool, and you should not believe any of its proclamations. Be sure that the only purpose of this malicious application is to profit from you! Do not help hackers and additional third parties to make easy money, and delete Smart Fortress 2012 immediately! You should protect your Windows system and your personal data with a legitimate antispyware tool, which will remove all infected files. Also, if you have already paid money, do not forget to inform your bank about the fraud, because you could be refunded!
UPDATE
It has been researched that PC users, who have been fooled by Smart Fortress 2012 and believed that activating the rogue will solve all security issues, are highly likely to have their names and other identifiable details pinned to further Smart Fortress 2012 creators' scams. This is why it is highly important to ignore such fake intimidations:
Activate Smart Fortress 2012
To perform this action, you must activate Smart Fortress 2012, on this computer. Do you want to activate Smart Fortress 2012 now?
• Yes, activate Smart Fortress 2012 (Recommended)
Click to activate antivirus and remove all infections
• No, continue unprotected (Dangerous)
Continue without activation Smart Fortress 2012

How to renew your internet connection:
This rogue antispyware blocks your Internet connection to prevent you from removing the rogue application. To enable the Internet connection, please follow these instructions:
Open Internet Explorer and go to >Tools< select >Internet Options<

Select >Connections<

Select >LAN Settings<

Now you need to uncheck the checkbox labeled >Use a proxy server for your LAN< in Proxy Server section. Then press the >OK< button to close this screen and press the >OK< button to close the Internet Options screen.

Now you can download the SpyHunter scanner and remove the infection.

How to manually remove Smart Fortress 2012
Files associated with Smart Fortress 2012 infection:
%CommonAppData%\[Random]\[Random].exe
%CommonAppData%\[Random]
Smart Fortress 2012 processes to kill:
%CommonAppData%\[Random]\[Random].exe
Remove Smart Fortress 2012 registry entries:
HKEY_CLASSES_ROOT\*\shellex\ContextMenuHandlers\{a2a9545d-a0c2-42b4-9708-a0b2badd77c8}
HKEY_CLASSES_ROOT\[Random]
HKEY_CURRENT_USER\Software\Classes\.exe "(Default)" = "[Random]"
HKEY_CURRENT_USER\Software\Classes\[Random]
HKEY_CURRENT_USER\Software\Classes\[Random]\shell\open\command "(Default)" = "%CommonAppData%\[Random]\[Random].exe" -s "%1" %*
HKEY_CURRENT_USER\Software\Microsoft\Windows\CurrentVersion\RunOnce "[Random]"
HKEY_USERS\S-1-5-21-861567501-152049171-1708537768-1003_Classes\%s "(Default)" = "[Random]"
HKEY_USERS\S-1-5-21-861567501-152049171-1708537768-1003_Classes\[Random]\shell\open\command "(Default)" = "%CommonAppData%\[Random]\[Random].exe" -s "%1" %*