Danger level
:

9
Type:
Rogue Anti-Spyware
Common infection symptoms:
Blocks internet connection
Block exe files from running
Installs itself without permissions
Connects to the internet without permission
Shows commercial adverts
Normal system programs crash immediatelly
Slow internet connection
System crashes
Annoying Pop-up's
Slow Computer
Other mutations known as:
Infection Video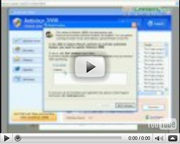 Security Sphere 2012
It can be easy to fall for the clever lies used by Security Sphere 2012 to rip you off. The truth is this rogue antispyware application derives from the same family of rogues as the hotly detested Personal Shield Pro and Security Shield, and this alone should speak to its validity.
Of course Security Sphere 2012 will attempt to convince its victims of its legitimacy, but that does not change the fact that it is a rubbish rogue application unable to protect the PC against any type of threat.
If you wonder how Security Sphere 2012 manages to enter your PC, it makes use of various nefarious tactics to root its infection into the PC. This may range from using browser hijacking websites to bogus online malware scanners. As of late it has also been reported that Security Sphere 2012 makes use of infected online flash ads to facilitate its infiltration of the system.

Once Security Sphere 2012 manages to root itself into the system it will start its attack by initiating a fake security scan. This scan will warn the user of nonexistent threats on the PC and will inform the user that he needs to purchase Security Sphere 2012 in order to stave off these threats. It will then also spam the user with various fake security alerts designed to panic the user into paying for Security Sphere 2012. Some of the fake alerts read as follows:
Warning: Your computer is infected
Detected spyware infection!
Click this message to install the last update of security software...

Security Sphere 2012 Warning
Your computer is still infected with dangerous viruses. Activate antivirus protection to prevent data loss and avoid theft of your credit card details.
Click here to activate protection.
Security Sphere 2012 Warning
Intercepting programs that may compromise your privacy and harm your system have been detected on your PC.
Click here to remove them immediately with Security Sphere 2012
Other annoying symptoms instigated by Security Sphere 2012 include the user being unable to connect to the Internet, and being disallowed to use any applications on the system. In fact each time the user attempts to launch an application on the infected PC, he will receive the following bogus alert:
Warning!
Application cannot be executed. The file notepad.exe is infected.
Please activate your antivirus software.

The same will happen every time the user attempts to log on to a web browser. Security Sphere 2012 will generate the following error message:
Warning message from Internet browser This page under virus attack This may crash your system.
This may be caused by:
Virus content founded at this site trying to install its components.
Malicious & unknown network processes are determined.
Your system is under virus attack
Negative references from other citizens concerning this web page
Your system ports and backdoors have been checked by visited page for external access.
Recommendations:
Obtain a license of "Security Sphere 2012" to protect your PC for the safest browsing Internet pages (desirable)
Launch spyware, virus and malware scanning process.
Keep browsing
Other symptoms range from randomly generated and deleted Desktop items, poor system performance and increased erratic system performance. Enter the following security key into the rogue to stop these annoying symptoms from crippling the system, and this will make it easier to get rid of Security Sphere 2012:
8945315-6548431
The user will also experience annoying symptoms thanks to the Security Sphere 2012 infection. These range from being unable to connect to the Internet to extremely poor system performance. Use a genuine security tool which will not only erase Security Sphere 2012 but also protect against similar attacks in future.
IMPORTANT NOTICE!
Can't load any single program in your computer? SpyHunter doesn't work as well? That is because a malicious file which runs in the memory does not allow you to launch any program. To bypass the issue you need to download SpyHunter and then run the installer file. To save the installer file in your computer, you need to select "Save As" instead of "Run", when you click to download the program. If your internet browser does not work because of the infection, get SpyHunter on an absolutely clean computer and then transfer it into a USB drive or a DVD. Then insert the disk or the USB into your infected computer and install SpyHunter. When you are done, run the malware scanner to catch the infection.
Sometimes Security Sphere 2012 might not allow you to run the installer file. Do no panic; try running it for as many times as necessary until eventually SpyHunter gets through Security Sphere 2012's block. When SpyHunter is finally installed, use it to crush the rogue and delete it from your computer.

How to renew your internet connection:
This rogue antispyware blocks your Internet connection to prevent you from removing the rogue application. To enable the Internet connection, please follow these instructions:
Open Internet Explorer and go to >Tools< select >Internet Options<

Select >Connections<

Select >LAN Settings<

Now you need to uncheck the checkbox labeled >Use a proxy server for your LAN< in Proxy Server section. Then press the >OK< button to close this screen and press the >OK< button to close the Internet Options screen.

Now you can download the SpyHunter scanner and remove the infection.

How to manually remove Security Sphere 2012
Files associated with Security Sphere 2012 infection:
vL02901GfNiF02901.exe
nN02901GfNiF02901.exe
Mn02901GfNiF02901.exe
Lo02901GfNiF02901.exe
eE02901GfNiF02901.exe
%StartMenu%\Programs\Security Sphere 2012.lnk
%AllUsersProfile%\[random\[random].exe
Security Sphere 2012 processes to kill:
vL02901GfNiF02901.exe
nN02901GfNiF02901.exe
Mn02901GfNiF02901.exe
Lo02901GfNiF02901.exe
eE02901GfNiF02901.exe
%AllUsersProfile%\[random\[random].exe
Remove Security Sphere 2012 registry entries:
HKEY_CURRENT_USER\Software\Microsoft\Windows\CurrentVersion\RunOnce "[random]"
HKEY_USERS\.DEFAULT\Software\Microsoft\Internet Explorer\Main\featurecontrol\FEATURE_BROWSER_EMULATION "svchost.exe"
HKEY_USERS\.DEFAULT\Software\Microsoft\Windows\CurrentVersion\Internet Settings "enablehttp1_1" = '1'