Danger level
:

9
Type:
Rogue Anti-Spyware
Common infection symptoms:
Installs itself without permissions
Connects to the internet without permission
Slow internet connection
System crashes
Annoying Pop-up's
Slow Computer
Other mutations known as:
Infection Video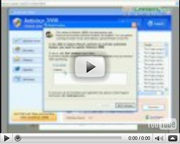 Security Shield
Rogue antispyware Security Shield cannot be trusted! This rogueware hails from the same insidious family as Security Tool. Its effects on a PC can be devastating and permanent, and unless you don't value the security and good performance of your system, you will absolutely have to destroy Security Shield off your PC.
What makes Security Shield so dangerous is that its seemingly legitimate looking user interfaces denotes its true dangerous characteristics. Scanning your PC with its ridiculous fake malware scanner, Security Shield will inform you of numerous dramatic infections which are supposedly crippling your PC. These are fake results used only to panic its victims into paying for its utterly absurd software.

Some of the more sinister fake security messages used by Security Shield to report on bogus infections and to panic their victims read as follows:
Security Shield Warning
Spyware.IEMonster activity detected. This form of spyware attempts to steal passwords from Internet Explorer, Mozilla Firefox, Outlook and other commonly used programs. Click here to immediately remove it with Security Shield.
Security Shield Warning
Intercepting malicious software that may violate your privacy and harm your computer has been detected. Click here to remove now with Security Shield.
Files identified to be dropped onto the system after the Security Shield infection roots itself in the system are:
loader2.exe
loader20_lite.exe
ddhttp.exe
Dumped_.exe
The rogue will list the following contact information if you want to make contact with Security Shield:
avdukat@gmail.com
avdukat@jabber.org
Because you are dealing with free domain email addresses, this should already point to Security Shield's status as a fake security application.
All of the devastation and potential destructive damage posed by a Security Shield infection can be avoided if the user takes the wise and necessary action to completely exterminate Security Shield off his system. Simply treating the symptoms of this rogue infection will not suffice. Radical action calls for the user to destroy Security Shield for good if there is to be any chance of regaining control of the system.
UPDATE:
Before you get down to eradicating Security Shield, do activate the rogue, using this activation key:
64C665BE-4DE7-423B-A6B6-BC0172B25DF2
When the rogue is "activated", it will cease spamming you with the fake security notifications and it will be a lot easier to get rid of it.
Infection blocks access to internet so users should follow these instructions:
After Security Shield fake scan is finished, click Remove, then click Yes activate Security Shield then you will see parasite's purchase page. Press Ctrl+N, new Internet Explorer window is opened and you can access internet.
Leave a comment bellow if you have any problems
Update
If you are still struggling with Security Shield and cannot use your computer properly, follow our guidelines to remove this infection.
1.Open your Internet Explorer and find the Tool button on the right-hand side of the browser.
2.Select Internet Options and when a new window is opened, select the Security tab and click on a globe icon named "Internet".
3.Click on the Custom levels button.
4.Find the following lines and Enable them:
Allow previously unused Active controls to run without prompt
Allow Scriptlets
Automatic prompting for ActiveX controls
5.Press OK and then click on Yes.
6.In the Internet Options window click on OK and close the browser
7.Open the Start menu and select Run.
8.Type http://pcthreat.com/autoinstall and select OK.
9.Now a SpyHunter installer should launch. Install the antimalware and start the scan of the system so that it can detect and remove the infection.
See Video guide:
How to renew your internet connection:
This rogue antispyware blocks your Internet connection to prevent you from removing the rogue application. To enable the Internet connection, please follow these instructions:
Open Internet Explorer and go to >Tools< select >Internet Options<

Select >Connections<

Select >LAN Settings<

Now you need to uncheck the checkbox labeled >Use a proxy server for your LAN< in Proxy Server section. Then press the >OK< button to close this screen and press the >OK< button to close the Internet Options screen.

Now you can download the SpyHunter scanner and remove the infection.

How to manually remove Security Shield
Files associated with Security Shield infection:
947190886.exe
932735408.exe
663846548.exe
6323257655.exe
595230097.exe
487839044.exe
4789509644.exe
4158304675.exe
246950008.exe
%USERPROFILE%\Local Settings\Application Data\[random].exe
%LOCALAPPDATA%\[random].exe
%AppData%\[random].exe
Security Shield processes to kill:
947190886.exe
932735408.exe
663846548.exe
6323257655.exe
595230097.exe
487839044.exe
4789509644.exe
4158304675.exe
246950008.exe
[random].exe
Remove Security Shield registry entries:
HKEY_CURRENT_USER\Software\Microsoft\Windows\CurrentVersion\RunOnce "[random]