Danger level
:

9
Type:
Rogue Anti-Spyware
Common infection symptoms:
Block exe files from running
Installs itself without permissions
Connects to the internet without permission
Slow internet connection
System crashes
Annoying Pop-up's
Slow Computer
Other mutations known as:
Infection Video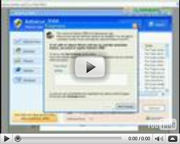 Smart Protection 2012
If you are receiving a lot of system security messages and a full system scan window pops up into your screening, telling you that your computer is seriously infected, do not be hasty and do not follow the instructions given to you by the security program. If the program in question is Smart Protection 2012 then you are under an attack from a dangerous rogue antispyware application. Smart Protection 2012 is a fake computer security program that is there to rip you off, and it will definitely do so, were you to fall for this fraud.
Smart Protection 2012 enters your computer via various means of distribution. It might be distributed via fake online malware scanners or flash advertisements – one single click on these can mean that you get infected by Smart Protection 2012 without you even knowing it, because the rogue installs itself without prompting you about it. It even performs certain changes to the Windows Registry, and loads automatically whenever you boot your computer. It will not take long before you get flooded with fake security alert messages. Ignore the messages and take care of your computer instead.

You should notice that your computer starts working and processing everything slower after the infection. Smart Protection 2012 is the one to blame for it, and you must remove Smart Protection 2012 from your system at once. If you cannot do it manually, get yourself a legitimate computer safeguard program that will perform it for you automatically.
UPDATE
Remember that Smart Protection 2012 has generated from the same family as System Tool which has damaged a number of computer users. The rogues Security Sphere 2012, Security Shield and others are also from the same creators.
As soon as Smart Protection 2012 is installed on your computer, it will paralyze the entire system. Remember that this rogueware is based on rootkit techques – it spreads through Trojan viruses and uses a highly developed technique to hide the infection from being detected.
In addition, Smart Protection 2012 disables Task Manager, Registry Editor and Windows Safe Mode. It can connect to the internet without permission and transfer you to the pages which are already hijacked, as well as slow the performance of your computer.
In order to remove Smart Protection 2012, the user will be unable to run the antivirus application despite the fact that it was installed prior to this rogueware. The fake software will also prevent from running any other executable file. For example, in case you want to run Notepad on the infected system, this action will be preceded by the following false message and the program will be never opened:
Warning!
Application cannot be executed. The file notepad.exe is infected.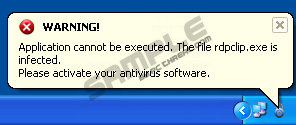 In addition to the inability to run any program, your computer will constantly throw these security warnings to the screen:
Warning: Your computer is infected
Detected spyware infection!
Click this message to install the last update of security software...
Smart Protection 2012 Warning
Your computer is still infected with dangerous viruses. Activate antivirus protection to prevent data loss and avoid theft of your credit card details.
Click here to activate protection.
Smart Protection 2012 Warning
Intercepting programs that may compromise your privacy and harm your system have been detected on your PC.
Click here to remove them immediately with Smart Protection 2012
Keep in mind that Smart Protection 2012 should be removed as soon as you notice it installed. According to the recent research, the easier way to remove the software is to enter the registration key on the registration form first.
Click "registration" button at the top of the main window of Smart Protection 2012 and enter this fake key:
AA39754E-715219CE
As you get a thank you for registration notice, do not restart your machine. At this point, you will be able to install or reinstall antimalware tool which will help you to get rid of this virus.

How to manually remove Smart Protection 2012
Files associated with Smart Protection 2012 infection:
Smart Protection 2012.lnk
B7E8586B0003F65D001EE87DB4EB2367.exe
529C5390000413CA0A1CB82DB4EB2367.exe
%StartMenu%\Programs\Smart Protection 2012.lnk
%CommonAppData%\[random]\[random].exe
%CommonAppData%\[random]\[random]
%CommonAppData%\[random]\
Smart Protection 2012 processes to kill:
B7E8586B0003F65D001EE87DB4EB2367.exe
529C5390000413CA0A1CB82DB4EB2367.exe
%CommonAppData%\[random]\[random].exe
Remove Smart Protection 2012 registry entries:
HKEY_CURRENT_USER\Software\Microsoft\Windows\CurrentVersion\RunOnce "random"
Smart Protection 2012