Danger level
:

1
Type:
Rogue Anti-Spyware
Common infection symptoms:
Blocks internet connection
Block exe files from running
Installs itself without permissions
Connects to the internet without permission
Shows commercial adverts
Normal system programs crash immediatelly
Slow internet connection
System crashes
Annoying Pop-up's
Slow Computer
Other mutations known as:
Infection Video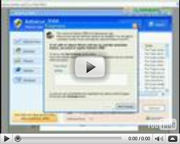 Security Monitor 2012
If you want to keep your computer safe and clean you have to stay away from things like Security Monitor 2012. This program comes from the same family as AntiVirus Studio 2010, Desktop Security 2010, Total PC Defender 2010, and Desktop Defender 2010; and it is a rogue antispyware application that will ruin your computer at the same time stealing all of your money without you even realizing it. It might be hard to grasp how it is virtually possible for a software program to tap into someone's bank account, but that is actually what rogues like Security Monitor 2012 and so you have to be extremely careful if you get infected by one of them.

Security Monitor 2012 steals your money when you pay for the full version of the program, processing your payment through this website:
SECURE.ONLINESTARPAYMENT.COM
. It leaks your banking information to the criminals behind this rogue and then they can use this financial data to perform various illegal operations.
Security Monitor 2012 is being distributed via browser hijackers and blackhat SEO techniques. It means that if you are forcefully redirected to NET-TESTNEWHARD.US website, and you land there, the rogue's download is initiated automatically and Security Monitor 2012 is installed automatically. Then the scan window pops up and performs a fake system scan. The results are really disturbing, because Security Monitor 2012 presents you with a list of Trojans and viruses that are supposedly infecting your computer (like Downloader-BLV, TrojanDownloader:JS/Renos and etc). This list should convince you that you must purchase the full version of Security Monitor 2012, to get rid of these parasites.
Apart from the list Security Monitor 2012 also spams you with a variety fake security messages such as:
Security Center
Unauthorized remote connection!
Your system is making an unauthorized personal data transfer to a remote computer!
Warning! Unauthorized personal data transfer is detected! It may be your personal credit card details, logins and passwords, browsing habits or information about files you have downloaded.
To protect your private data, please click "Prevent Connection" button below.
Security Center Alert
To help protect your computer, Security Center has blocked some features of this program.
Do you want to block this suspicious software?
Name: Screen.Grab.J.exe
Risk: High
You have been infected by a proxy-relay trojan server with new and danger "SpamBots".
You have a computer with a virus that sends spam.
This is a mass-mailing worm with backdoor thus allowing un-authorized access to the infected system.
It spreads by mass-mailing itself to e-mail addresses harvested from the local computer or by querying on-line search engines such as google.com.
The IP address that YOU are getting from Internet Service Provider (ISP) for YOU personal computer is on some major blacklist.
Your computer has been used to send a huge amount of junk e-mail messages during the last days.
You IP will be marked in the Police log file as mass-mailing spam assist.
Upgrading to the full version Security Monitor 2012 it will eliminate the majority of Spam attempts.

Also Security Monitor 2012 can block your exe files from running telling you that the program must be closed due to the fact that it is infected with malware:
Security Monitor 2012
The application excel.exe was launched successfully but it was forced to shut down due to security reasons. This application infected by a malicious software program which might present damage for the PC. It is highly recommended to make a full scan of your computer to exterminate the malicious programs from it.
Actually there are a lot of users who fall into this trap, because Security Monitor 2012 does look reliable, as if it were a part of the their operating system. And some of the rogue's icons like IcoActivate, IcoUninstall, IcoHelp or Security Monitor.exe look like legitimate parts of the Windows. The rogue even gives you the website address: SECURITY MONITOR2012.COM; that should project the program as an application you can trust.
However, if you have Security Monitor 2012 in your computer, you must close all the applications and windows that are related to it and then ignore the fake security alert messages received from the rogue. It only wants to push you into paying for a product that does not exist. Rather than that, use the following activation key to "register" Security Monitor 2012:
LIC2-00A6-234C-B6A9-38F8-F6E2-0838-F084-E235-6051-18B3
With the rogue "activated" you will find the removal a lot easier. If you cannot get rid of the rogue on your own, use a reliable computer security application to remove Security Monitor 2012 automatically, and then safeguard your computer against similar infections.

How to manually remove Security Monitor 2012
Files associated with Security Monitor 2012 infection:
2ovsyt9e54.exe
2463.exe
Edvqvu.scr
taskhost.exe
Security Monitor.lnk
Activate Security Monitor.lnk
Help Security Monitor.lnk
How to Activate Security Monitor.lnk
msPathTime.dll
securityhelper.exe
Security Monitor.exe
securitymanager.exe
%Temp%\wwwsssgen.exe
%Temp%\wwautrsd.exe
%Temp%\wrfwe_di.exe
%Temp%\w32-reno-c.exe
%Temp%\tryh-blv.exe
%Temp%\timem.exe
%Temp%\ploper.exe
%Temp%\lols.exe
%Temp%\lkhgg_ea.exe
%Temp%\ggwwef9752.exe
%Temp%\g_dx234.exe
%Temp%\format.exe
%Temp%\cosock.exe
%Temp%\cocksucker.exe
%Temp%\bzqa43d.exe
%Temp%\altedf.exe
%Temp%\alerfa2.exe
%Temp%\alerfa.exe
%Temp%\al3erfa3.exe
%Temp%\ae0965a7157cd.exe
%Temp%\8gmsed-bd.exe
%Temp%\56493.exe
%Temp%\472a10e2ebxd9.exe
%Temp%\1iowieoo.exe
%Temp%\17dkf.exe
%Temp%\02c9c3c35bdx5.exe
%StartMenu%\Programs\Security Monitor\Security Monitor.lnk
%StartMenu%\Programs\Security Monitor\How to Activate Security Monitor.lnk
%StartMenu%\Programs\Security Monitor\Help Security Monitor.lnk
%StartMenu%\Programs\Security Monitor\Activate Security Monitor.lnk
%StartMenu%\Programs\Security Monitor\
%StartMenu%\Programs\Security Monitor.lnk
%Desktop%\Security Monitor.lnk
%AppData%\Security Monitor\securitymanager.exe
%AppData%\Security Monitor\securityhelper.exe
%AppData%\Security Monitor\Security Monitor.exe
%AppData%\Security Monitor\IcoUninstall.ico
%AppData%\Security Monitor\IcoHelp.ico
%AppData%\Security Monitor\IcoActivate.ico
%AppData%\Security Monitor\
Security Monitor 2012 DLL's to remove:
msPathTime.dll
Security Monitor 2012 processes to kill:
2ovsyt9e54.exe
2463.exe
taskhost.exe
securityhelper.exe
Security Monitor.exe
securitymanager.exe
%Temp%\wwwsssgen.exe
%Temp%\wwautrsd.exe
%Temp%\wrfwe_di.exe
%Temp%\w32-reno-c.exe
%Temp%\tryh-blv.exe
%Temp%\timem.exe
%Temp%\ploper.exe
%Temp%\lols.exe
%Temp%\lkhgg_ea.exe
%Temp%\ggwwef9752.exe
%Temp%\g_dx234.exe
%Temp%\format.exe
%Temp%\cosock.exe
%Temp%\cocksucker.exe
%Temp%\bzqa43d.exe
%Temp%\altedf.exe
%Temp%\alerfa2.exe
%Temp%\alerfa.exe
%Temp%\al3erfa3.exe
%Temp%\ae0965a7157cd.exe
%Temp%\8gmsed-bd.exe
%Temp%\56493.exe
%Temp%\472a10e2ebxd9.exe
%Temp%\1iowieoo.exe
%Temp%\17dkf.exe
%Temp%\02c9c3c35bdx5.exe
%AppData%\Security Monitor\securitymanager.exe
%AppData%\Security Monitor\securityhelper.exe
%AppData%\Security Monitor\Security Monitor.exe
Remove Security Monitor 2012 registry entries:
HKEY_CURRENT_USER\Software\Microsoft\Windows\CurrentVersion\Run "Security Monitor 2012 Security"
HKEY_CURRENT_USER\Software\Microsoft\Windows\CurrentVersion\Run "Security Monitor"
HKEY_CURRENT_USER\Software\Microsoft\Windows\CurrentVersion\Uninstall\Security Monitor
HKEY_CURRENT_USER\Software\Security Monitor
Security Monitor