Danger level
:

9
Type:
Rogue Anti-Spyware
Common infection symptoms:
Installs itself without permissions
Connects to the internet without permission
Slow internet connection
System crashes
Annoying Pop-up's
Slow Computer
Other mutations known as:
AntiVirusSystem2011
Infection Video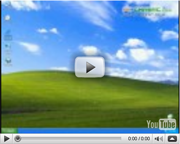 AntiVirus System 2011
Due to the sheer sophistication that goes into the development and design of rogueware these days, PC owners are having a harder time than ever distinguishing genuine security tools and malicious rogues. AntiVirus System 2011 rogue antispyware is a perfect example. Hailing from the family of hubris rogues such as Smart Security, it's clear to see from the company this rogue keeps that it will bring nothing but destruction and ruin to your system. AntiVirus System 2011 is unable to live up to its over embellished promises, and has no intention or ability to detect, quarantine or remove threats and infections from the system. This rogue has only one clearly defined goal – to fleece its victim out of as much money as possible. AntiVirus System 2011 will not stop at anything, and will do everything in its power to ensure it successfully attains this goal, even if that means causing permanent and irrevocable damage to its victim's system.
AntiVirus System 2011 makes use of established infection principles, employing criminal browser hijacking websites to distribute its infection carrying Trojans. It also bundles AntiVirus System 2011 Trojan and malware together with legitimate security updates and software downloads from third party websites. As with most other rogueware, AntiVirus System 2011 enters its victim's PC forcefully at the oblivious determent to the PC owner. AntiVirus System 2011 will also remain hidden on the system, until such time it deems appropriate to reveal itself to the user through obnoxious and false security notifications.
These ambiguous fake alerts form part of AntiVirus System 2011's assault on the system, and is suspect at best. AntiVirus System 2011 slyly enters cunning calls to action in these devious fake alerts which will expose the user to further victimization should he adhere to them. It is for this reason that users need not pay any attention to AntiVirus System 2011's fake security notifications. Although hard at times, PC owners have to ignore the contents of these bogus notifications. Some of the more notorious fake alerts to be on the lookout for include:
"Security Center
Unauthorized remote connection!
Your system is making an unauthorized personal data transfer to a remote computer!
Warning! Unauthorized personal data transfer is detected! It may be your personal credit card details, logins and passwords, browsing habits or information about files you have downloaded.
To protect your private data, please click "Prevent Connection" button below. "
"Security Center Alert
To help protect your computer, Security Center has blocked some features of this program.
Name: Screen.Grab.J.exe
Risk: High"
Do not react to these messages, and remove AntiVirus System 2011 from the PC in order to stop these fake alerts bothering you. You won't be able to manually remove AntiVirus System 2011, as will not allow you to. Each time you try to delete AntiVirus System 2011 from the system, it will present you with an error message saying you do not have the administrative privileges to get rid of AntiVirus System 2011.
It will simply be best to invest in a security application which will not only completely obliterate AntiVirus System 2011 from the system, but will also offer future protection against similar threats and attacks.

How to manually remove AntiVirus System 2011
Files associated with AntiVirus System 2011 infection:
securitymanager.exe
AntiVirus_System_2011.exe
%APPDATA%\AntiVirus System 2011.exe
%AppData%\Microsoft\Internet Explorer\Quick Launch\AntiVirus System 2011.lnk
%AppData%\AntiVirus System 2011\securitymanager.exe
%AppData%\AntiVirus System 2011\securityhelper.exe
%AppData%\AntiVirus System 2011\IcoUninstall.ico
%AppData%\AntiVirus System 2011\IcoHelp.ico
%AppData%\AntiVirus System 2011\IcoActivate.ico
%AppData%\AntiVirus System 2011\AntiVirus_System_2011.exe
%AppData%\AntiVirus System 2011\
%UserProfile%\Start Menu\Programs\AntiVirus System 2011\How to Activate AntiVirus System 2011.lnk
%UserProfile%\Start Menu\Programs\AntiVirus System 2011\Help AntiVirus System 2011.lnk
%UserProfile%\Start Menu\Programs\AntiVirus System 2011\AntiVirus System 2011.lnk
%UserProfile%\Start Menu\Programs\AntiVirus System 2011\Activate AntiVirus System 2011.lnk
%UserProfile%\Start Menu\Programs\AntiVirus System 2011.lnk
%UserProfile%\Start Menu\Programs\AntiVirus System 2011\
%UserProfile%\Desktop\AntiVirus System 2011.lnk
AntiVirus System 2011 processes to kill:
securitymanager.exe
AntiVirus_System_2011.exe
%APPDATA%\AntiVirus System 2011.exe
%AppData%\AntiVirus System 2011\AntiVirus_System_2011.exe
%AppData%\AntiVirus System 2011\securitymanager.exe
%AppData%\AntiVirus System 2011\securityhelper.exe
Remove AntiVirus System 2011 registry entries:
HKEY_CURRENT_USER\Software\AntiVirus System 2011
HKEY_CURRENT_USER\Software\Microsoft\Windows\CurrentVersion\Run "2kowmeuswvw3"
HKEY_CURRENT_USER\Software\Microsoft\Windows\CurrentVersion\Run "AntiVirus System 2011"
HKEY_CURRENT_USER\Software\Microsoft\Windows\CurrentVersion\Run "Security Manager"
HKEY_CURRENT_USER\Software\Microsoft\Windows\CurrentVersion\Uninstall\AntiVirus System 2011