Danger level
:

9
Type:
Rogue Anti-Spyware
Common infection symptoms:
Block exe files from running
Installs itself without permissions
Connects to the internet without permission
Slow internet connection
System crashes
Annoying Pop-up's
Slow Computer
Other mutations known as:
Infection Video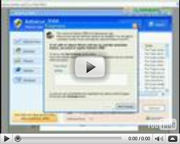 AntiVirus AntiSpyware 2011
Creators of malicious software applications surely are putting great efforts in designing their fake security products, because they look so presentable it is hard to tell them apart from genuine security programs. AntiVirus Antispyware 2011 is one of these sleek-looking fake security applications, which can give you a run for your money. Literally. This rogue is a clone of AntiVirus System 2011, and it has one single goal – destroy your computer and sweep out your bank account. Not matter what its name might imply this rogue will never protect you from cyber threats, for it is an ill-natured pest itself. It can cause irrevocable damage to your system before you know it, so you have to be extremely cautious when you navigate unfamiliar websites.
Just like any other rogue, AntiVirus Antispyware 2011 utilizes the usual rogue distribution methods which include Trojan infections via browser hijacker websites. You may never know when you can be presented with a Trojan contamination, so it is highly recommended that you stay away from third party websites, because the rogue can also come with an infection which is paired up with reliable security updates or software downloads. Download files only from the websites you can trust, because AntiVirus Antispyware 2011 will enter your computer without your consent and unleash its attack in the form of fake security notifications. Not to mention that these notifications are terribly annoying, because this rogue upgraded its messages to the point it has sound. So whenever AntiVirus Antispyware 2011 "detects" a threat it launches a sound "new virus found", which absolutely displeasing. Not to mention, that if you try to get license key for this "security" tool, you will be greeted by another sound message saying "please activate your antivirus software". Here are a few examples of fake security alerts you will receive from this parasite:
AntiVirus AntiSpyware 2011 Agent
AntiVirus AntiSpyware 2011 will be in tray and will protect your PC from threats. Right click AntiVirus AntiSpyware 2011 icon to restore program.

Antispyware software warning
Your computer is infected with spyware and malware. Last scan results: 371 infected files found! Click this notification to fix the problem.

It could be quite easy to trust this application, because when you click on "Get License" button, you will be directed to a "Secure transaction browser" which will host a page on AntiVirus AntiSpyware 2011. The page includes various information on the product, such as the price, detailed features of the "security" tool, client help center and it even discloses the company address in "Contact Us" section. It is highly doubtful whether the address provided there is legitimate, from the first glance everything looks absolutely reliable and this is exactly the reason why you could fall victim to this threat. Especially when this presentable AntiVirus AntiSpyware 2011 appearance is coupled with the huge amount of fake security notifications you are receiving.
Despite the amount of security messages that you will receive from this rogue, you should never follow its calls for action, because by listening to AntiVirus Antispyware 2011 you will only bring more harm onto your computer. This rogue is known to block your task manager, but that should not make you follow its commands. No matter how desperate it might seem. No matter how many annoying security notifications you might receive, stay strong and don't do anything this bothersome parasite wants you to do. If you fall for this scam, you will definitely lose your hard-earned money.
You might want to delete AntiVirus Antispyware 2011 manually, but this obnoxious application will not let you do so. Whenever you will try to delete it, a pop-up notification will appear declaring that you have administrative rights to remove the program.
You can actually "activate" the program, which will help to remove it easily. To "register" AntiVirus Antispyware 2011, please enter the code given below:
AAS17-F7D9M-G3B2A
With the rogue "activated" it will be easier to remove it. The easiest option is to acquire a reliable malware removal tool, which would do the job automatically for you. The key point in this situation is not to sit and way before AntiVirus Antispyware 2011 cripples your system.

How to renew your internet connection:
This rogue antispyware blocks your Internet connection to prevent you from removing the rogue application. To enable the Internet connection, please follow these instructions:
Open Internet Explorer and go to >Tools< select >Internet Options<

Select >Connections<

Select >LAN Settings<

Now you need to uncheck the checkbox labeled >Use a proxy server for your LAN< in Proxy Server section. Then press the >OK< button to close this screen and press the >OK< button to close the Internet Options screen.

Now you can download the SpyHunter scanner and remove the infection.

How to manually remove AntiVirus AntiSpyware 2011
Files associated with AntiVirus AntiSpyware 2011 infection:
securitymanager.exe
securityhelper.exe
recf.exe
mscjm.exe
mscj.exe
AntiVirus AntiSpyware.exe
%APPDATA%\[random]\[random].exe
%AppData%\AntiVirus AntiSpyware 2011\securityhelper.exe
%APPDATA%\AntiVirus AntiSpyware 2011\
%AppData%\[random]\recf.exe
%AppData%\[random]\mscjm.exe
AntiVirus AntiSpyware 2011.lnk
%UserProfile%\Start Menu\Programs\AntiVirus AntiSpyware 2011
%APPDATA%\AntiVirus AntiSpyware 2011\securitymanager.exe
%APPDATA%\AntiVirus AntiSpyware 2011\AntiVirus AntiSpyware.exe
AntiVirus AntiSpyware 2011 processes to kill:
securitymanager.exe
securityhelper.exe
recf.exe
mscjm.exe
mscj.exe
AntiVirus AntiSpyware.exe
%APPDATA%\[random]\[random].exe
%AppData%\AntiVirus AntiSpyware 2011\securityhelper.exe
%AppData%\[random]\recf.exe
%AppData%\[random]\mscjm.exe
%APPDATA%\AntiVirus AntiSpyware 2011\securitymanager.exe
%APPDATA%\AntiVirus AntiSpyware 2011\AntiVirus AntiSpyware.exe
Remove AntiVirus AntiSpyware 2011 registry entries:
AntiVirus AntiSpyware 2011
AntiVirus AntiSpyware 2011 Security