Danger level
:

9
Type:
Rogue Anti-Spyware
Common infection symptoms:
Block exe files from running
Installs itself without permissions
Connects to the internet without permission
Slow internet connection
System crashes
Annoying Pop-up's
Slow Computer
Other mutations known as:
Infection Video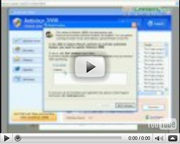 AntiVirus AntiSyware 2011
It is unclear whether the creators of rogue antipyware have problems with their spelling or if they were aiming for it from the very beginning, but here it is – Antivirus AntiSyware 2011. The newest rogue in the field. It is a clone of the well-known rogues, such as Internet Security 2010, Antivirus AntiSpyware 2011, Security Essentials 2011 and the like. Just like its predecessors, Antivirus AntiSyware 2011 pretends to be a genuine security system, while in face it is a malicious tool used by criminals to swindle you out of your money.
It is hard to tell exactly how or when you get infected by Antivirus AntiSyware 2011, because it has various ways to slither into your system. Sometimes you might be infected already without you even knowing it. For that reason, it is recommended to download the suggested malware scanner and check your computer for any contamination possible.

If you have it in your computer, you will see that Antivirus AntiSyware 2011 loads with an appealing interface, just like that of a reliable security program. However, you will also see the bold red strip informing you that this is only the trial version of the program you have there. Trial version or not, Antivirus AntiSpyware 2011 will initiate a fake system scan just like any other rogue, and it will surely find "infections" in your computer. The quick "scan" detects and classifies the threats as Malware, Trojan Programs, Viruses, Browser Toolbars and so on. It will also alerts you about the threat level of the detections, bolding the "High Risk" detections in red.
After the scan you will be presented with such notification:
Critical vulnerabilities found!
The proactive system found several active vulnerabilities on your computer
Please read the following instructions before you continue.
And below you can see the list of the "vulnerabilities" found, after which you are prompted to fix your computer immediately. However, when you click on "Fix my computer", you will receive yet another notification saying that the Trial version of Antivirus Antisyware 2011 does not have the ability to protect your from various threats, and you need to activate it by purchasing the activation code.
This is where you need to stop and don't provide the rogue with your banking or any other personal information .Even though it guarantees LifeTime license for $89.95 (+ special support nonetheless!), everything is devised only to rip your money out of you, leaving you with nothing, but a worthless program and a damaged computer in return.
Don't pay attention to the fake security notifications you receive from Antivirus Antisyware 2011. Close the Activation Page immediately, before you filled it in, and make sure you clean your computer of this rogue. It can be removed manually, but if you find it a bit too much of a task for you, you can always use a trustworthy automatic malware removal tool, to erase Antivirus Antisyware 2011 from your system for good.

How to manually remove AntiVirus AntiSyware 2011
Files associated with AntiVirus AntiSyware 2011 infection:
Antivirus AntiSyware 2011.lnk
AS2011.exe
%Desktop%\Antivirus AntiSyware 2011.lnk
%AppData%\Antivirus AntiSyware 2011\AS2011.exe
AntiVirus AntiSyware 2011 processes to kill:
AS2011.exe
%AppData%\Antivirus AntiSyware 2011\AS2011.exe
Remove AntiVirus AntiSyware 2011 registry entries:
HKCR\CLSID\{3F2BBC05-40DF-11D2-9455-00104BC936FF}
HKCU\Software\Microsoft\Windows\CurrentVersion\Run "updatesst"
HKCU\SOFTWARE\SE2010
HKLM\SOFTWARE\Classes\CLSID\{3F2BBC05-40DF-11D2-9455-00104BC936FF}