Danger level
:

10
Type:
Rogue Anti-Spyware
Common infection symptoms:
Blocks internet connection
Block exe files from running
Installs itself without permissions
Connects to the internet without permission
Slow internet connection
System crashes
Annoying Pop-up's
Slow Computer
Other mutations known as:
Infection Video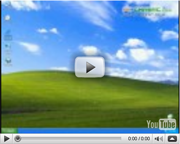 Antivirus Monitor
The dedication displayed by developers behind antispyware applications such as Antivirus Monitor can at times be mind boggling. This rogue in particular, which finds its roots directly from the well known and much despised rogues Antimalware Go and Antivirus .NET was designed explicitly to act as a vehicle with which unscrupulous criminals will proceed to target and rip honest consumers off. Antivirus Monitor may come across as a genuine and user friendly security tool, but this fake façade is not an accurate depiction of its software, as Antivirus Monitor neither has the intention or ability to live up to any of its over hyped promises.
Antivirus Monitor makes use of various nefarious tactics to root its infection into its host PCs. Some of the most popular ways it goes about doing this includes making use of dangerous browser hijackers and bundled downloads to distribute its seditious Trojans. One of the browser hijackers related to the online marketing campaign of Antivirus Monitor, which lists its most expensive version of the rogue at a whopping $69.95 is softwaream.com. If you find yourself unwittingly redirected to this site you have serious cause for concern.

Because the infiltration of this rogue is virtually undetectable due to its sophisticated and underhanded infection tactics, the user will have a tough time to effectively get rid of Antivirus Monitor without some help. The first clue the user will have as to the presence of Antivirus Monitor on his system will come from various falsely generated security alerts. These fake alerts all derive from Antivirus Monitor and forms part of its attack against the system. Obviously none of these fake security alerts can be trusted, and should enjoy no attention from the user. One of the fake alerts to be on the lookout for reads as follows:
"INFILTRATION ALERT
Your computer is being attacked by an internet virus. It could be a password-stealing attack, a Trojan-dropper or similar.
DETAILS
Attack from 89.164.5.75, port 36603
Attacked port: 32498
Threat: BankerFox.A
Do you want to block this attack?
Yes No"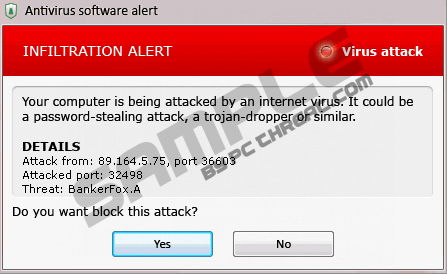 "Windows Security Alert
Windows reports that computer is infected.
Antivirus software helps to protect your computer against viruses and other security threats. Click here for the scan your computer. Your system might be at risk now."

"There are serious threats detected on your computer. Your privacy and personal data may not be safe. Do you want to clean and protect your PC?
Yes, remove threats
No, continue unprotected"
Users who were unable to delete Antivirus Monitor in time complained about various annoyingly distressing symptoms crippling their systems. These include blocked Internet connections, the inability to launch programs on the system as well as increased erratic system behavior.
NOTICE:
If you find your Internet connection is blocked and you cannot install Spyhunter, follow these instructions in order to download Spyhunter from pcthreat.com:
1. Reboot the PC
2. When information is displayed on the screen, continually tap F8 until the menu appears
3. Use the arrows keys and select SAFE MODE with networking, and press ENTER
4. Make use of the following Internet fix instructions to restore your Internet access below in this page and visit pcthreat.com to download and save Spyhunter to your Desktop
5. Reboot the PC again. After normal mode boots up you will now be able to successfully run Spyhunter on the system which will not only kill Antivirus Monitor but also allow you to further delete all other infected files.
Do not take a chance with Antivirus Monitor and your PC's safety and security. Take the required steps to permanently erase Antivirus Monitor from your system. Do this by employing the removal power of a genuine security tool which will not only permanently eliminate Antivirus Monitor but also provide protection against similar future attacks.

How to renew your internet connection:
This rogue antispyware blocks your Internet connection to prevent you from removing the rogue application. To enable the Internet connection, please follow these instructions:
Open Internet Explorer and go to >Tools< select >Internet Options<

Select >Connections<

Select >LAN Settings<

Now you need to uncheck the checkbox labeled >Use a proxy server for your LAN< in Proxy Server section. Then press the >OK< button to close this screen and press the >OK< button to close the Internet Options screen.

Now you can download the SpyHunter scanner and remove the infection.

How to manually remove Antivirus Monitor
Files associated with Antivirus Monitor infection:
%APPDATA%\[random]\[random]jfdi.exe
%TEMP%\[random]\[random]jfdi.exe
%CommonPrograms%\Antivirus Monitor
%CommonDesktop%\Antivirus Monitor.lnk
%TEMP%\[random]\[random]hmof\.exe
%AppData%\[random]\[random]sikk.exe
%TEMP%\[random]\[random]sikk.exe
\Users\AppData\[random]\[random].exe
%TEMP%\[random]\[random]sika.exe
%AppData%\[random]\[random]sjmo.exe
%AppData%\[random]\[random]sika.exe
%AppData%\[random]
%AppData%\[random]\[random]affm.exe
Files associated with Antivirus Monitor infection (Win7, Vista):
%LOCALAPPDATA%\[random]\[random].exe
Antivirus Monitor processes to kill:
%APPDATA%\[random]\[random]jfdi.exe
%TEMP%\[random]\[random]jfdi.exe
%TEMP%\[random]\[random]hmof\.exe
%AppData%\[random]\[random]sikk.exe
%TEMP%\[random]\[random]sikk.exe
%AppData%\[random]\[random]affm.exe
%TEMP%\[random]\[random]sika.exe
%AppData%\[random]\[random]sjmo.exe
%AppData%\[random]\[random]sika.exe
Remove Antivirus Monitor registry entries:
HKCU\Software\Antivirus Monitor
HKCU\Software\Microsoft\Internet Explorer\PhishingFilter "Enabled" = "0″
HKCU\Software\Microsoft\Windows\CurrentVersion\Internet Settings "ProxyEnable" = "1″
HKCU\Software\Microsoft\Windows\CurrentVersion\Internet Settings "ProxyServer" = "http=127.0.0.1:33921″
HKLM\Software\Microsoft\Windows\CurrentVersion\Run "Antivirus Monitor"
HKLM\SOFTWARE\Microsoft\Windows\CurrentVersion\Uninstall\Antivirus Monitor