Danger level
:

9
Type:
Rogue Anti-Spyware
Common infection symptoms:
Block exe files from running
Installs itself without permissions
Connects to the internet without permission
Slow internet connection
System crashes
Annoying Pop-up's
Slow Computer
Other mutations known as:
Infection Video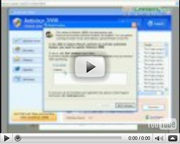 AntiVira Av
There is a new player in the computer threat field, ready to deliver a sharp blow to your PC, reducing its functionally to the minimum. AntiVira Av is a rogue anti-spyware coming from a long line of clones. Its family consists of Antivirus .NET, Antivirus Scan and Antivirus Action. Just like its predecessors, AntiVira Av has one single objective – it wants to abuse unsuspecting users, extorting financial gain.
Secret entrance into computer's system is a feature common to all of these rogues. AntiVira Av is of no exception. It can be delivered to your system through various means. Occasionally it uses browser hijackers to access your system, or tries to convince with fake online scan that you need to download this fake application's set-up file. Fake video players that are offering fake video codecs might also carry the infection, so be alert when you are trying to load a video and you are greeted by a pop-up, claiming that you need a specific codec to watch it. The appeal to get a new codec is nothing but a scam forged to make you download the rogue. If you came across similar scam software it is recommended to download Spyware scanner and check your computer right away.

If you see the interface of this program, you can be 100% sure that you have been invaded by AntiVira Av. As it initiates a false system scan, the application might seem to be absolutely legitimate, but don't be fooled – all the error and threat information you receive after scan is fake. The only infection that you have in your PC system is AntiVira Av. You will experience an assault of security alert messages which is executed in order to scare you. Don't believe anything the rogue tells you, because it is not concerned with your computer security. AntiVira Av only uses intimidation to make you spend your money on a fake security tool.
Don't take notice of AntiVira Av security messages, because it's sole purpose is to exploit you and your credit card. By no means should you believe its fake calls for action. Don't let the rogue think for you. Use your head and kill the application before it managed to make use of you. If you leave AntiVira Av in your computer, it will cause great damage to your system. For example, it can modify your internet proxy settings so that you will only be able to access the AntiVira Av purchase pages. This is an example of the rogue's fake alert:
Windows security alert
Windows reports that computer is infected. Antivirus software helps to protect your computer against viruses and other security threats. Click here for the scan your computer. Your system might be at risk now.
Poor grammar of the alert should be enough for you to understand this notification is not real. If you are still not convinced that this application is malicious, take notice that it blocks .exe file and modifies your internet proxy settings so that you could access only the rogue purchase website. To restore your proxy settings, you need to kill the file in your Windows Task Manager. The file will have a random name generation by this rogue.
Any notifications you receive from AntiVira Av are definitely fake. Don't even try to assume they are valid. There is nothing legitimate about the rogue and if you fall for its charms you will only suffer financial losses. Therefore, it is strongly recommended that you remove AntiVira Av from your system, before it caused any further damage. Be practical and protect your computer from any future threats.
NOTICE
Antivira AV is constantly reblocking Internet connection, and You cant install Spyhunter. You must download Spyhunter installer from the main pcthreat.com page in safe mode:
1.Restart your computer.
2.When the computer starts showing some information, tap the F8 key repeatedly until you are presented with a menu.
3. Use Your arrow keys to navigate, and choose SAFE MODE with Newtorking and press ENTER key.
4. Download Spyhunter from Pcthreat main page Pcthreat.com and save it on the Desktop
(Use Internet fix instructions bellow, to regain internet access)
5.Restart Your computer to run in normal mode. After the computer boots up, You should be able to successfully run Spyhunter which will kill Antivirus AV and will further allow to remove the infection.
How to renew your internet connection:
This rogue antispyware blocks your Internet connection to prevent you from removing the rogue application. To enable the Internet connection, please follow these instructions:
Open Internet Explorer and go to >Tools< select >Internet Options<

Select >Connections<

Select >LAN Settings<

Now you need to uncheck the checkbox labeled >Use a proxy server for your LAN< in Proxy Server section. Then press the >OK< button to close this screen and press the >OK< button to close the Internet Options screen.

Now you can download the SpyHunter scanner and remove the infection.

How to manually remove AntiVira Av
Files associated with AntiVira Av infection:
wsnablnsika.exe
%AppData%\[random]\[random]sikk.exe
%TEMP%\[random]\[random]sikk.exe
\Users\AppData\[random]\[random].exe
%CommonDesktop%\AntiVira Av.lnk
%CommonPrograms%\AntiVira Av
%TEMP%\[random]\[random]sika.exe
%AppData%\[random]\[random]sjmo.exe
%AppData%\[random]\[random]sika.exe
%AppData%\[random]
%AppData%\[random]\[random]affm.exe
Files associated with AntiVira Av infection (Win7, Vista):
%LOCALAPPDATA%\[random]\[random].exe
AntiVira Av processes to kill:
wsnablnsika.exe
%AppData%\[random]\[random]sikk.exe
%TEMP%\[random]\[random]sikk.exe
%AppData%\[random]\[random]sika.exe
%AppData%\[random]\[random]sjmo.exe
%TEMP%\[random]\[random]sika.exe
%AppData%\[random]\[random]affm.exe
Remove AntiVira Av registry entries:
HKCU\Software\Antivirus .NET
HKCU\Software\Microsoft\Internet Explorer\PhishingFilter "Enabled" = "0″
HKCU\Software\Microsoft\Windows\CurrentVersion\Internet Settings "ProxyEnable" = "1″
HKCU\Software\Microsoft\Windows\CurrentVersion\Internet Settings "ProxyServer" = "http=127.0.0.1:33921″
HKLM\Software\Microsoft\Windows\CurrentVersion\Run "AntiVira Av"
HKLM\SOFTWARE\Microsoft\Windows\CurrentVersion\Uninstall\AntiVira Av