Danger level
:

10
Type:
Rogue Anti-Spyware
Common infection symptoms:
Blocks internet connection
Block exe files from running
Installs itself without permissions
Connects to the internet without permission
Slow internet connection
System crashes
Annoying Pop-up's
Slow Computer
Other mutations known as:
Infection Video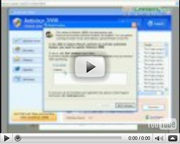 Antimalware GO
Despite the best efforts of the online security industry to educate its consumers on the perils of allowing rogue security tools to run wild on their PCs, many users continue to fall for the clever lies and exaggerated marketing campaigns of rogues such as Antimalware Go. This rogue antimalware app finds its roots in the same family as well known and hotly disputed rogues AntiVira AV and Antivirus .NET. Although seemingly legitimate and extremely beneficial to a PC's health and security, Antimalware Go does not have the ability to detect or remove any type of threat from a system, but is indeed a malicious infection in itself.

Antimalware Go's infiltration into the system is virtually undetectable. This is due to the infection methods employed by this rogue, which includes making use of seditious Trojans to root its infections in its intended victims' PCs. This fact alone makes it that much harder to detect and effectively destroy Antimalware Go from the system. Trojans carrying the Antimalware Go infection are distributed via fake online malware scanners and treacherous browser hijackers, among many other sly tactics and methods.
NOTICE:
Antimalware GO is blocking your Internet connection, and you can't install Spyhunter without it. To download the Spyhunter installer from pcthreat.com you need to boot your pc in safe mode with Newtorking. The following instructions will help you to do so:
1. Restart your computer.
2. When the PC starts showing some information, start tapping F8 key until you are presented with a menu.
3. To navigate use the arrows keys and choose SAFE MODE with Networking, then press ENTER.
4. Use Internet fix instructions bellow to reestablish your Internet access. Now Download Spyhunter from main Pcthreat.com page and save it to Desktop.
5. Restart your computer. When normal mode boots up, you should be able to successfully run Spyhunter which will kill Antimalware GO infection and will further allow you to remove all infected files.
The user will remain largely unaware of the presence of Antimalware Go on the system until such time that the rogue decides to start its attack on the system. This will happen through the user being spammed by various false security messages generated by Antimalware Go. These fake security messages were developed with one goal in mind; to panic the user into thinking his system is under attack. This is done in an effort to mistakenly convince the user that Antimalware Go has the ability protect his system from these attacks, but only once he parts with his money. Some of the more notorious fake security messages include the following:
Windows Security Alert
Windows reports that computer is infected. Antivirus software helps to protect your computer against viruses and other security threats. Click here for the scan your computer. Your system might be at risk now.
Antivirus software alert
Infiltration alert
Your computer is being attacked by an Internet virus. It could be password-stealing attack, a trojan-dropper or similar.
Antimalware Go will also configure your computer to use a proxy server in order to hijack your web browser, and will then display warnings when you browse the web. This warning is:
Internet Explorer Warning - visiting this web site may harm your computer!
Most likely causes:
- The website contains exploits that can launch a malicious code on your computer
- Suspicious network activity detected
- There might be an active spyware running on your computer
It goes without saying that none of these bogus security warnings can be trusted, and that all correspondence received from Antimalware Go should be treated as highly suspicious and suspect in nature.
You will only be able to take back control of what's rightfully yours by taking the required action to permanently get rid of Antimalware Go. Do this by investing in a genuine security tool which will not only obliterate Antimalware Go from the PC for good but also protect against similar future attacks and threats.

How to renew your internet connection:
This rogue antispyware blocks your Internet connection to prevent you from removing the rogue application. To enable the Internet connection, please follow these instructions:
Open Internet Explorer and go to >Tools< select >Internet Options<

Select >Connections<

Select >LAN Settings<

Now you need to uncheck the checkbox labeled >Use a proxy server for your LAN< in Proxy Server section. Then press the >OK< button to close this screen and press the >OK< button to close the Internet Options screen.

Now you can download the SpyHunter scanner and remove the infection.

How to manually remove Antimalware GO
Files associated with Antimalware GO infection:
hoqlhywhmof.exe
%TEMP%\[random]\[random]hmof\.exe
%AppData%\[random]\[random]sikk.exe
%TEMP%\[random]\[random]sikk.exe
\Users\AppData\[random]\[random].exe
%CommonPrograms%\Antimalware GO
%TEMP%\[random]\[random]sika.exe
%AppData%\[random]\[random]sjmo.exe
%AppData%\[random]\[random]sika.exe
%AppData%\[random]
%AppData%\[random]\[random]affm.exe
%CommonDesktop%\Antimalware GO.lnk
Files associated with Antimalware GO infection (Win7, Vista):
%LOCALAPPDATA%\[random]\[random].exe
Antimalware GO processes to kill:
hoqlhywhmof.exe
%TEMP%\[random]\[random]hmof\.exe
%AppData%\[random]\[random]sikk.exe
%TEMP%\[random]\[random]sikk.exe
%AppData%\[random]\[random]affm.exe
%TEMP%\[random]\[random]sika.exe
%AppData%\[random]\[random]sjmo.exe
%AppData%\[random]\[random]sika.exe
Remove Antimalware GO registry entries:
HKCU\Software\Antimalware GO
HKCU\Software\Microsoft\Internet Explorer\PhishingFilter "Enabled" = "0″
HKCU\Software\Microsoft\Windows\CurrentVersion\Internet Settings "ProxyEnable" = "1″
HKCU\Software\Microsoft\Windows\CurrentVersion\Internet Settings "ProxyServer" = "http=127.0.0.1:33921″
HKLM\Software\Microsoft\Windows\CurrentVersion\Run "AAntimalware GO"
HKLM\SOFTWARE\Microsoft\Windows\CurrentVersion\Uninstall\Antimalware GO