Danger level
:

8
Type:
Rogue Anti-Spyware
Common infection symptoms:
Installs itself without permissions
Connects to the internet without permission
Shows commercial adverts
Slow internet connection
Annoying Pop-up's
Other mutations known as:
Windows Utility Tool
Even though Windows Utility Tool comes across as an extremely efficient and user friendly system optimizing application, you'll be shocked to learn that Windows Utility Tool is nothing more than a well marketed and promoted rogue defragmenter. The first piece of evidence which points to this is the fact that Windows Utility Tool derives from the same family of despicable rogues such as Windows Optimizator and Windows Optimization and Security. All of these fake optimization tools are connected to the Fake Microsoft Security Essentials.
Windows Utility Tool is spread using seditious Trojans insouciant to the damage it causes its victims' PCs. These Trojans are circulated via fake online malware scanners and seditious browser hijacking websites. Users will largely remain oblivious to Windows Utility Tool presence on the PC until it decides to reveal itself to the PC owner by making use of various outlandish fake security notifications. These fake security alerts were designed to fool users into thinking their systems are operating less than optimally and also to place Windows Utility Tool in an authoritative light with its victims. It's quite obvious that none of these fake alerts should ever be trusted.
Windows Utility Tool will try and prevent the user from running any executable on his PC, as well as deny the user access to the Internet. It will do this by advising the user to reboot his system after the Windows Utility Tool "installation" completes. Once the user restarts his system, he won't be able to access his Desktop again. Instead, the user will be presented with the Windows Utility Tool interface after the system boots, and won't be able to access his Desktop or launch any programs. There does seem to be hope as there is a way to bypass the Windows Utility Tool interface and regain access to the Desktop. Simply follow the following instructions to successfully bypass Windows Utility Tool's irritating user interface:
1. When presented with the startup screen, press the OK button to start the Windows Utility Tool scan on the system.
2. While the scan is running, navigate to the bottom left corner screen where you will notice a website linking to a legitimate Microsoft website (http://www.microsoft.com/protect).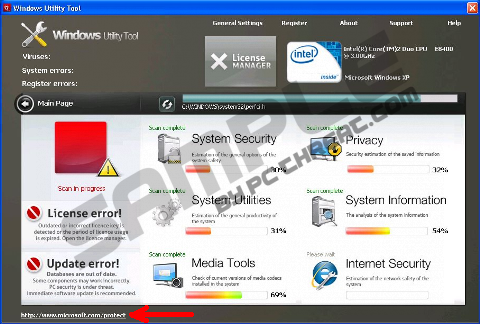 3. Click on this link, and close the browser window immediately by clicking on the red X at the top right of the screen.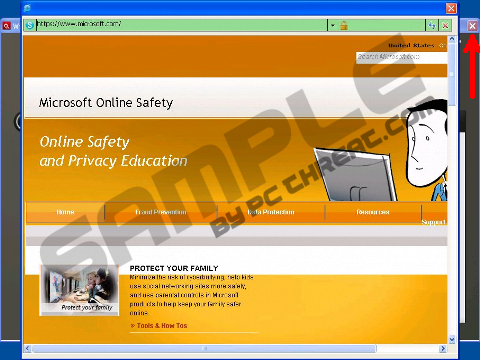 4. You should now be able to also close the Windows Utility Tool startup screen and regain access to your Desktop
Access should be restored to the Desktop, and you should now be able to launch most applications. You might still be greeted with error messages when attempting to run certain programs, but by simply persisting you will eventually succeed. Some of the fake security alerts which will still plague you until you successfully destroy Windows Utility Tool from your PC include the following:
"Warning! Database updated failed!"
"Database update failed!"
"Outdated viruses database are not effective can't guarantee adequate protection and security for your PC! Click here to get the full version of the product and update the database!"
"The application taskmgr.exe was launched successfully but, it was forced to shut down due to security reasons."
"This happened because the application was infected by a malicious program which might pose a threat for the OS."
"It is highly recommended installing the necessary heuristic module and perform a full scan of your computer to exterminate malicious programs from it."
Do not be fooled by these fake alerts. The only way to restore your system's good functioning will be to obliterate Windows Utility Tool from your system for good. Do this by making use of the removal power of a genuine security tool which is not only able to detect and eliminate Windows Utility Tool, but also offer protection against future attacks and threats.

How to manually remove Windows Utility Tool
Files associated with Windows Utility Tool infection:
dovibt.exe
%AppData%\[random].exe
\Application Data\[random].exe
Windows Utility Tool processes to kill:
dovibt.exe
[random].exe
Remove Windows Utility Tool registry entries:
HKEY_CURRENT_USER\Software\Microsoft\Windows NT\CurrentVersion\Winlogon "Shell"