Danger level
:

9
Type:
Rogue Anti-Spyware
Common infection symptoms:
Connects to the internet without permission
Shows commercial adverts
Slow internet connection
Annoying Pop-up's
Slow Computer
Infection Video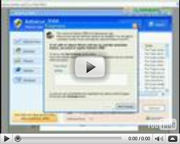 AntivirusBest
AntiVirusBEST (AntiVirus BEST) is the latest application causing issues to computer users unfortunate enough to have been infiltrated by this rogue optimization application.
AntiVirusBEST, also referred to as AntiVirus BEST, is installed onto a computer system via a Trojan infection, or might even enter into the system when the user visits malicious and dubious websites, which contain the virus in scripts embedded within.
And no – this application will not be able to assist you any way, shape or form. This program is dubious and was designed to have harmful functionality.
AntiVirusBEST is believed by many experts to have been developed by the same creators of Antivirus 2009, a known rogue anti-spyware program.
As mentioned before, AntiVirusBEST enters into a computer system via a Trojan application, which sneaks into the system via security exploits, such as spam emails or it can be installed by other malware.
AntiVirusBEST will generate fictitious system warning alert messages, fake scan reports and fake error messages about the "infection" on the computer system.
The AntiVirusBEST error report that pops up, may appear as follows:
"AntivirusBEST.
System files modification alert!
Some critical system files of your computer were modified by malicious program. It may cause instability and data loss. Click here to block unauthorized modifications by removing threats (Recommended)."
These notifications are very similar to Microsoft's Windows Security Center alerts, so the user can be easily confused. AntiVirusBEST then suggests purchasing the full version of the software in order to remove those infections. But as you could already understand, AntiVirusBEST cannot remove any infections.
AntiVirusBEST only steals money from inexperienced users. That's why we strongly recommend you to use removal instructions stated below and to remove AntiVirusBEST from the system immediately after detection.
All of this is aimed at ensuring the user of the computer system user is coerced and tricked into purchasing the "full" version of AntiVirusBEST.
AntiVirusBEST should not be trusted or purchased as it is rogue optimization tool that should be deleted immediately upon detection!
Now, what do you do if you suspect you have this nefarious application embedded within your system?
Although Manual Removal is probably best, to ensure all components of AntiVirusBEST is eradicated from the infected system, it is best left to those individuals who know their way around the registry files of a computer system.
To avoid unnecessary damage and risk to a computer system, as a computer novice, your best option would be to perform an Automatic removal process. Simply make use of an up-to-date, fully functional legitimate antispyware application. This way you will be able to rid the computer system of all traces of AntiVirusBEST.
Good luck!

How to manually remove AntivirusBest
Files associated with AntivirusBest infection:
abest.exe
Installer.exe
QWProtect.dll
svchost.exe
PreInstaller[1].exe
AntivirusBest DLL's to remove:
QWProtect.dll
AntivirusBest processes to kill:
Remove AntivirusBest registry entries:
ABEST\ABEST
AppID\{296A8A7F-B5AC-4789-9B33-F32C2F9A6ABD}
HKEY_LOCAL_MACHINE\SOFTWARE\MICROSOFT\WINDOWS\CURRENTVERSION\RUN\ AntivirusBEST
Microsoft\Windows\CurrentVersion\Explorer\Browser Helper Objects\{44B2C9F5-608D-46de-82E1-26C5BCB85193}
Microsoft\Windows\CurrentVersion\Run\AntivirusBEST
RUNNING PROGRAM\ABEST.exe
{296A8A7F-B5AC-4789-9B33-F32C2F9A6ABD}
{44B2C9F5-608D-46de-82E1-26C5BCB85193}
{684A7904-2593-4BBE-A90E-CDAF2AC606AE}