Danger level
:

9
Type:
Rogue Anti-Spyware
Common infection symptoms:
Connects to the internet without permission
Shows commercial adverts
Slow internet connection
Annoying Pop-up's
Slow Computer
Other mutations known as:
Infection Video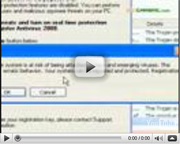 Anti-Virus Number-1
Anti-Virus Number-1 (AntiVirus-Number-1) is the new rogue antispyware application. Anti-Virus Number-1, also known as Anti-Virus Number-1, is a duplicate of Anti-Virus-1, AntiVirus1 and Anti-Virus1. All of which are also nasty rogue antispyware programs. Anti-Virus Number-1 is installed onto a user's computer system via a fake video codec installation. The Trojan Vundo is usually affiliated with these type codec and may even open the door for additional malware and viruses.
Anti-Virus Number-1 generates misleading system error pop-up messages, so as to coerce and trick the system user into purchasing the "full" version of Anti-Virus Number-1 – all the while claiming that the purchase will ensure the removal of the listed "problems". Bearing in kind of course that all the 'problems' listed by the fake scan are in actuality FAKE! It is very important to delete all of the components that are connected with Anti-Virus Number-1 infection. Users should delete Anti-Virus Number-1 as soon as it has been detected on any given computer system.

How to manually remove Anti-Virus Number-1
Files associated with Anti-Virus Number-1 infection:
Anti_Viruses[1].exe
Anti-Virus.exe
N1Two.exe, 3[1].exe
N1i.exe, 2[1].exe
AV1Two.exe, Three[1].exe
3[1].exe
N1Two.exe
2[1].exe
N1i.exe
QWProtect.dll
n1.exe
install[1].exe
svchost.exe
Three[1].exe
AV1Two.exe
Anti-Virus Number-1 DLL's to remove:
QWProtect.dll
Anti-Virus Number-1 processes to kill:
Anti_Viruses[1].exe
Anti-Virus.exe
N1Two.exe, 3[1].exe
N1i.exe, 2[1].exe
AV1Two.exe, Three[1].exe
3[1].exe
N1Two.exe
2[1].exe
N1i.exe
n1.exe
install[1].exe
svchost.exe
Three[1].exe
AV1Two.exe
Remove Anti-Virus Number-1 registry entries:
Anti-Virus&Spyware_is1
AppID\{0D1DBFEE-0C43-4223-8B3E-A56FB3C5C87D}
AppID\{CDB65423-01F2-4caf-B56D-FF0590D26EC7}
Microsoft\Windows\CurrentVersion\Explorer\Browser Helper Objects\{2182220D-AA70-4764-B4E6-1F5BBA322C9C}
Microsoft\Windows\CurrentVersion\Explorer\Browser Helper Objects\{6AB37108-7433-4a04-B49C-4AC3D971E102}
Microsoft\Windows\CurrentVersion\Explorer\MenuOrder\Start Menu2\Programs\Anti-Virus Number-1
Microsoft\Windows\CurrentVersion\Run\Drive
MICROSOFT\WINDOWS\CURRENTVERSION\RUN\N1.exe
N1\N1\{93963ACF-6617-4cae-BC2A-A37C0EAC1052}
N1\N1\{BFEDC213-CAD8-41bb-B660-89D6E673B53E}
RUNNING PROGRAM\AV1Two.exe
RUNNING PROGRAM\N1.exe
{0D1DBFEE-0C43-4223-8B3E-A56FB3C5C87D}
{2182220D-AA70-4764-B4E6-1F5BBA322C9C}
{27C9DD2C-9F0C-4CB8-B631-26B44DFCDEF5}
{CD30B357-F8F7-4AD1-BF68-04A219D21A69}
{CDB65423-01F2-4CAF-B56D-FF0590D26EC7}