Danger level
:

9
Type:
Rogue Anti-Spyware
Common infection symptoms:
Blocks internet connection
Block exe files from running
Installs itself without permissions
Connects to the internet without permission
Shows commercial adverts
Slow internet connection
System crashes
Annoying Pop-up's
Slow Computer
Infection Video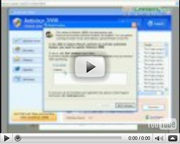 Windows Virus Hunter
You think Windows Virus Hunter is here to protect your system? Well, it is not going to happen, and it is all because this application has been designed by cyber criminals, who are on a hunt for your money! The infectious tool may represent itself with a mimicked Windows logo, or an interface, which greatly reminds Windows Security Center, but anything proclaimed by the virus should be treated as lies, as it is only fueled on getting your money! You can choose to delete Windows Virus Hunter right away, but we recommend reading through the report, as you could find tips to help you guard your system from similar incidents in the future. Worldwide malware counts are increasing each day, and only those systems with strong protection can be secured.
Immediately after invasion, you will face such bogus security applications popping up on your screen:
Warning! Spambot detected!
Attention! A spambot is sending viruses from your e-mail has been detected on your PC.
Yes, protect my PC and remove spambot now (Recommended)
Recommended:
Please click "Remove all" button to erase all infected files and protect your PC
Error
Potential malware detected.
It is recommended to activate protection and perform a thorough system scan to remove the malware.
Error
Keylogger activity detected. System information security is at risk.
It is recommended to activate protection and run a full system scan.
The ridiculous applications, trying to force you to pay for rogue's registered version, have been seen in previous infection's clones Windows Web Commander and Windows Interactive Security, which all belong to the same vast Rogue.VirusDoctor family. Luckily, we have experience with viruses in this group, so we can offer you applying this activation code: 0W000-000B0-00T00-E0020. Unfortunately, this combination will not delete Windows Virus Hunter, but will definitely help you remove its symptoms: blocked Internet connection, disabled running of most Windows executables, and removed access to Windows Tools (Registry Editor, Task Manager).
With all of the symptoms gone, you will be able to start chosen Windows Virus Hunter removal processes, and we have to warn you that if you have never deleted malware in the past, you should leave manual removal option aside. Inexperienced users tend to delete legal system files and abandon malignant ones, which can cause virus' regeneration! To avoid that, choose automatic removal tools, and enjoy your system's full protection.

How to renew your internet connection:
This rogue antispyware blocks your Internet connection to prevent you from removing the rogue application. To enable the Internet connection, please follow these instructions:
Open Internet Explorer and go to >Tools< select >Internet Options<

Select >Connections<

Select >LAN Settings<

Now you need to uncheck the checkbox labeled >Use a proxy server for your LAN< in Proxy Server section. Then press the >OK< button to close this screen and press the >OK< button to close the Internet Options screen.

Now you can download the SpyHunter scanner and remove the infection.

How to manually remove Windows Virus Hunter
Files associated with Windows Virus Hunter infection:
%AppData%\NPSWF32.dll
%AppData%\Protector-[Random].exe
%AppData%\result.db
%AppData%\1st$0l3th1s.cnf
%CommonStartMenu%\Programs\Windows Virus Hunter.lnk
%Desktop%\Windows Virus Hunter.lnk
Windows Virus Hunter DLL's to remove:
%AppData%\NPSWF32.dll
Windows Virus Hunter processes to kill:
%AppData%\Protector-[Random].exe
Remove Windows Virus Hunter registry entries:
HKEY_CURRENT_USER\Software\ASProtect
HKEY_CURRENT_USER\Software\Microsoft\Windows\CurrentVersion\Settings "UID" = "otbpxlqhjd"
HKEY_LOCAL_MACHINE\SOFTWARE\Microsoft\Windows NT\CurrentVersion\Image File Execution Options\alevir.exe
HKEY_LOCAL_MACHINE\SOFTWARE\Microsoft\Windows NT\CurrentVersion\Image File Execution Options\cmdagent.exe
HKEY_LOCAL_MACHINE\SOFTWARE\Microsoft\Windows NT\CurrentVersion\Image File Execution Options\install[1].exe
HKEY_LOCAL_MACHINE\SOFTWARE\Microsoft\Windows NT\CurrentVersion\Image File Execution Options\npfmessenger.exe
HKEY_LOCAL_MACHINE\SOFTWARE\Microsoft\Windows NT\CurrentVersion\Image File Execution Options\protector.exe
HKEY_LOCAL_MACHINE\SOFTWARE\Microsoft\Windows NT\CurrentVersion\Image File Execution Options\srng.exe
HKEY_LOCAL_MACHINE\SOFTWARE\Microsoft\Windows NT\CurrentVersion\Image File Execution Options\tsadbot.exe
HKEY_LOCAL_MACHINE\SOFTWARE\Microsoft\Windows NT\CurrentVersion\Image File Execution Options\xp_antispyware.exe