Danger level
:

9
Type:
Rogue Anti-Spyware
Common infection symptoms:
Blocks internet connection
Block exe files from running
Installs itself without permissions
Connects to the internet without permission
Normal system programs crash immediatelly
Slow internet connection
System crashes
Annoying Pop-up's
Slow Computer
Other mutations known as:
Infection Video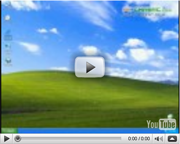 Advanced Antispyware Solution
Having your system infected with Advanced Antispyware Solution is very dangerous, for it is a fake security tool, which you should not trust. Instead of doing that, you need to remove Advanced Antispyware Solution using reliable security software, because this rogue not only messes with your system, but also leaves it unprotected from other dangerous threats.
You may want to get rid of this rogue on your own, but you need to realize that manual removal of Advanced Antispyware Solution is very difficult and risky, because most often you do not know, how this rogue gets in your system, in the first place. Nonetheless, once it does, it makes sure to camouflage itself very well to make you think it is not even there, which impedes the manual removal of Advanced Antispyware Solution. However, if you have encountered Best Virus Protection or Antimalware PC Safety you can be sure that Advanced Antispyware Solution's detection is very similar, because all of them are clones, coming from the same family of fake anti-spyware.
Furthermore, the similarities of these clones continue with symptoms that you see on your computer. Firstly, Advanced Antispyware Solution starts an unexpected scan of your system, finding a huge amount of FAKE threats. Later on, it keeps annoying you with numerous bogus warning messages reminding you of those non-existent threats and alluring you into Advanced Antispyware Solution's purchase page. There you are asked to enter your financial information and by doing that, you will give a gift to the cyber villains, because they will get all the data you entered, which will cause you a lot of trouble and cost you a lot of money.
UPDATE
Since you already know which rogues Advanced Antispyware Solution is related to, there is a list of things you might expect from the rogue already.
To put it simply it is a dangerous rogue antispyware which has to be dealt with immediately. Therefore, you must ignore the following security messages received from Advanced Antispyware Solution point blank:
System alert
Advanced Antispyware Solution has detected potentially harmful software in your system. It is strongly recommended that you register
Advanced Antispyware Solution to remove all found threats immediately.
System warning
No real-time malware, spyware and virus protection was found. Click here to activate.
Warning! Identity theft attempt detected
Hidden connection IP: 128.154.26.11
Target: Microsoft Corporation keys
Warning
Warning! Virus detected
You also have to counter a number of symptoms that include forceful redirection to malware-related websites on the Internet, tampering with the Internet connection itself, and the usual block of executable files. The reason why Advanced Antispyware Solution behaves this way is that it wants your money and it wants to avoid being removed for as long as possible. But you cannot give up. It would be best to "register" the rogue with this activation key:
U2FD-S2LA-H4KA-UEPB
Once you do that, the fake security notifications will disappear and you will be able to load your executables again. But the fight IS NOT over yet! If you do know now anything about manual rogue removal, you need to acquire a legitimate antimalware tool that will help you to erase Advanced Antispyware Solution from your system for good. Otherwise the rogue will regroup and come back soon enough.

How to renew your internet connection:
This rogue antispyware blocks your Internet connection to prevent you from removing the rogue application. To enable the Internet connection, please follow these instructions:
Open Internet Explorer and go to >Tools< select >Internet Options<

Select >Connections<

Select >LAN Settings<

Now you need to uncheck the checkbox labeled >Use a proxy server for your LAN< in Proxy Server section. Then press the >OK< button to close this screen and press the >OK< button to close the Internet Options screen.

Now you can download the SpyHunter scanner and remove the infection.

How to manually remove Advanced Antispyware Solution
Files associated with Advanced Antispyware Solution infection:
%AppData%\Advanced Antispyware Solution\ScanDisk_.exe
%AppData%\Advanced Antispyware Solution\Instructions.ini
%CommonAppData%\[random]\[random].cfg
%CommonAppData%\[random]\ASE.ico
%CommonAppData%\[random]\[random].exe
%AppData%\Microsoft\Internet Explorer\Quick Launch\Advanced Antispyware Solution.lnk
%Desktop%\Advanced Antispyware Solution.lnk
%StartMenu%\Advanced Antispyware Solution.lnk
%Programs%\Advanced Antispyware Solution.lnk
Advanced Antispyware Solution processes to kill:
%AppData%\Advanced Antispyware Solution\ScanDisk_.exe
%CommonAppData%\[random]\[random].exe
Remove Advanced Antispyware Solution registry entries:
HKCU\Software\Microsoft\Windows\CurrentVersion\Run "Advanced Antispyware Solution" "%CommonAppData%\[random]\[random].exe" /s /d