Danger level
:

9
Type:
Rogue Anti-Spyware
Common infection symptoms:
Blocks internet connection
Installs itself without permissions
Connects to the internet without permission
Slow internet connection
System crashes
Annoying Pop-up's
Slow Computer
Other mutations known as:
Infection Video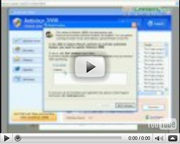 Best Virus Protection
If your personal security is important to you, you have to avoid Best Virus Protection by all means, because the bogus program will do everything to jeopardize it! It is not hard to fall for the charms of this cunning antivirus, as it resembles a legitimate tool and offers top security services for an amazing price. However, deceitful looks and attractive price are just a few tricks that Best Virus Protection will use to get into your wallet! That is right, the bogus program is as despicable as its previous clones Antimalware PC Safety, AV Security Essentials or Home Malware Cleaner (Rogue.FakeVimes family), and will not rest until you pay money for its useless licensed version. To protect yourself from such dishonest intentions, get rid of Best Virus Protection immediately!
There are many different ways for Best Virus Protection to get into your system, and hackers behind the rogue products always generate new ways to trick even more PC users. This is why it is extremely important to act cautiously when surfing and accepting suspicious files or software. Do not trust unfamiliar sources, and always think before you act as a single click can start a real turmoil. And you definitely do not want some program like Best Virus Protection running on your PC, because once it infects the system it slows down your operating system, and encroaches your personal safety! If the cunning program is running on your system and you want to get rid of its symptoms, simply enter U2FD-S2LA-H4KA-UEPB into an appropriate registration field. Unfortunately, this key will not remove Best Virus Protection from your Windows system, and you will have to find an effective way to get rid of it.
Because Best Virus Protection wants to make you believe a bogus PC's infection, you will be bombarded with lots of fake security warnings and alerts until you delete the rogue. They do not represent reality, and you should not believe this misinformation! See some Best Virus Protection notifications examples:
Warning!
Application cannot be executed. The file cmd.exe is infected.
Please activate your antivirus software.
Warning! Virus detected
Threat detected: Trojan-PSW.Win32.Antigen.a
Security Risk: [risk level]
Infected file: C:\Documents and Settings\Administrator\Recent\...
This Trojan named ANTIGEN.EXE scans system files for your Internet passwords to steal and misuse them. It also scans your data for more private information: phone
Recommended:
Please click "Remove all" button to erase all infected files and protect your PC.
System Alert
Best Virus Protection has detected pontentially harmful software in your system. It is strongly recommended that you register Best Virus Protection to remove all found threats immediately.
Warning! Virus detected
Threat Detected: Trojan-PSW.VBS.Half
Description: This is a VBScript-virus. It steals user's passwords.
Best Virus Protection is a fake antispyware program, which will not protect your Windows security, and will open up backdoors for other malicious applications to invade. The longer you will wait to remove Best Virus Protection from your system, the more serious infections are likely to attack, and if that happened, your system could be irreparably damaged, and your personal files could be deleted for good! Remove Best Virus Protection with a trusted antispyware, and save your Windows operating system!

How to renew your internet connection:
This rogue antispyware blocks your Internet connection to prevent you from removing the rogue application. To enable the Internet connection, please follow these instructions:
Open Internet Explorer and go to >Tools< select >Internet Options<

Select >Connections<

Select >LAN Settings<

Now you need to uncheck the checkbox labeled >Use a proxy server for your LAN< in Proxy Server section. Then press the >OK< button to close this screen and press the >OK< button to close the Internet Options screen.

Now you can download the SpyHunter scanner and remove the infection.

How to manually remove Best Virus Protection
Files associated with Best Virus Protection infection:
%commonappdata%\58ef5\BVP.ico
%commonappdata%\58ef5\BV98c.exe
%StartMenu%\Best Virus Protection.lnk
%Programs%\Best Virus Protection.lnk
%desktopdir%\Best Virus Protection.lnk
%appdata%\Microsoft\Internet Explorer\Quick Launch\Best Virus Protection.lnk
%appdata%\Best Virus Protection\ScanDisk_.exe
%appdata%\Best Virus Protection\Instructions.ini
Best Virus Protection processes to kill:
%appdata%\Best Virus Protection\ScanDisk_.exe
%commonappdata%\58ef5\BV98c.exe
Remove Best Virus Protection registry entries:
HKCU\Software\Microsoft\Windows\CurrentVersion\Run "Best Virus Protection" "%CommonAppData%\[random]\[Random].exe" /s /d