Danger level
:

9
Type:
Rogue Anti-Spyware
Common infection symptoms:
Installs itself without permissions
Changes background
Connects to the internet without permission
Shows commercial adverts
Slow internet connection
System crashes
Annoying Pop-up's
Slow Computer
Other mutations known as:
Infection Video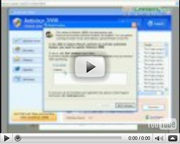 AV Security Essentials
The Rogue.VirusDoctor family of computer threats seems to be spawning one rogue after another. AV Security Essentials is the newest parasite in the line, and it is a direct clone of Internet Security Suite, Smart Anti-Malware Protection, Antivirus Smart Protection and other similar rogues. It is known for offering a product that does not live up to its promises and as a rogue antispyware application it enters your computer with a single purpose only, and that is – money. You have to delete AV Security Essentials from your computer, before it damages your system to the point you would have to reinstall your Windows.
Once AV Security Essentials infects your system, it springs into action with a sophisticated interface, and if you do not know any better, it is easy to take it for a legitimate application, because it fits seamlessly into your Windows Explorer's interface. What is more, it "kindly" recommends you to activate the full AV Security Essentials protection in order to protect your computer against viruses and other cyber threats. However, despite the fact, that this rogue looks like a legitimate product, it is definitely not, and AV Security Essentials removal should be imminent, because by no means should you ever trust this thief.
You will most definitely have to go through the fake system scan and tons of fraudulent security messages such as, for example:
System Alert
AV Security Essentials has detected potentially harmful software in your system. It is strongly recommended that you register AV Security Essentials to remove all found threats immediately.
Or:
Address space conflict
Warning! Access conflict detected
An unidentified program is trying to access system process address space.
These and other similar messages flood your computer and make it virtually impossible to perform any kind of operation. Therefore, in order to proceed with the AV Security Essentials removal, you have to get rid of these messages first. You can do it by using this activation code:
U2FD-S2LA-H4KA-UEPB or K7LY-R5GU-SI9D-EVFB
Do not forget that even though after using this code the notifications disappear, the ROGUE IS STILL IN YOUR COMPUTER! Thus, you have to acquire a powerful security tool that will help you to remove AV Security Essentials from your system immediately. Also, after you have done it, don't forget to perform a full system scan once again, just in case there are any malicious files left. Keep your computer safe.

How to manually remove AV Security Essentials
Files associated with AV Security Essentials infection:
AV3aa.exe
%AppData%\AV Security Essentials\ScanDisk_.exe
%AppData%\AV Security Essentials\Instructions.ini
%CommonAppData%\[random]\[random].cfg
%CommonAppData%\[random]\ASE.ico
%CommonAppData%\[random]\[random].exe
%AppData%\Microsoft\Internet Explorer\Quick Launch\AV Security Essentials.lnk
%Desktop%\AV Security Essentials.lnk
%StartMenu%\AV Security Essentials.lnk
%Programs%\AV Security Essentials.lnk
AV Security Essentials processes to kill:
AV3aa.exe
%AppData%\AV Security Essentials\ScanDisk_.exe
%CommonAppData%\[random]\[random].exe
Remove AV Security Essentials registry entries:
HKCU\Software\Microsoft\Windows\CurrentVersion\Run "AV Security Essentials" "%CommonAppData%\[random]\[random].exe" /s /d