Danger level
:

9
Type:
Rogue Anti-Spyware
Common infection symptoms:
Block exe files from running
Installs itself without permissions
Connects to the internet without permission
Slow internet connection
System crashes
Annoying Pop-up's
Slow Computer
Other mutations known as:
Windows Supervision Center
There is no end to the cyber criminal attempts to knock down your computer, and Windows Supervision Center is the new spawn, ready to unleash unspeakable terror onto your system. This rogue antsipyware is a park of the Fake Microsoft Security Essentials fraud, which has been raging around computers all over the world lately. This parasite is a direct clone of Windows Oversight Center, and this fact suggests that users should be very cautious of this malicious application, because it can render you computer inoperable if you do not take this infection seriously.
Windows Supervision Center is dangerous in a sense that it can infiltrate your computer without you even knowing it, so it especially important to keep your antivirus program up to date, and perhaps have more than one application, which guards your computer. Regular scans of the computer also decreases the possibility of the infection, so it is highly recommended to scan your computer with the suggester malware detector, to check for any errors present.

This rogue pretends to be a legitimate security program and its way into your system is also paved in lies. It can arrive at your computer when you are searching for something and you click on the top link in the list of search results. The reason why a link to a rogue-hosting site appears in the search which has nothing to do with it, is that the creators of the rogue use the hottest keywords, so that the search engine would place the site at the top of the search and YOU would click on it.
Once Windows Supervision Center gets into your computer, it is very simple - the rogue sends you a number of fake security alerts, saying that it has detected an UnknownWin32/Trojan and you need to take care of it. Some of the security alerts claim:
Microsoft Security Essentials Alert
Potential Threat Details
Microsoft Security Essentials detected potential threats that might compromise your private or damage your computer. Your access to these items may be suspended until you take an action. Click 'show details' to learn more.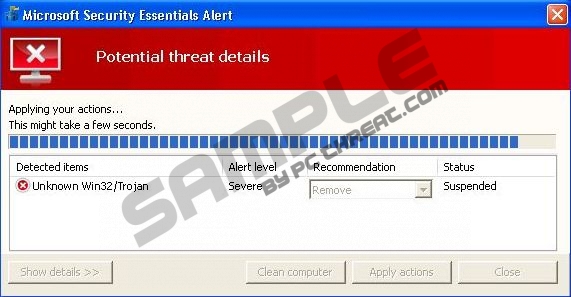 Then Windows Supervision Center will urge you to perform a full system "scan". Naturally enough, the rogue will "find" a solution to your problems and will display the following message:
Threat prevention solution found
Security system analysis has revealed critical file system vulnerability caused by severe malware attacks.
Risk of system files infection:
The detected vulnerability may result in unauthorized access to private information and hard drive data with a serious possibility of irreversible data loss and unstable PC performance. To remove the malware please run a full system scan. Press 'OK' to install the software necessary to initiate system files check. To complete the installation process please reboot your computer.
However, if you follow the instructions of Windows Supervision Center, you will end up robbed, because your money is the only thing this rogue is after. When you click on "Fix Errors" button, a purchase window will pop up, asking you to fill in the blanks with your name, address and your credit card information. If you do that, consider all of your money as good as gone.
That is why you need to to be smarter than the rogue and destroy Windows Supervision Center the moment you get the chance to. Acquire a good automatic malware removal tool if you are not sure how to delete the rogue manually. Do all it takes to protect yourself and your computer against this terrible cyber threat.

How to manually remove Windows Supervision Center
Files associated with Windows Supervision Center infection:
wwkeud.exe
%AppData%\Microsoft\[random].exe
Windows Supervision Center processes to kill:
wwkeud.exe
%AppData%\Microsoft\[random].exe
Remove Windows Supervision Center registry entries:
HKEY_LOCAL_MACHINE\SOFTWARE\Microsoft\Windows
HKEY_LOCAL_MACHINE\SOFTWARE\Microsoft\Windows NT\CurrentVersion\Image File Execution Options\avastsvc.exe "Debugger" = 'svchost.exe'
HKEY_LOCAL_MACHINE\SOFTWARE\Microsoft\Windows NT\CurrentVersion\Image File Execution Options\avastui.exe "Debugger" = 'svchost.exe'
HKEY_LOCAL_MACHINE\SOFTWARE\Microsoft\Windows NT\CurrentVersion\Image File Execution Options\egui.exe "Debugger" = 'svchost.exe'
HKEY_LOCAL_MACHINE\SOFTWARE\Microsoft\Windows NT\CurrentVersion\Image File Execution Options\ekrn.exe "Debugger" = 'svchost.exe'
HKEY_LOCAL_MACHINE\SOFTWARE\Microsoft\Windows NT\CurrentVersion\Image File Execution Options\msascui.exe "Debugger" = 'svchost.exe'
HKEY_LOCAL_MACHINE\SOFTWARE\Microsoft\Windows NT\CurrentVersion\Image File Execution Options\msmpeng.exe "Debugger" = 'svchost.exe'
KEY_LOCAL_MACHINE\SOFTWARE\Microsoft\Windows NT\CurrentVersion\Image File Execution Options\afwserv.exe "Debugger" = 'svchost.exe'