Danger level
:

9
Type:
Rogue Anti-Spyware
Common infection symptoms:
Block exe files from running
Installs itself without permissions
Connects to the internet without permission
Slow internet connection
Annoying Pop-up's
Slow Computer
Other mutations known as:
Windows Oversight Center
The newest addition to the Fake Microsoft Security Essentials scam is Windows Oversight Center, a determined rogue antispyware application you will have a tough time protecting your system from without adequate protection. This rogue is unwavering in its pursuit to steal your money, and will not stop until it is destroyed off your system.
Windows Oversight Center enters the system under conspicuous circumstances, and will remain dormant until it decides to start its attack on the system. Making use of established forms of infection, the user will find it difficult to detect and remove Windows Oversight Center from the system without some help. Fake online malware scanners and seditious browser hijacking websites all form part of Windows Oversight Center's online marketing campaign.

Once Windows Oversight Center starts its attack on the system, it initiates an unwarranted security scan, and reports on various false security risks on the system. Windows Oversight Center will use the names of genuine security threats, in case the user decides to research these reported threats. This will further convince the user that his system is under attack. The scan results claim that there were 24 viruses detected and 12 or them have been removed, but "complete system cleanup and optimization cannot be performed", unless you install the full software version.
As part of its attack on the system it will also inundate the user with various falsely generated security messages, and will not stop until the user buys Windows Oversight Center's fake software. Some of the most popular fake alerts used by Windows Oversight Center include the following:
Microsoft Security Essentials Alert
Potential Threat Details
Microsoft Security Essentials detected potential threats that might compromise your private or damage your computer. Your access to these items may be suspended until you take an action. Click 'show details' to learn more.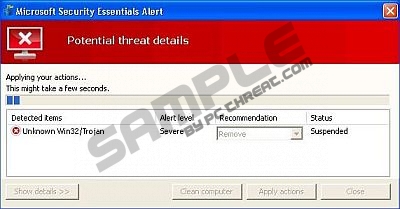 Threat prevention solution found
System security parameters review has revealed critical security vulnerabilities that may compromise your system integrity.
Risk of system files corruption: High
The detected vulnerability may allow a remote attacker to gain access to private information or infiltrate system files and components. To prevent misuse please make sure your security parameters are configured correctly.
Press "OK" to install the necessary software and run full system scan.
To complete the installation, please reboot your PC.
Take note of the fact that most of the fake alerts are nonsensical and does not make any sense. This should already be a clear indication that Windows Oversight Center is an untrustworthy application. Therefore, you should never follow the steps indicated by the rogue, especially the ones which involve paying for the full version of the program. It does not matter that the Online Registry window indicates the price for lifetime license as only 79.95 USD. You will loose a lot more if you pay for this program, because with your credit card's CVV2 code exposed, your information can be used for a whole number of illegal operations until your bank account is left absolutely empty.
You certainly wouldn't wish that, so in order to regain control of your PC and restore its security and safety, you'll have to get rid of Windows Oversight Center immediately. This can be best achieved by making use of a genuine security tool which will not only completely erase Windows Oversight Center and restore your system's security features, but also protect against similar future attacks.

How to manually remove Windows Oversight Center
Files associated with Windows Oversight Center infection:
uorgbs.exe
%AppData%\Microsoft\[random].exe
Windows Oversight Center processes to kill:
uorgbs.exe
%AppData%\Microsoft\[random].exe
Remove Windows Oversight Center registry entries:
HKEY_CURRENT_USER\Software\Microsoft\Windows\CurrentVersion\Internet Settings "WarnOnHTTPSToHTTPRedirect" = '0'
HKEY_LOCAL_MACHINE\SOFTWARE\Microsoft\Windows NT\CurrentVersion\Image File Execution Options\avastsvc.exe "Debugger" = 'svchost.exe'
HKEY_LOCAL_MACHINE\SOFTWARE\Microsoft\Windows NT\CurrentVersion\Image File Execution Options\avastui.exe "Debugger" = 'svchost.exe'
HKEY_LOCAL_MACHINE\SOFTWARE\Microsoft\Windows NT\CurrentVersion\Image File Execution Options\egui.exe "Debugger" = 'svchost.exe'
HKEY_LOCAL_MACHINE\SOFTWARE\Microsoft\Windows NT\CurrentVersion\Image File Execution Options\ekrn.exe "Debugger" = 'svchost.exe'
HKEY_LOCAL_MACHINE\SOFTWARE\Microsoft\Windows NT\CurrentVersion\Image File Execution Options\msascui.exe "Debugger" = 'svchost.exe'
HKEY_LOCAL_MACHINE\SOFTWARE\Microsoft\Windows NT\CurrentVersion\Image File Execution Options\msmpeng.exe "Debugger" = 'svchost.exe'
HKEY_LOCAL_MACHINE\SOFTWARE\Microsoft\Windows NT\CurrentVersion\Image File Execution Options\msseces.exe "Debugger" = 'svchost.exe'
HKEY_LOCAL_MACHINE\SOFTWARE\Microsoft\Windows NT\CurrentVersion\SystemRestore "DisableSR " = '1'
HKEY_LOCAL_MACHINE\SOFTWARE\Microsoft\Windows\CurrentVersion\Internet Settings "WarnOnHTTPSToHTTPRedirect" = '0'
KEY_LOCAL_MACHINE\SOFTWARE\Microsoft\Windows NT\CurrentVersion\Image File Execution Options\afwserv.exe "Debugger" = 'svchost.exe'