Danger level
:

10
Type:
Rogue Anti-Spyware
Common infection symptoms:
Installs itself without permissions
Changes background
Shows commercial adverts
Slow internet connection
Annoying Pop-up's
Slow Computer
Block exe files from running
Connects to the internet without permission
System crashes
Infection Video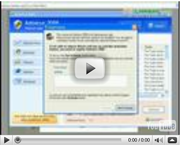 User Protection
User Protection is yet another rogue anti-spyware program, only out to extort money from unsuspecting users. User Protection tends to sneak into a computer system while users are unknowingly searching for codec updates and the likes of it. This is only one of the ways in which User Protection infiltrates a system. Fake malware system scans and spam e-mails may also contribute to the probability of User Protection entering into a computer system. User Protection virus or UserProtection, enters into a computer covertly, without the knowledge or consent of the user, displaying numerous pop-up advertisements, stating that the computer system is severely infected.
This is a mere scare tactic employed to trick the user into purchasing the "full" version of User Protection. User Protection poses a particular threat to any computer by lowering the performance of said computer system, leaving the system slow while the virus ensures the gradual failure of the computer system. It is highly recommended that User Protection be deleted from the infected computer system, ASAP!
User Protection is a direct clone of such fake antivirus programs as Paladin Antivirus and Digital Protection. Aside from slowing down your system, this computer infection also tries to shut down genuine antivirus programs (if any), and you will receive a prompt that urges you to uninstall your computer security application, because User Protection deems it unsafe. The programs that the rogue wants to remove include NOD32, Avira AntiVir, avast!, Norton Internet Security, Malwarebytes Anti-Malware and other security programs. The message displayed by User Protection regarding the security program is as follows:
There is unauthorized antivirus software detected on your computer. It is recommended you to remove it, otherwise it could conflict with User Protection. Press 'OK' to remove Malwarebytes' Anti-Malware_is1
Right after the installation User Protection launches a fake system scan and detects a number of supposed infections that ought to be removed with the full version of the program. The rogue says you can remove the likes of GayCodec.lookAlert, PORN.perversion.RIO, webSearch.Win32 and others only when you purchase the license for User Protection. This is the main reason why this fake AV infects your computer - it wants your money. And it tries to convince you that you must purchase the full version of the program with tons of annoying and fake security messages, including:
Warning! Virus threat detected!
Virus activity detected!
Trojan-Clicker.Win32 adware has been detected. This adware module advertises websites with explicit content. Be advised of such content being possibly illegal. Please click the button below to locate and remove this threat now.
Warning
Network attack detected
Network attack has been detected. Process is attempting to access your private data
It is strongly recommended to block this threat now to prevent privacy data theft.
User Protection is also known to block executable programs when you try to load them, under the pretense that they are infected with malware. You should not be fazed by such claims. The best way to restore optimal functioning of your computer is to remove User Protection right now with a powerful antispyware tool. Naturally, it is possible to terminate the rogue on your own as well, but that is not recommended unless you are a computer expert. Therefore, do not hesitate to invest in a powerful computer security tool that will also protect your system from other threats in the future.

How to manually remove User Protection
Files associated with User Protection infection:
User Protection Support.lnk
User Protection.lnk
usrhook.dll
installerUP[1].exe
usrprot.exe
usrext.dll
User Protection DLL's to remove:
usrhook.dll
usrext.dll
User Protection processes to kill:
installerUP[1].exe
usrprot.exe
Remove User Protection registry entries:
MicrosoftWindowsCurrentVersionRunUser Protection
MicrosoftWindowsCurrentVersionUninstallUser Protection
Microsoft\Windows\CurrentVersion\Run\User Protection
Microsoft\Windows\CurrentVersion\Uninstall\User Protection
RUNNING PROGRAMusrprot.exe
RUNNING PROGRAM\usrprot.exe