Danger level
:

9
Type:
Rogue Anti-Spyware
Common infection symptoms:
Installs itself without permissions
Connects to the internet without permission
Shows commercial adverts
Slow internet connection
Annoying Pop-up's
Slow Computer
Block exe files from running
System crashes
Infection Video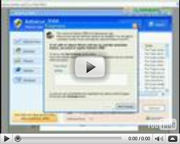 CleanUp Antivirus
CleanUp Antivirus is a malicious and deceptive rogue antispyware application that comes from the same family as Security Antivirus and My Security Wall malware. This malicious rogue will actually simulate an authentic looking computer system scan as well as computer system scan results. Everything will appear real and you can easily be fooled. You need to know that will receive alerts notifying you of various parasites which are on your system. The truth of the matter is the only parasite which is on your computer system is the malicious CleanUp Antivirus itself.
CleanUp Antivirus may go by the following names:
• Clean UpAntivirus
• Clean.UpAntivirus
CleanUp Antivirus may display some of the following symptoms:
• Annoying pop up messages.
• Strange system changes that you did not do.
• Security system notifications.
• A fake scan report with fake results.
• A slower than usual computer performance.
• A faulty internet connection.
There are two removal options when it comes to the nasty CleanUp Antivirus. The first option is to try the manual removal process but you need to be warned that you run high risks of completely destroying your entire computer system and making the situation worse. It is going prove more beneficial you to make use of a decent and effective antispyware application that is going to be able to protect your computer against other rogue antispyware infections.
Also, you need to check your system for Trojan infections, because Trojans are a common mean of distribution for CleanUp Antivirus. Another reason why we recommended automatic malware removal is registry entries that need to be removed. Upon the installation CleanUp Antivirus modifies the registry in order to start automatically together with Windows. If you try removing malicious registry keys on your own, you might severely damage your system, especially if you are not an experienced computer user.
What is more, CleanUp Antivirus also installs totally harmless files that later on it blames for erratic system behavior. Some of those files include cb.tmp, exec.tmp, pal.drv, PE.exe, tjd.sys and many others. Even though CleanUp Antivirus makes it seem as though there are lot of viruses on your computer, the reality is that the rogue is the one responsible for creating all the chaos, and for sending the following fake security notifications:
Potentially harmful programs have been detected in your system and need to be dealt with immediately. Click here to remove them using Cleanup Antivirus.
Your PC may still be infected with dangerous viruses. Cleanup Antivirus protection is needed to prevent data loss and avoid theft of your personal data and credit card details. Click here to activate protection.
Malicious applications, which may contain Trojans, were found on your computer and are to be removed immediately. Click here to remove these potentially harmful items using Cleanup Antivirus.
Keep your credit card information away from the rogue's grasp. Remove CleanUp Antivirus from your system right now before it is too late to do anything about it.

How to manually remove CleanUp Antivirus
Files associated with CleanUp Antivirus infection:
CleanUp Antivirus.lnk
dskclnwiz.dll
CUfa07.exe
CUe222.exe
CUdccb.exe, xp_c47b6[1].exe
CUc42a.exe
CUa36c.exe
CU6e0b.exe
CU00c4.exe
CUe74.exe
CUa42e.exe
xp_c47b6[1].exe
CUdccb.exe
CleanUp Antivirus DLL's to remove:
dskclnwiz.dll
CleanUp Antivirus processes to kill:
CUfa07.exe
CUe222.exe
CUdccb.exe, xp_c47b6[1].exe
CUc42a.exe
CUa36c.exe
CU6e0b.exe
CU00c4.exe
CUe74.exe
CUa42e.exe
xp_c47b6[1].exe
CUdccb.exe
Remove CleanUp Antivirus registry entries:
CUdccb.DocHostUIHandler
HKEY_CURRENT_USERSOFTWAREMICROSOFTWINDOWSCURRENTVERSIONRUN CleanUp Antivirus
HKEY_CURRENT_USER\SOFTWARE\MICROSOFT\WINDOWS\CURRENTVERSION\RUN\ CleanUp Antivirus
MicrosoftWindowsCurrentVersionRunCleanUp Antivirus
Microsoft\Windows\CurrentVersion\Run\CleanUp Antivirus