Danger level
:

8
Type:
Rogue Anti-Spyware
Common infection symptoms:
Installs itself without permissions
Changes background
Connects to the internet without permission
Shows commercial adverts
Slow internet connection
Annoying Pop-up's
Slow Computer
Infection Video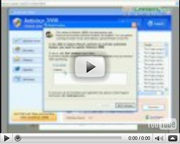 Antivirus PC 2009
You need to know from the start that Antivirus PC 2009 is a rogue antispyware application. Antivirus PC 2009 comes from the same family as:Antivir, Alpha Antivirus, Windows Protection Suite as well as Malware Catcher 2009. Antivirus PC 2009 makes use of malicious tricks in order to try to convince innocent victims that they have all types of threats running on their machines.OnlineGuard will then offer users the opportunity to buy a full version of Antivirus PC 2009, which promises to remove these threats. The truth of the matter is that the only real threat that is running on your machine is Antivirus PC 2009 itself which needs to be removed upon immediate detection.
Antivirus PC 2009 may go by the following names:
• AntivirusPC 2009
• AntivirusPC.2009
Antivirus PC 2009 may display some of the following symptoms:
• Files will appear again after being deleted.
• Some files will be missing from the registry.
• Strange programs will appear in the process list.
• There may be changes in your internet settings.
• You system speed may decrease dramatically.
In order to remove Antivirus PC 2009 from your machine, it is suggested that you make use of the automatic removal process. This means that you should invest in a decent protection program that is able to detect as well as give you the option of removing Antivirus PC 2009 automatically for you. It is very important to remember to make sure that the product you are making use of is always up to date. Antivirus PC 2009 is not something to play around with.

How to manually remove Antivirus PC 2009
Files associated with Antivirus PC 2009 infection:
avpc2009.exe
setup[1].exe
avpc2009s.exe
Antivirus PC 2009 processes to kill:
avpc2009.exe
setup[1].exe
avpc2009s.exe
Remove Antivirus PC 2009 registry entries:
AVPC2009
MicrosoftWindowsCurrentVersionRunAntivirus PC 2009
MicrosoftWindowsCurrentVersionUninstallAntivirus PC 2009