Danger level
:

9
Type:
Rogue Anti-Spyware
Common infection symptoms:
Installs itself without permissions
Connects to the internet without permission
Shows commercial adverts
Slow internet connection
Annoying Pop-up's
Slow Computer
Infection Video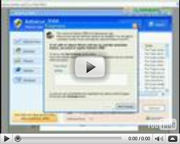 Additional Guard
Additional Guard (AdditionalGuard) is a manipulative and deceptive rogue antispyware application. Additional Guard has been designed by a evil bunch of people who only have evil intentions. Additional Guard will make use of a fake system scan as well as fake generated computer system scan report results. You will receive vast amounts of fake pop ups and computer security nofictaions, which is again all fake.In fact everything which Additional Guard makes use of is fake and needs to be treated as so.
You need to know that everything which is associated with Additional Guard is just one big scam to take your money. It is within your best interest to never download,intsall or purchase anything related to this malicious and deceptive Additional Guard .If you suspect that you are the next victim of Additional Guard ,you should remove it upon immediate detection with the use of a decent antispyware removal application.

How to manually remove Additional Guard
Files associated with Additional Guard infection:
WIfb96.exe
WIb95f.exe
WI98fe.exe
WI4354.exe
WI3a76.exe
WI9c8d.exe
WIe27e.exe
WI57a6.exe
WIca35.exe
WI9ef4.exe
WIe8cf.exe
WI7177.exe
Additional Guard processes to kill:
WIfb96.exe
WIb95f.exe
WI98fe.exe
WI4354.exe
WI3a76.exe
WI9c8d.exe
WIe27e.exe
WI57a6.exe
WIca35.exe
WI9ef4.exe
WIe8cf.exe
WI7177.exe
Remove Additional Guard registry entries:
HKEY_CURRENT_USERSOFTWAREMICROSOFTWINDOWSCURRENTVERSIONRUN Additional Guard
HKEY_CURRENT_USER\SOFTWARE\MICROSOFT\WINDOWS\CURRENTVERSION\RUN\ Additional Guard
HKEY_LOCAL_MACHINE\SOFTWARE\MICROSOFT\WINDOWS\CURRENTVERSION\RUN\ Additional Guard