Danger level
:

8
Type:
Rogue Anti-Spyware
Common infection symptoms:
Installs itself without permissions
Connects to the internet without permission
Shows commercial adverts
Slow internet connection
Annoying Pop-up's
Slow Computer
Other mutations known as:
Infection Video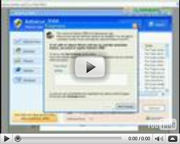 Windows Enterprise Suite
Windows Enterprise Suite is the latest phony application to be making the rounds these days. Just another rogue anti-spyware program, Windows Enterprise Suite is considered to be part of the family of rogues consisting of Volcano Security Suite. Research has proven how each of the above mentioned rogue programs tend to make use of similar misleading methods so as to entice gullible computer users into purchasing the full version of this misleading security tool.
As soon as Windows Enterprise Suite is installed on a computer system, Windows Enterprise Suite will begin to perform system scans (bearing in mind the scan is just part and parcel of the scam! It is all phony!) - only to receive bogus scan results – mere tactics employed to further confuse the system user, and gain a mental state of distress – whereupon the dubious solution of purchasing the tool will be suggested to the user, and presto – all the user's problem only begin there. Unless of course the system user does NOT fall prey to its malignant tactics – and removes the Windows Enterprise Suite program immediately instead! This would be the optimal action to take!

How to manually remove Windows Enterprise Suite
Files associated with Windows Enterprise Suite infection:
WEae92.exe
WE5319.exe
WE1261.exe
WE41ed.exe
WE7ae3.exe
WEc3b5.exe
WE1e1b.exe
WEcb07.exe
WE40a3.exe
WEe9f0.exe
WE2e0e.exe
WE0dfb.exe
WEc03f.exe
WEbf92.exe
WE40ea.exe
WE0a39.exe
WE51b2.exe
WEccb0.exe
WEc584.exe
WE82f5.exe
Windows Enterprise Suite processes to kill:
WEae92.exe
WE5319.exe
WE1261.exe
WE41ed.exe
WE7ae3.exe
WEc3b5.exe
WE1e1b.exe
WEcb07.exe
WE40a3.exe
WEe9f0.exe
WE2e0e.exe
WE0dfb.exe
WEc03f.exe
WEbf92.exe
WE40ea.exe
WE0a39.exe
WE51b2.exe
WEccb0.exe
WEc584.exe
WE82f5.exe
Remove Windows Enterprise Suite registry entries:
HKEY_LOCAL_MACHINESOFTWAREMICROSOFTWINDOWSCURRENTVERSIONRUN Windows Enterprise Suite
HKEY_LOCAL_MACHINE\SOFTWARE\MICROSOFT\WINDOWS\CURRENTVERSION\RUN\ Enterprise Suite
HKEY_LOCAL_MACHINE\SOFTWARE\MICROSOFT\WINDOWS\CURRENTVERSION\RUN\ Windows Enterprise Suite
Microsoft\Windows\CurrentVersion\Run\Enterprise Suite
Microsoft\Windows\CurrentVersion\Run\Windows Enterprise Suite
WEdccb.DocHostUIHandler
xp_d06bd[1].DocHostUIHandler