Danger level
:

8
Type:
Rogue Anti-Spyware
Common infection symptoms:
Installs itself without permissions
Connects to the internet without permission
Shows commercial adverts
Slow internet connection
Annoying Pop-up's
Slow Computer
Infection Video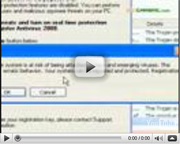 Alpha Antivirus
Alpha Antivirus is not a wonderful and effective antivirus like the name suggests. Alpha Antivirus is rather fake rogue software which is geared to trick users. Do not be fooled by the clever name that it uses or the clever tactics that it makes use of in order to try trick its users.
Alpha Antivirus runs the risk of gaining access to your machine, without your knowledge. It may enter your system via various Trojans or even the Vundo Trojan itself. Once Alpha Antivirus is on your system, a fake scan will be performed. This fake scan will go a step further and present you with a fake security report. Alpha Antivirus will claim that you have malicious dangerous viruses running on your machine. It will tell you that you need to remove it immediately. It will then present you with a removal option in the form of a full version.
Alpha Antivirus will ask you to purchase the full version for a small fee. Do not let any of this scare you into buying anything. Do not download or install anything related to Alpha Antivirus as it is all a false scam. Alpha Antivirus is something you should rather think of as Fake Antivirus 2009, as everything is completely fake. Do not be the next victim, stay as far away from Alpha Antivirus as you can. If you suspect that it may be on your computer, don't hesitate to get rid of it straight away.

How to manually remove Alpha Antivirus
Files associated with Alpha Antivirus infection:
NetFilter.exe
msnaoladdon.dll
IEaddonscontrol.dll
alpha.exe
Alpha Antivirus.exe
AlphaAV.exe
Alpha Antivirus DLL's to remove:
msnaoladdon.dll
IEaddonscontrol.dll
Alpha Antivirus processes to kill:
NetFilter.exe
alpha.exe
Alpha Antivirus.exe
AlphaAV.exe
Remove Alpha Antivirus registry entries:
Environment "AVAPP"
Environment "AVUNINST"
Environment\AVAPP
Environment\AVUNINST
HKEY_CURRENT_USER\SOFTWARE\MICROSOFT\WINDOWS\CURRENTVERSION\RUN\ AAntivirus
HKEY_CURRENT_USER\SOFTWARE\MICROSOFT\WINDOWS\CURRENTVERSION\RUN\ AlphaAnt
HKEY_LOCAL_MACHINESOFTWAREMICROSOFTWINDOWSCURRENTVERSIONRUN AlphaAV
HKEY_LOCAL_MACHINE\SOFTWARE\MICROSOFT\WINDOWS\CURRENTVERSION\RUN\ AlphaAV
Microsoft\Windows\CurrentVersion\Run\MSDRV
RUNNING PROGRAMAlphaAV.exe
RUNNING PROGRAM\Alpha Antivirus.exe
RUNNING PROGRAM\alpha.exe
RUNNING PROGRAM\AlphaAV.exe