Danger level
:

8
Type:
Rogue Anti-Spyware
Common infection symptoms:
Installs itself without permissions
Shows commercial adverts
Slow internet connection
Annoying Pop-up's
Slow Computer
Other mutations known as:
Infection Video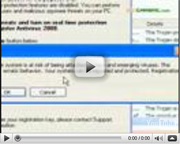 Proof Defender 2009
Proof Defender 2009 which is also known by the name ProofDefender2009 may sound like the latest and great antispyware, but the truth is that is it anything but great. In fact it is the opposite of great and is very bad. You can expect fake computer security warnings which may frighten you. In fact, Proof Defender 2009 is the old Perfect Defender 2009 with a new name!You are correct to be frighten, do not be frighten of the false security warnings, Proof Defender 2009 is what you really need to be frightened of.
One of the most alarming factors with regard to Proof Defender 2009 is that it runs the risk of actually blocking antivirus programs that may detect it on your system.
This is not the only symptom; one of the main symptoms is that Proof Defender 2009 may hijack your web browser. This will happen if you are making use of the Mozilla Firefox or Internet Explorer browser. It may also redirect your browser to malicious websites that promote malicious programs. The trick is not to fall for any of this as Proof Defender 2009 has been designed in order to take your money. If you think you may have it on your computer, dive straight into action and get remove it as soon as you can.

How to manually remove Proof Defender 2009
Files associated with Proof Defender 2009 infection:
pdinstall2009[1].exe
pdfndr.exe
Proof Defender 2009 processes to kill:
pdinstall2009[1].exe
pdfndr.exe
Remove Proof Defender 2009 registry entries:
Microsoft\Windows\CurrentVersion\Run\Proof Defender 2009