Danger level
:

8
Type:
Rogue Anti-Spyware
Common infection symptoms:
Installs itself without permissions
Shows commercial adverts
Annoying Pop-up's
Slow Computer
Infection Video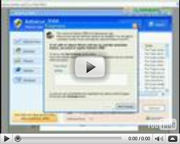 Spy Sniper
Spy Sniper is a rogue anti-spyware program that possesses some features of a fake spyware cleaner. Spy Sniper which may be called SpySniper propagates via Trojan infections and browser-hijacking. Spy Sniper makes use of tactics which are manifested through displaying false malware detection reports and redirecting the web browser to certain insecure domains (affiliated with Spy Sniper), all of which will only offer the user the downloadable Spy Sniper scam.
With Spy Sniper on your PC, your computer will get randomly interrupted by Spy Sniper's scanners, which only display deceptive results about malware detections. If you happen to believe these false advertisments, you run the risk of installing the Spy Sniper licensed version and purchasing it. This is precisely what the fraudsters expect you to do, so please refrain from following those tips communicated through the Spy Sniper advertisments.
As soon as you discover that Spy Sniper has been installed on your PC (with or without your permission), it is strongly recommended to remove the Spy Sniper rogue anti-spyware.

How to manually remove Spy Sniper
Files associated with Spy Sniper infection:
SpySniper.exe
SpySniperWizard.exe
SpySniper[1].exe
Spy Sniper processes to kill:
SpySniper.exe
SpySniperWizard.exe
SpySniper[1].exe
Remove Spy Sniper registry entries:
Microsoft\Windows\CurrentVersion\Uninstall\Spy Sniper_is1
VB and VBA Program Settings\SpySniper