Danger level
:

8
Type:
Rogue Anti-Spyware
Common infection symptoms:
Installs itself without permissions
Connects to the internet without permission
Shows commercial adverts
Slow internet connection
Annoying Pop-up's
Slow Computer
Other mutations known as:
Infection Video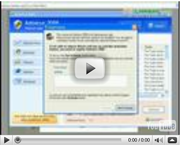 Windows Antivirus Pro
If you are looking for a powerful and effective security solution for your PC then you will certainly want to give Windows Antivirus Pro a miss. This rogue antispyware tool was designed merely to emulate the workings of a real security tool. Windows Antivirus Pro is designed by cyber criminals out to fleece unsuspecting consumers out of their money while leaving them with nothing but an empty shell in return.
Windows Antivirus Pro enters the system under suspicious circumstances and will remain hidden until it is ready to start its attack on the system. Of course Windows Antivirus Pro will use any means at its disposal to facilitate its illicit entry into its victims' PCs. These include using seditious browser hijackers, bogus online malware scanners and infected flash online ads as part of its online marketing campaign. Of late it has also been reported that Windows Antivirus Pro bundles its Trojans and malware, most notably the Zlob Trojan, together with other legitimate security updates and downloads obtained from third party websites.
As a first line of attack against the system Windows Antivirus Pro will edit the registry entries so as to allow its application to launch each time Windows starts up. This will launch a fake system scanner each time the user logs on to Windows, which will report on various fake security threats being present on the system. Some of the most well-known fake threats reported on include Trojan-Download.JS.Agent.crh and Net-Worm.Win32.Kido.ih. Of course no information or correspondence received from Windows Antivirus Pro can or should ever be trusted.
Windows Antivirus Pro will not allow the user to launch any type of program on the system. This forms part of its attack against the system, and is performed as part of the effort to panic the user into paying for its worthless software. Each time the user will attempt to launch a program he will receive the following fake alert:
Warning!
Running of application is impossible. The file C:\Windows\Notepad.exe is infected. Please activate your antivirus program.
It will also not allow the user to connect to the Internet, in an effort to prevent him from downloading or running any tool which may be able todetect and remove Windows Antivirus Pro from the system. Windows Antivirus Pro will consume many system resources, which will leave the system with extremely poor system performance, and will cause erratic system behavior to appear. It will also spam the user with many fake security warnings in the form of incessant pop up messages, most notably the following:
Warning: Infection is Detected
Windows has found spyware infection on your computer!
Click here to update your Windows antivirus software
Security Warning
Malicious programs that may steal your private information and prevent your system from working properly are detected on your computer.
Click here to clean your PC immediately.
This Windows Antivirus Pro will certainly cause more damage to the system than any good. In order to limit the damage this threat will cause to the system get rid of Windows Antivirus Pro without any further delay. Use a genuine security tool to facilitate its removal, and protect your PC against similar future attacks.
Download Spyware Removal Tool to Remove* Windows Antivirus Pro
Quick & tested solution for Windows Antivirus Pro removal.
For Windows Vista users: As soon as you have selected the "Download SpyHunter's Malware Scanner" link, another dialog box will appear, the "Save As" option. Select this "Save As" option (NOTE: do NOT select the "Run" option). The next step would be to save SpyHunter on the PC in question. In order to do so, you will need to right-click on the "SpyHunter-Installer.bat" file, next you will need to select the "Run as Administrator" option, so as to ensure the successful execution of SpyHunter.

How to manually remove Windows Antivirus Pro
Files associated with Windows Antivirus Pro infection:
Windows Antivirus Pro.exe
dddesot.dll
wav.exe
WAV2008Setup[1].exe
eventcreatexp.exe
svchast.exe
Windows Antivirus Pro DLL's to remove:
dddesot.dll
Windows Antivirus Pro processes to kill:
Windows Antivirus Pro.exe
wav.exe
WAV2008Setup[1].exe
eventcreatexp.exe
svchast.exe
Remove Windows Antivirus Pro registry entries:

HKEY_CURRENT_USER\SOFTWARE\MICROSOFT\WINDOWS\CURRENTVERSION\RUN\ eventcreatexp.exe
HKEY_LOCAL_MACHINE\Software\Microsoft\Windows\CurrentVersion\Explorer\Browser HelperObjects\{F54AF7DE-6038-4026-8433-CC30E3F17212}
HKEY_LOCAL_MACHINE\System\CurrentControlSet\Services\AntipPro2009_12
Microsoft\Windows\CurrentVersion\Explorer\Browser Helper Objects\{F54AF7DE-6038-4026-8433-CC30E3F17212}
Microsoft\Windows\CurrentVersion\Run\Antivirus
Microsoft\Windows\CurrentVersion\Uninstall\Win Antivirus Pro
Windows Antivirus Pro
{F54AF7DE-6038-4026-8433-CC30E3F17212}