Danger level
:

9
Type:
Rogue Anti-Spyware
Common infection symptoms:
Connects to the internet without permission
Shows commercial adverts
Slow internet connection
Annoying Pop-up's
Slow Computer
Other mutations known as:
Infection Video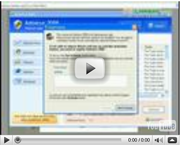 CoreGuard Antivirus 2009
CoreGuard Antivirus 2009, also referred to as Core Guard Antivirus 2009, is a form of malware. CoreGuard Antivirus 2009 will report to have found dozens of viruses on the infiltrated computer system, as it is designed to display erroneous results – so as to attempt to coerce unsuspecting users into purchasing their fake security program. It is advised that all uses that suspect their system has been infiltrated by CoreGuard Antivirus 2009, should immediately remove CoreGuard Antivirus 2009, as this rogue security software application is only aimed at conning money out of you. Once embedded within a system, this software will slow down the infiltrated computer intentionally, so as to further substantiate their claims that the PC has indeed been infected. This is usually not the case – as the only infections present are all those affiliated with CoreGuard Antivirus 2009. This software will take over the user's web browser, so that it cannot download security software. To remove this software, you may need to download a legitimate security tool from another, uninfected, computer and transfer it via a local network or a removable memory disk. Removal is key to safe computing!

How to manually remove CoreGuard Antivirus 2009
Files associated with CoreGuard Antivirus 2009 infection:
diskperfxp.exe
richtx64.exe
Coreguard_2009.exe
InstallerWF[1].exe
CoreGuard Antivirus 2009 processes to kill:
diskperfxp.exe
richtx64.exe
Coreguard_2009.exe
InstallerWF[1].exe
Remove CoreGuard Antivirus 2009 registry entries:
CoreGuard
HKEY_CURRENT_USER\SOFTWARE\MICROSOFT\WINDOWS\CURRENTVERSION\RUN\ diskperfxp.exe
HKEY_CURRENT_USER\SOFTWARE\MICROSOFT\WINDOWS\CURRENTVERSION\RUN\ richtx64.exe
Microsoft\Windows\CurrentVersion\Run\Coreguard Antivirus 2009
Microsoft\Windows\CurrentVersion\Uninstall\Coreguard Antivirus 2009