Danger level
:

9
Type:
Rogue Anti-Spyware
Common infection symptoms:
Connects to the internet without permission
Shows commercial adverts
Slow internet connection
Annoying Pop-up's
Slow Computer
Infection Video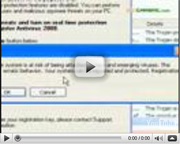 Virus Shield 2009
The latest Adware application, Virus Shield 2009, is also known as Virus Shield. This dubious program has been found to be representative of a payload of many viruses; all integrated into media and text files. Virus Shield 2009 is a self-replicable malware that starts running and infecting other executable software as soon as an infected file is opened and the malicious code, embedded within a virus, is executed. Virus Shield 2009 can also infiltrates a computer system via legitimate methods, by redirecting the user's web browser to an affiliated website – which will then prompt the user into clicking on their fake system scanner – which will in no uncertain terms only give results which claim the system is inundated with malicious content. The user will then be coerced into purchasing the software in order to 'rid' their system of all the 'security threats'! But all in all – these tactics are fake – and should not be trusted! Upon detection of these dubious methods, one should immediately remove the Virus Shield 2009 adware and its supporting infections. The alternative would be to suffer through the annoying ads, which will only increase in intensity and frequency, until they completely paralyze the infected computer system.

How to manually remove Virus Shield 2009
Files associated with Virus Shield 2009 infection:
VShield.exe, ReleaseXP[1].exe
VSaf25.exe
VS7e43.exe
VS78c6.exe
VS643b.exe
VS12e3.exe
ActivatedSetupReleaseXP[1].exe
SetupReleaseXP[1].exe
VShield.exe
Virus Shield 2009 processes to kill:
VShield.exe, ReleaseXP[1].exe
VSaf25.exe
VS7e43.exe
VS78c6.exe
VS643b.exe
VS12e3.exe
ActivatedSetupReleaseXP[1].exe
SetupReleaseXP[1].exe
VShield.exe
Remove Virus Shield 2009 registry entries:
Microsoft\Windows\CurrentVersion\Run\Virus Shield 2009
Microsoft\Windows\CurrentVersion\Uninstall\Virus Shield 2009
VShield.DocHostUIHandler