Danger level
:

9
Type:
Rogue Anti-Spyware
Common infection symptoms:
Connects to the internet without permission
Shows commercial adverts
Slow internet connection
System crashes
Annoying Pop-up's
Slow Computer
Other mutations known as:
Infection Video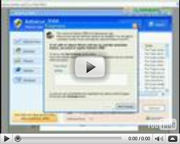 SysAntivirus 2009
SysAntivirus 2009 (også kendt som SysAntivirus2009) er en uregerlig anti-spyware applikation. Når først brugeren installerer SysAntivirus 2009, så vil programmet tilbyde at skanne computeren for spyware. Når SysAntivirus 2009 afslutter skanningen vil den vise forfalskede og overdrevne skanningsrapporter fulde af fingerede fejl. Derefter tilbyder SysAntivirus 2009 brugeren at købe den "fulde" version af SysAntivirus 2009 for at udbedre disse fingerede fejl. STOL IKKE på dette uregerlige anti-spyware program! SysAntivirus 2009 er blot uregerligt anti-spyware skabt for at narre brugere. Fjern SysAntivirus 2009 så hurtigt som muligt fra dit computersystem!!

How to manually remove SysAntivirus 2009
Files associated with SysAntivirus 2009 infection:
setup_1_1_[1].exe
sysav.exe
SysAntivirus 2009 processes to kill:
setup_1_1_[1].exe
sysav.exe
Remove SysAntivirus 2009 registry entries:
DataProtector\SysAntivirus 2009
Microsoft\Windows\CurrentVersion\Run\SysAntivirus 2009
Microsoft\Windows\CurrentVersion\uninstall\SysAntivirus 2009 8.1