Danger level
:

8
Type:
Rogue Anti-Spyware
Common infection symptoms:
Connects to the internet without permission
Shows commercial adverts
Normal system programs crash immediatelly
Slow internet connection
Annoying Pop-up's
Slow Computer
Other mutations known as:
Infection Video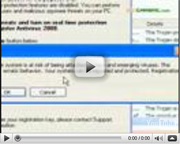 XP Police Antivirus
XP Police Antivirus is a fake spyware remover program that makes use of Trojan applications, the likes of Zlob or Vundo, to infiltrate a system. It seems that the main goal of this parasite is to trick users into the purchasing of a non-existent "full" version" of the application. This is achieved by showing the user falsified system scan reports. XP Police Antivirus generates this fake system scan and as a result shows misleading information about infections and risks, when in actual fact the computer is infected with XP Police Antivirus. It may also occur that XP Police Antivirus hijacks the user's browser and may redirect the user into websites which contain rogue content. The manual removal process can be very difficult as XP Police Antivirus tends to hide itself from the system's user and does not appear in the 'add/remove program' list. Should XP Police Antivirus be detected on a system, it is best to delete from the system ASAP!

How to manually remove XP Police Antivirus
Files associated with XP Police Antivirus infection:
install[2].exe
installpv[1].exe
install[1].exe
xppolice.exe
xp-policy[1].exe
XP Police Antivirus processes to kill:
install[2].exe
installpv[1].exe
install[1].exe
xppolice.exe
xp-policy[1].exe
Remove XP Police Antivirus registry entries:
Microsoft\Windows\CurrentVersion\Run\PoliceAV
XP Police Antivirus