Danger level
:

9
Type:
Rogue Anti-Spyware
Common infection symptoms:
Connects to the internet without permission
Shows commercial adverts
Normal system programs crash immediatelly
Slow internet connection
System crashes
Annoying Pop-up's
Slow Computer
Other mutations known as:
Infection Video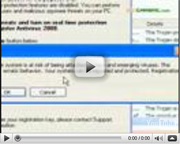 Astrum Antivirus Pro
Astrum Antivirus Pro, sometimes called Astrum Antivirus Pro 3.6, is a fake security program that resembles reputable spyware removal tools. Astrum Antivirus Pro is not much different from any recent rogue anti-spyware programs in that it scans your system only to display erroneous results. VirtualPC Guard also displayes many fake pop-up messages in an effort to scare you into purchasing the full Astrum Antivirus Pro program.
Astrum Antivirus Pro may open up your computer to other attacks in addition to damaging personal data. Astrum Antivirus Pro is known to be installed automatically without your knowledge through a Trojan infection. Astrum Antivirus Pro can be difficult to remove manually, associated files are left to recreate the infection the next time your computer is booted. It is essential that you scan your system for Astrum Antivirus Pro with a reputable spyware scan tool so that it may be removed safely from you computer.

How to manually remove Astrum Antivirus Pro
Files associated with Astrum Antivirus Pro infection:
Astrum Antivirus Pro processes to kill:
Remove Astrum Antivirus Pro registry entries:
Astrumsoft
Microsoft\Windows\CurrentVersion\App Paths\Astrumsoft
Microsoft\Windows\CurrentVersion\Run\Astrum
Microsoft\Windows\CurrentVersion\Uninstall\Astrumsoft