Danger level
:

10
Type:
Rogue Anti-Spyware
Common infection symptoms:
Connects to the internet without permission
Shows commercial adverts
Slow internet connection
System crashes
Annoying Pop-up's
Slow Computer
Other mutations known as:
Infection Video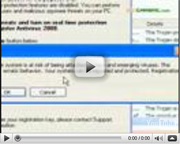 Nano Antivirus
Nano Antivirus is the latest in renegade software. Hailing from the same family as AntiSpyware Pro XP, this malware is definitely not to be taken lightly! Nano Antivirus can be regarded as a rogue application, because it utilizes fake scan results and deceptive advertising mechanisms in order to coerce and deceive the system user into thinking their computer is infected by a horde of parasites. Nano Antivirus infiltrates a computer system via one of two methods. The first method is via the use of Trojans, which display fake security alerts, stating that the user's system is infected and that by downloading and installing Nano Antivirus, protection will be guaranteed. Bear in mind that this "guarantee" is fictitious! The second method is through the use of pop-up messages that appear once the user visits certain websites. These pop up alerts will then claim that the user's system has been infected with PC parasites. Once the user clicks on these pop-up alerts, they will be redirected to a page showing an advertisement that pretends to be an online anti-malware scanner. The user will then be coerced into installing Nano Antivirus, in order to 'protect' their computer system. Regardless of the method, the main goal of these advertisements is to deceive the user into believing that their system is indeed infected and thus they end up purchasing the fake software. Nano Antivirus needs to be manually removed from an infected system, along with all its components, to ensure the full efficient functioning of a computer system.

How to manually remove Nano Antivirus
Files associated with Nano Antivirus infection:
Install_1_2777_[1].exe,nanoav.exe
Install_1_2777_[1].exe
setup_1_2777_.exe
nanoav.exe
Nano Antivirus processes to kill:
Install_1_2777_[1].exe,nanoav.exe
Install_1_2777_[1].exe
setup_1_2777_.exe
nanoav.exe
Remove Nano Antivirus registry entries:
Microsoft\Windows\CurrentVersion\Run\Nano Antivirus
Microsoft\Windows\CurrentVersion\uninstall\Nano Antivirus 3.8
Surround Software Solutions\Nano Antivirus