Danger level
:

9
Type:
Rogue Anti-Spyware
Common infection symptoms:
Connects to the internet without permission
Shows commercial adverts
Normal system programs crash immediatelly
Slow internet connection
System crashes
Annoying Pop-up's
Slow Computer
Infection Video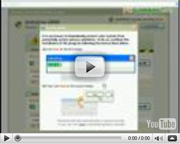 Ultra Antivirus 2009
Ultra Antivirus 2009 is a rather dangerous renegade anti-spyware program. Being a replica of Antivirus 2009, Ultra Antivirus 2009 carries the same characteristics of many malware applications. Ultra Antivirus 2009 is usually installed via a Trojan found in spam emails or corrupt downloads (such as fake video codecs). Ultra Antivirus 2009 was created to coerce and deceive a user into believing Ultra Antivirus 2009 is a legitimate spyware remover, however, Ultra Antivirus 2009 is actually a total fraud and should not be trusted. Ultra Antivirus 2009 tends to make use of malicious tactics, such as fake popups, system alerts and system scans to ensure that the user believes that their system has been infected with numerous infections and parasite threats. In order to remove these spyware infections, Ultra Antivirus 2009's messages will redirect the user to Ultra Antivirus 2009's website (UltraAntivirus2009.com) or other malicious websites to purchase the rogue "licensed" program. Ultra Antivirus 2009 tends to cause browser hijacks, misleading spyware scan results, redirection to malware websites and exposure of the computer to other malware threats. Recommended methods of combat: remove immediately!

How to manually remove Ultra Antivirus 2009
Files associated with Ultra Antivirus 2009 infection:
uav.exe
UltraAV.exe
Release_UNREG[1].exe
Ultra Antivirus 2009 processes to kill:
uav.exe
UltraAV.exe
Release_UNREG[1].exe
Remove Ultra Antivirus 2009 registry entries:
HKEY_LOCAL_MACHINE\SOFTWARE\MICROSOFT\WINDOWS\CURRENTVERSION\RUN\ Antivirus
Microsoft\Windows\CurrentVersion\Run\ANTIVIRUS
Microsoft\Windows\CurrentVersion\Uninstall\UltraAV
UltraAV