Danger level
:

9
Type:
Rogue Anti-Spyware
Common infection symptoms:
Connects to the internet without permission
Shows commercial adverts
Slow internet connection
System crashes
Annoying Pop-up's
Slow Computer
Other mutations known as:
Infection Video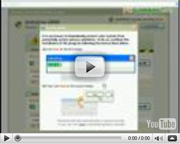 Win Defender 2009
Win Defender 2009 is yet another insurgent anti-spyware program. Win Defender 2009 displays a phony icon on a computer system tray, stating that the computer is infected with spyware. Win Defender 2009 will then make use of erroneous security messages as an attempt to persuade the system's user to download Win Defender 2009 software. There will be a further prompt for the user to purchase the full version of Win Defender 2009. One should bear in mind that Win Defender 2009 is a replica of Total Secure 2009, and accordingly is a very malignant malware, and is extremely dangerous for any computer system. Win Defender 2009 attempts to infiltrate a system via Trojan applications, e.g. a Zlob Trojan. Win Defender 2009 tends to also launch itself on every Windows startup and is capable of displaying excessive popup ads. Win Defender 2009 has proven to be quite difficult to remove manually, as it has the ability to recreate itself.

How to manually remove Win Defender 2009
Files associated with Win Defender 2009 infection:
fejokt.dll
jofcsd.dll
WinDefender2009[1].exe
windef.exe
WinDefender2009.exe
Win Defender 2009 DLL's to remove:
fejokt.dll
jofcsd.dll
Win Defender 2009 processes to kill:
WinDefender2009[1].exe
windef.exe
WinDefender2009.exe
Remove Win Defender 2009 registry entries:
Microsoft\Windows\CurrentVersion\Explorer\Browser Helper Objects\{9E45F800-15EA-4E01-BEE2-773F07B1F39C}
Microsoft\Windows\CurrentVersion\Run\WinDefender2009
Microsoft\Windows\CurrentVersion\Uninstall\WinDefender 2009
WinDefender2009