Danger level
:

9
Type:
Rogue Anti-Spyware
Common infection symptoms:
Connects to the internet without permission
Shows commercial adverts
Slow internet connection
System crashes
Cant change my homepage
Annoying Pop-up's
Slow Computer
Other mutations known as:
Infection Video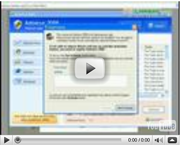 XPAntispyware2009
XPAntispyware2009 (XP Antispyware 2009) needs to be removed as soon as it is detected, to ensure data safety on a computer system. XPAntispyware2009 is a renegade malware application that guises itself as an antispyware application, and is very familiar to XPAntivirus2009, XPAntivirus2008, XPAntivirus. XPAntispyware2009 is known to make use of number of ploys to ensure the user be coerced into purchasing the full licensed version. XPAntispyware2009 may embed itself in the user's Start menu list of programs. XPAntispyware2009 scanner, even though the user may not have installed the program will infiltrate the user's computer if given the chance. XPAntispyware2009 may significantly slow down your system and disable media players. Several cases have already been reported where users of infected machines have complained of total system disordering, so much so that they had to reinstall Windows. It is advised that users get rid of XPAntispyware2009 immediately to avoid loss of data and system failure.

How to manually remove XPAntispyware2009
Files associated with XPAntispyware2009 infection:
proas2009.exe
MSASCui.exe
Install[1].exe
XP_AntiSpyware.exe
Uninstall.exe
XP_Antispyware.cfg
pthreadVC2.dll
comp.dat
htmlayout.dll
AVEngn.dll
XPAntispyware2009 DLL's to remove:
pthreadVC2.dll
htmlayout.dll
AVEngn.dll
XPAntispyware2009 processes to kill:
proas2009.exe
MSASCui.exe
Install[1].exe
XP_AntiSpyware.exe
Uninstall.exe
Remove XPAntispyware2009 registry entries:
Microsoft\Windows\CurrentVersion\Run\XP Antispyware 2009
Microsoft\Windows\CurrentVersion\Uninstall\XP_AntiSpyware
Microsoft\Windows\CurrentVersion\Uninstall\{39AB0EA5-A03C-400A-B71D-FAA174F8CB19}
RUNNING PROGRAMMSASCui.exe
RUNNING PROGRAM\MSASCui.exe
XP_Antispyware