Danger level
:

10
Type:
Rogue Anti-Spyware
Common infection symptoms:
Connects to the internet without permission
Shows commercial adverts
Normal system programs crash immediatelly
Slow internet connection
System crashes
Annoying Pop-up's
Slow Computer
Other mutations known as:
Infection Video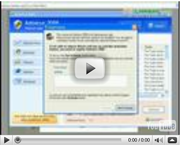 Micro Antivirus 2009
Micro Antivirus 2009 is yet another renegade antispyware application. Micro Antivirus 2009 is a duplicate of MS Antivirus 2008, Windows Antivirus 2008, Antivirus XP 2008 as well as a variety of miscreant antispyware applications. Micro Antivirus 2009 usually infiltrates a user's computer system following the installation of counterfeit video codec that accompanies Trojan programs like the Trojan Zlob malware. Micro Antivirus 2009 is prone to spawn deceptive system error popup messages, all as an attempt to intimidate and coerce the user into purchasing the "full" version of Micro Antivirus 2009, under the false pretense of assuring the computer user that once the program is purchased, the listed "problems" would then be removed. It is very important and necessary to delete all of the components connected with Micro Antivirus 2009, as all Micro Antivirus 2009 is good for is to compromise a computer system and make it all the more unstable. Users should simply delete Micro Antivirus 2009 as soon as it is detected on their computer system!

How to manually remove Micro Antivirus 2009
Files associated with Micro Antivirus 2009 infection:
install_511_MHwzNHwwfHx8fHx8fHw_[1].exe
0000005378.exe
MicroAVSetup[1].exe
MicroAntivirus.lnk
MSA.cpl
msa1.dat
msa0.dat
MSA.exe
UninstallMicroAntivirus.lnk
MicroAntivirus.exe
MicroAV.exe
Micro Antivirus 2009 processes to kill:
install_511_MHwzNHwwfHx8fHx8fHw_[1].exe
0000005378.exe
MicroAVSetup[1].exe
MicroAntivirus.exe
MicroAV.exe