Danger level
:

7
Type:
Rogue Anti-Spyware
Common infection symptoms:
Connects to the internet without permission
Shows commercial adverts
Slow internet connection
Annoying Pop-up's
Slow Computer
Infection Video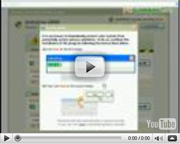 SystemAntivirus 2008
SystemAntivirus 2008 (might be named System Antivirus 2008) is a rogue security application which was rebuild from Antivirus 2008 or XP Antivirus. This fake allround security application, just as many Rogue applications at first install a Trojan which uses various aggressive methods to push the user into purchasing SystemAntivirus 2008. claims to be the best software for Virus and Spyware removal. But you should be concerned, because SystemAntivirus 2008 will use various aggressive ways to push users into purchasing a copy of SystemAntivirus 2008. That Trojan may start showing fake security messages in system bar, or it may show various pop-up and pop-up under advertisements. These advertisements may slow down your computer performance or even internet connection speed as various advertisements will be downloaded.
There is a trial version of SystemAntivirus 2008 where you can only scan your system. The results of the scan may amaze you by massive amounts of parasite entries. You cant delete those parasites because you must purchase the full program.
It may be very hard to remove SystemAntivirus 2008 manually as it digs deep into your system and tries to recreate.

How to manually remove SystemAntivirus 2008
Files associated with SystemAntivirus 2008 infection:
sav.cpl
SAV2008Setup[1].exe
System Antivirus 2008.lnk
sav.exe
SystemAntivirus2008.exe
SystemAntivirus 2008 processes to kill:
SAV2008Setup[1].exe
sav.exe
SystemAntivirus2008.exe
Remove SystemAntivirus 2008 registry entries:
Microsoft\Windows\CurrentVersion\Run\Antivirus